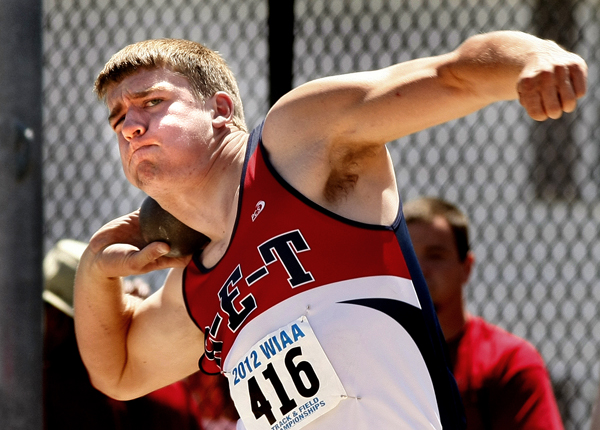 The second the shot put left his hand, Brad Walski knew it was going to be a good throw.
TheGale-Ettrick-TrempealeauHigh Schooljunior's motion was quick, smooth and explosive, everything a shot putter dreams of.
The combination resulted in a throw of 55 feet, 11¼ inches triggered another dream for Walski: Winning a state title.
This was Walski's third time at the WIAA state track and field championships in the event, but his first on the Division 2 awards podium. As a freshman, he placed in the top-20. Last season, he finished eighth. Friday Walski placed fifth in the discus.
So, when he finally reached the podium today Walski was more than happy to be standing at the top.
 "That's what it seems like," Walski said. "It's unreal. (My discus) wasn't the best I've ever thrown. First is that much better."
He won with his final preliminary throw, only his third of the day, sending a message to his competition. Walski entered the event seeded fifth and scratched on his first throw. He then threw 52-¼ for his second.
"I liked coming in (seeded) lower," Walski said. "You're the underdog and you come out and they overlook you. I came in more confident. I just worked at it really hard. This week, I got a bunch of reps in and felt great. "
Walski was confident because he is comfortable at theUniversityofWisconsin–La Crosse's Veterans Memorial Field Sports Complex. Not only has he been to state twice, but G-E-T also has a midseason meet at the facility for the Coulee/SCCConference Challenge.
That comfort zone  also be why Walski wasn't on edge watching his competitors try to out-throw him.
"I think it actually helped," Walski said. "I was the fourth guy in our flight. I got that big throw and they were all nervous. It got to them. Everyone else had to live up to it. The nerves might have got to them."
Platteville's Rhette Weber scratched in all three of his final throws and ended second (54-5). Third-place Alex Mess, of Platteville, and fourth-place Trent Watt, ofLakeMills, each scratched on of their final three attempts.
"I gave everything I had on my last one in prelims," Walski said. "It was really explosive."
That's exactly what Walski has been working for the entire season. When the football season is over, Walski doesn't miss a day in the weight room, working on that explosive motion.
"Not real heavy weights," Walski said. "I did power lifting, too, but I worked on quickness and sprints and being explosive."
That explosiveness might be useful come September as Walski – who has previously been a tight end and defensive end for the Red Hawks – might move to wide receiver.
"I hope it does," Walski said.