To understand Steve Pavela's life, you should know he played the final game of his storied basketball career at La Crosse Aquinas a day after the University of Wisconsin won its only NCAA basketball championship.
That was 79 years ago in 1941.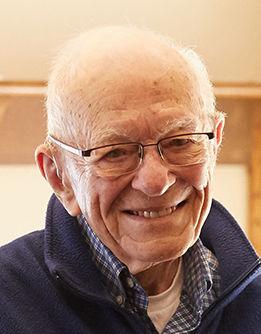 Pavela, who lives in La Crosse, is 96 but remains physically healthy and mentally sharp. So when you're seeking perspective on current events — like, say, the COVID-19 pandemic that shut down athletic events from the preps to the pros — he's a go-to guy, much as he was when he was setting scoring records with his two-handed set shot at Aquinas or during the 30 years he used his deft touch as the executive director of the old Wisconsin Independent Schools Athletic Association.
Indeed, this pandemic isn't the first national crisis Pavela has experienced. After playing basketball and baseball as a freshman and sophomore at Notre Dame, he took a three-year break to enlist in the Navy during World War II. No problem, it was what people did when the nation was threatened back then.
"It's such a different world now," Pavela said Thursday. "I was so fortunate to be born when I was born because those were great days. During World War II I was in the Navy for three years and later Tom Brokaw wrote this book called 'The Greatest Generation.' I said, the greatest generation? I never thought about that. I was 18 and 19 and we just went to the war and when it was over we were just glad that it was over and we could get back to normal."
After the war, Pavela dropped basketball but continued to play baseball at Notre Dame, earning the captaincy his senior year. He graduated and got married to Marian (she passed away last year) in an eight-day span, coached for seven years at a Catholic high school in Michigan City, Indiana, then returned home to work in the family construction business.
The construction business wasn't for him, but Pavela bided his time before a chance meeting led him to his life's work — guiding WISAA through a period of change and helping to set the wheels in motion for its dissolution so its schools could join the much larger, public-school-only Wisconsin Interscholastic Athletic Association.
At church in La Crosse, Pavela met Fr. Tom Ninneman, a fellow Notre Dame grad who sat on the Board of Control for the Wisconsin Catholic Interscholastic Athletic Association, the precursor to WISAA. The WCIAA was seeking an executive secretary and Pavela, itching to get back into education and athletics, didn't mind that it was part time and paid only $600 a year. He took the job in 1959, eventually becoming the most important figure in WISAA history.
"I was so glad to get out of construction I took it for a pittance," Pavela said. "It eventually became WISAA and I just loved my work. I had a very good life. I found my niche."
In time, Pavela became executive director and a full-time employee of WCIAA, shepherding it through a series of successful changes. The first was to move the state basketball tournament from De Pere to Milwaukee. In 1968, the previously all-Catholic group opened its doors to all non-public schools in Wisconsin, renaming itself WISAA. A year later, it held the first prep football playoffs in the Midwest. Girls sports were added in the 1970s.
For much of that time, the WIAA and WISAA had a frosty relationship. However, Pavela developed a friendship with the WIAA executive directors — first John Roberts, then Doug Chickering — and the relationship between the groups thawed over time.
In 2000, some 12 years after Pavela retired, all of the state's high schools began playing under the WIAA umbrella. It took the threat of legislative and judicial action to get that done, but the respect WIAA administrators had for Pavela also played a role in a move that has expanded the opportunities for every prep athlete in Wisconsin. Al Bill, Pavela's successor, was the driving force for WISAA during the discussions in the 1990s, but Pavela played a behind-the-scenes role.
"The entire WIAA staff came to my retirement party and that was a change," Pavela said. "If there's any legacy that I have in my life, I think it's that we brought all of the (non-public) schools together as one and then eventually they were all together as part of the WIAA."
That legacy might have been different had Pavela stayed in the state to attend school. He set scoring records in the state Catholic school tournament (59 in three games) and the national Catholic school tournament (100 in five games). UW and Marquette recruited him hard, but they were no match for Notre Dame's network of local alumni clubs.
"The people with the Notre Dame club in La Crosse worked really hard to get me to go to Notre Dame," he said. "They were in touch with the athletic director and coaches. That's how I ended up at Notre Dame. I know Wisconsin was pretty upset with me because I didn't stay in Wisconsin. It would have been nice to play for Wisconsin or Marquette, but I didn't consider Marquette at all because they didn't have baseball. Wisconsin, of course, did have baseball. Notre Dame had everything, too."
Today's prep athletes also had everything, at least until the state tournaments in March and the entire spring season were wiped out by the pandemic. Pavela admits such losses would have been hard for him to deal with but offered advice for today's youth.
"You've got to make the best of whatever the situation is," he said. "I think I would have felt very bad about it, but what can you do? You just have to move on."
Pavela has moved on since his WISAA days, but he's not forgotten.
Get in the game with our Prep Sports Newsletter
Sent weekly directly to your inbox!