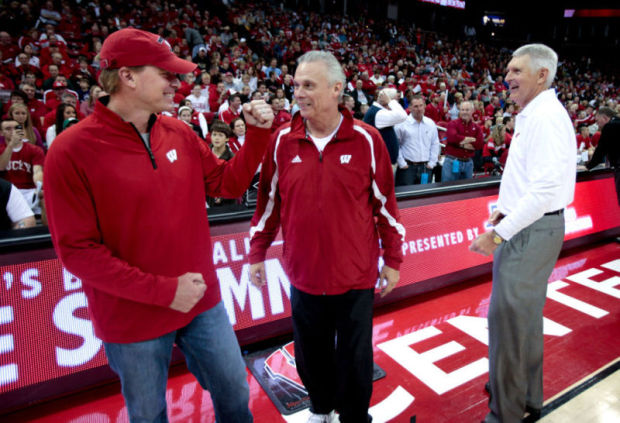 With The Masters looming next week, Madison golfer Steve Stricker didn't have much choice this week but to juggle work with following the University of Wisconsin men's basketball team.
Stricker, who was on hand last week at the Honda Center in Anaheim, Calif., to see the the Badgers win the NCAA West Regional, plans to be at the Final Four in Arlington, Texas, in time for UW's 7:47 p.m. tipoff Saturday.
But it might not be easy. Stricker is playing this week in the Shell Houston Open in Humble, Texas — about a 3 1/2-hour drive from Cowboys Stadium — and has his travel plans in place, even if he is in the final group at the Golf Club of Houston during the third round as he prepares for golf's first major.
"I wasn't thinking about not playing here, but we do have tickets for both Saturday and Monday," Stricker told reporters Wednesday. "We'll try ot make it up there for Sure on Saturday. I figured even if we're in the last group, ... or toward the end, the Badgers are the second game so (we) should be able to make up there and come back that night.
"Then, hopefully, it all works out."
Stricker said he flew to Texas on the G-5 plane he owns — "That's the only way we're going to be able to do it," he said —and his travel party could be fairly large heading to-and-from the Final Four games.
"There's a couple other guys that are probably going ot come, maybe Jeff Overton (and) his caddy," Stricker said. "My whole family is going to be here. They're flying in on Friday to be with me here this weekend and then go on to Augusta next week."
Last week's trip to California also had a business component to it.
Stricker needed to update the clubheads on his Titleist irons so he made a trip to the company's club-making headquarters in Carlsbad. The rest of his family had designs on hitting the themeparks in southern California.
"I was able to go to Titleist and get on the launch monitors and ... check out some different shafts, so I needed a new set," Stricker said. "My clubs were wearing out, the grooves were wearing out. I thought this would be a good time to put new ones in play.
"Nicki told me to go to Titleist. My kids told me Legoland and Disney. Then I said, 'Let's go to the basketball game while we're out there.' Everybody had a little bit of something (to do)."
Get in the game with our Prep Sports Newsletter
Sent weekly directly to your inbox!