Bangor High School graduate Canon O'Heron is enjoying a breakout junior season with the UW-Stevens Point men's basketball team.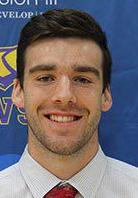 After playing sparingly as a freshman and sophomore, O'Heron has worked himself into the starting rotation for the Pointers, who are 14-6 overall, but 8-1 and in first place in the WIAC heading into the weekend.
O'Heron has started the last nine games for Stevens Point and scored 10 points or more in eight of those games. O'Heron is holding down season averages of 8.9 points and 3.1 rebounds while playing more than 22 minutes per game.
Those numbers have jumped drastically since O'Heron, a 6-foot-5 forward and former La Crosse Tribune Player of the Year, joined the starting lineup.
O'Heron is averaging 15 points and 4 rebounds while shooting 60.2 percent (56-for-93) from the floor and 67.7 percent (21-for-31) from the free-throw line in the last nine games. He also has 19 assists and eight steals.
O'Heron's last two games have been a caree-high 26-point outburst in a victory over La Crosse at Mitchell Hall and an 18-point performance in a win at Whitewater. He has 76 points (19.0 ppg) in his last four games heading into Saturday's home game against River Falls.