Onalaska High School graduate Courtney Meyer is a double-double machine as she begins her senior year with the NCAA Division II University of West Florida women's basketball team.
The Argos are off to a 2-1 start, and Meyer has been a big reason for it by averaging 10.7 points, 16 rebounds and 4 blocked shots per game.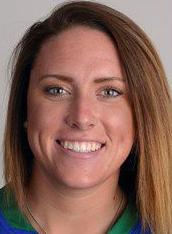 Meyer has reached double figures in points and rebounds in all three of West Florida's games, but she had 11 points, 19 rebounds and 7 blocked shots in the Argos' 70-64 loss to Columbus State on Wednesday.
Meyer, a 6-foot-2 forward, is shooting 42.9 percent from the floor and 50 percent from the free-throw line. She also has an assist in every game and a total of one turnover in the last two.
Meyer has 194 career blocked shots and is two short of the school record. She averaged 8.2 points, 8.9 rebounds and 2.9 blocks as a junior and entered this season with 620 points and 561 rebounds in 91 games during her first three years with the team.