The UW-La Crosse men's basketball team is quietly turning heads in the WIAC, but that process could speed up after Saturday's 75-60 victory over Whitewater at Mitchell Hall.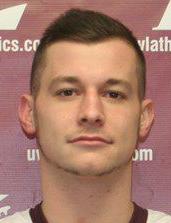 UW-L rallied from a five-point halftime deficit with a 50-point second half, thanks in part to Ben Meinholz's standout performance. Meinholz drained 10 of 16 field-goal attempts, including a 3-pointer, and hit both of his free throws for a game-high 23-point performance. Meinholz added five rebounds, four steals and three assists as the Eagles (11-4, 4-0) won their fourth straight to keep pace with Oshkosh (14-1, 4-0) atop the WIAC.
UW-L, which shot 45.5 percent (30 of 66) from the field, outrebounded the Warhawks (12-3, 1-3) and forced them into 15 turnovers. UW-L finished with nine steals and had just six turnovers against a team that was ranked
Brendon Manning was 8 of 13 from the field, perfect on all four of his free throws, and finished with 20 points for UW-L, while freshman Ethan Anderson — a Black River Falls High School graduate — added 16 points, including a pair of 3-pointers.
Andrew Brown led Whitewater with 17 points.