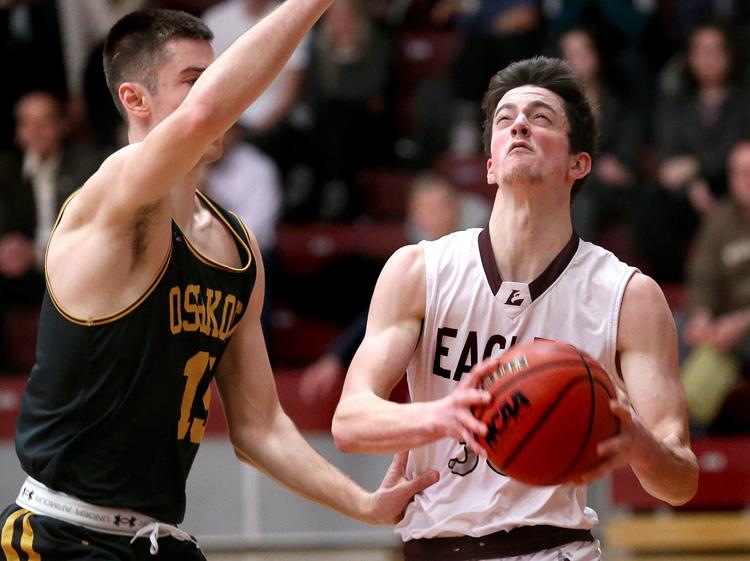 Adam Fravert looked to have finally delivered the knockout punch to get his UW-Oshkosh men's basketball team enough of a cushion to hold off a scrappy UW-La Crosse team on Wednesday.
His three consecutive 3-pointers gave the Titans a two-possession lead and had sucked the air out of Mitchell Hall midway through the second half. But the Eagles never wavered, continued to battle, and held No. 3 Oshkosh scoreless over the final 2 minutes, 49 seconds to come away with a 66-61 WIAC win on senior night.
UW-L (16-8, 9-4) swung the score 10 points over that stretch, and made all six free throws it attempted to preserve the lead. The win wasn't big solely because the Eagles upset a ranked team. It also secured the No. 2 seed in the WIAC tournament, meaning they'll have a first-round bye, then host a semifinal game Thursday, Feb. 21.
"It was very special, on senior night, to pull out this win against the No. 3 team (in Division III)," senior Brendon Manning said. "We knew it was going to be a tough game, we'd lost three straight coming into it. This game meant a lot. To win on senior night was really special for our group."
Manning, one of five UW-L seniors recognized before the game, tallied 14 points and 12 rebounds to lead the Eagles.
After Oshkosh senior Ben Boots hit a midrange jumper to put Oshkosh up five with 2:49 left, UW-L was running low on time to make its charge. But senior guard took advantage of a mismatch against Oshkosh center Jack Flynn and drove by him for a layup, and then two bonus free throws from senior Ben Meinholz cut it to 1. Meinholz made a go-ahead layup with 44 seconds remaining, then notched a steal and made two more bonus free throws.
Down 3, Boots tried to drive around senior Tanner Bruchs, but Bruchs contested the shot, Manning secured the rebound, and his two bonus free throws brought the game to its final score.
"Tonight, for us to come out and trust in our system 100 percent … exhaust ourselves defensively, create offense from our defense, I'm so proud and thankful our guys are bought in that much," UW-L coach Kent Dernbach said.
UW-L's defensive intensity kept it in the game when its offense started slow in the first half. After a few possessions came up empty, the Eagles finally started to get some open looks off of screens and curls in the lane. Their motion got Oshkosh's bigger players away from the paint and started to open some driving lanes.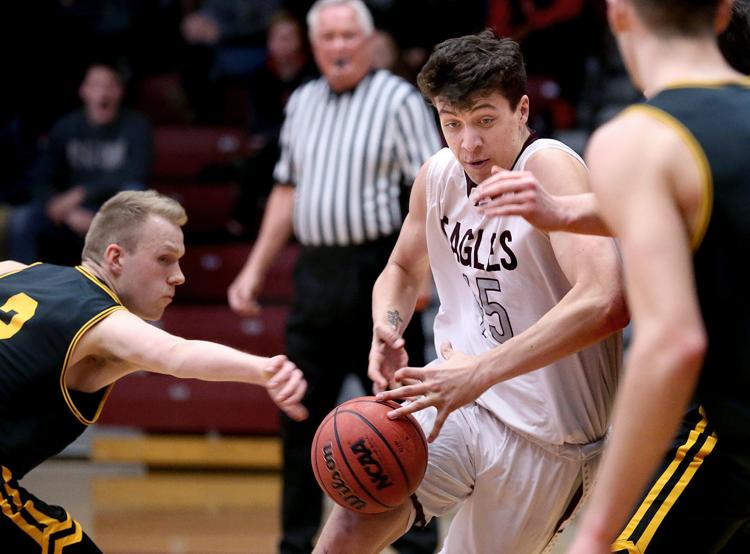 The key matchup in the post was Flynn against UW-L freshman Josh Dahlke and junior Terek Nesheim. Both gave Flynn different looks — Dahlke brought a bruising style, while Nesheim attacked the ball and made Flynn uncomfortable on defense by forcing him to defend the 3-point line — and helped hold him to nine points.
"Jack Flynn is one of the best players in the conference. To be able to be a freshman and go up against a guy like that, you just love the battle back and forth with him," said Dahlke, a Tomah High School graduate. "I felt like I got the upper hand one time, then he'd come right back down and give it back to me."
Dernbach said the pressure UW-L's perimeter defenders put on the ball helped give Dahlke and Nesheim a little extra time to get in position to defend Flynn well, and move him from his spot.
Meinholz finished with nine points, while Dahlke had 11 points and eight rebounds. Nesheim had eight, including a corner 3-pointer at the 9:55 mark that gave UW-L a four-point lead.
Fravert led Oshkosh with 21 points, including five 3-pointers, and nine rebounds. Boots had 11 points and seven boards.