The UW-La Crosse men's basketball team was waiting for senior Ben Meinholz to play like he did Wednesday night.
It didn't matter that it was an exhibition game, thus it didn't count on their record, against cross-city rival Viterbo. Meinholz needed to get back to being the sparkplug he's proven to be over his career at UW-L.
Despite a slow start to the night shooting, Meinholz was a pest defensively, pushed the pace of the game, and used his passing and rebounding to be effective in the Eagles' 76-61 win over the V-Hawks in front of 390 people at Mitchell Hall.
Meinholz finished with a team-high 16 points, six rebounds, six assists, and three steals. It was the kind of performance that can help propel the Eagles (3-3) with some positivity after a rough weekend — more on that later.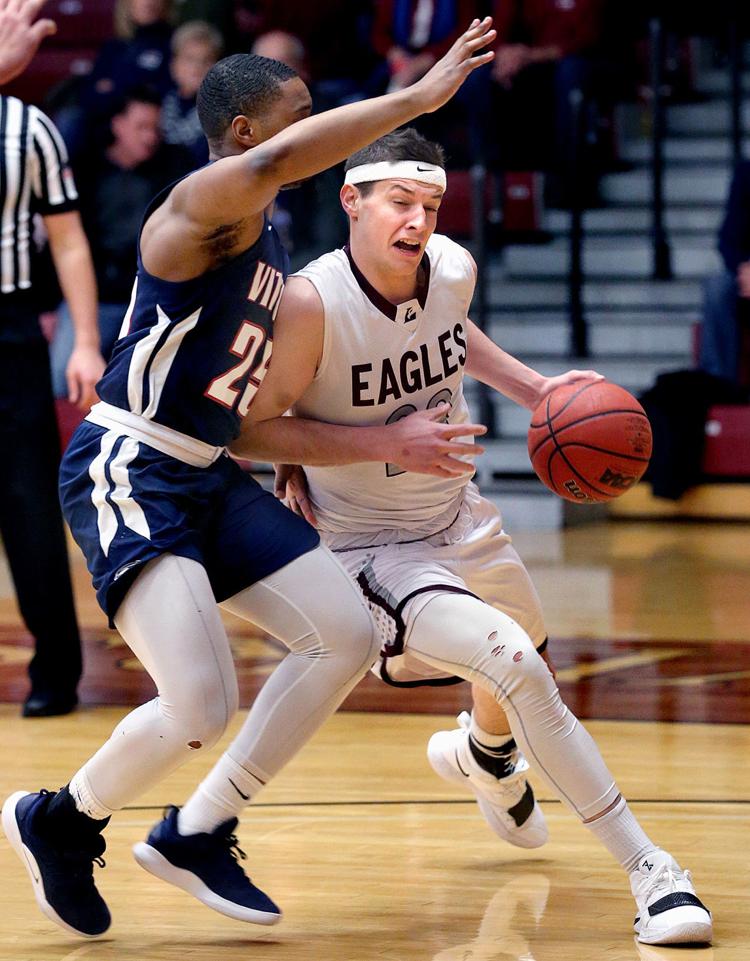 "This was huge. Coach said pregame, 'Our backs are against the wall,' which they are. We lost last week, and even though this game doesn't go on our record, we take it personal. It's our city rival, so we wanted to win it," Meinholz said.
"The way we played really helps us going into this weekend."
UW-L has home games on Saturday and Sunday, and hadn't played a complete game yet this season before Wednesday. But the Eagles started Wednesday's contest looking like the aggressive, in-your-face defensive team that was their identity last year.
Deflections and ball pressure led to nine first-half turnovers for Viterbo (7-4), and the V-Hawks committed 16 turnovers overall. Meinholz was a key piece to that pressure, and had a break-away dunk off a steal in each half.
"He influenced the game with his passing, with his steals," UW-L coach Kent Dernbach said. "And he also wanted to challenge himself to guard a really good senior in (Jason) Tichy."
Tichy proved to be a tough cover, as he scored a game- and season-high 25 points on 9 of 17 shooting including five 3-pointers, but he also committed three turnovers.
Meinholz and a hot start from senior forward Brendon Manning helped cover up a bad shooting start for UW-L, which went 1-for-12 from the 3-point line in the first half. UW-L led by 10 at halftime, but Viterbo stayed in the game with a bevy of post touches for senior Cade Anderson and freshman Jak Schroeckenthaler.
Anderson, who finished with 10 points on 5-for-5 shooting, threw down a one-handed dunk off a drop step that drew a loud cheer from the Viterbo contingent, and Schroeckenthaler was effective both inside and outside.
After a Tichy 3-pointer with 4 minutes, 14 seconds to go brought Viterbo within 67-59, La Crosse clamped down defensively and didn't allow the V-Hawks to score again until Tichy hit a pair of free throws with 11 seconds remaining. The 8-0 run in the meantime pulled the Eagles ahead further.
UW-L attacked the V-Hawks' guards with physical play and active hands, making it difficult for Viterbo to feed its talented post players.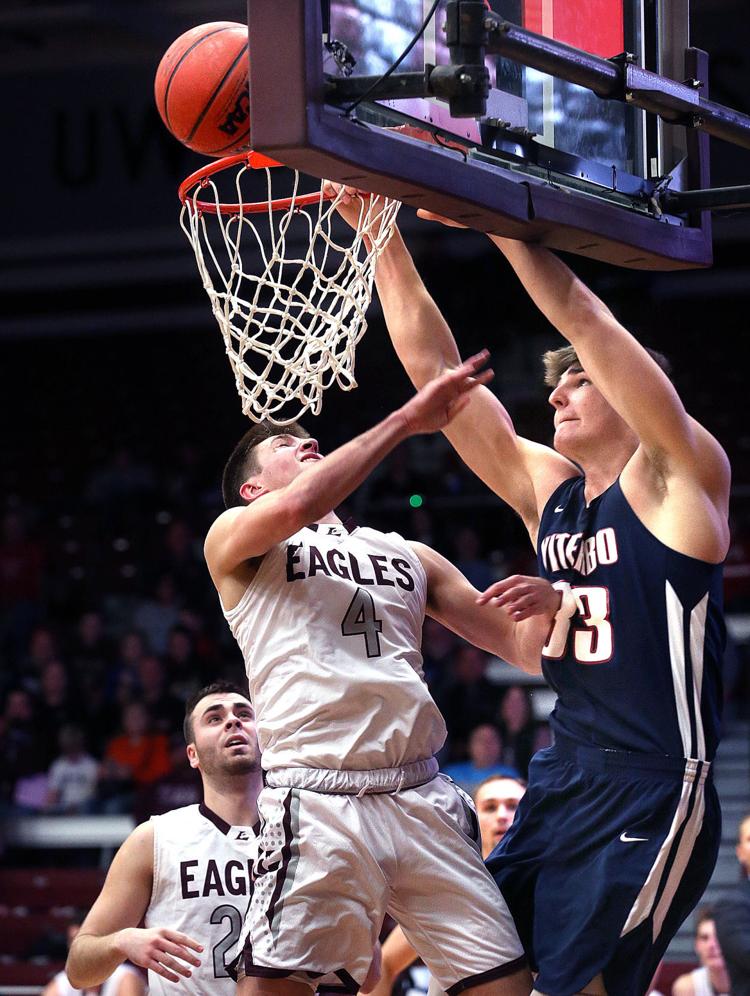 "We're always trying to pressure the ball," Meinholz said. "When you've got (senior) Taulvish (McCray) and (junior Sam) Burkhart, those guys are really good defenders and they're tough guys to get past. They can pressure pretty much anybody they want."
Including Meinholz, the Eagles had four players score in double figures, with Burkhart (12), freshman Ethan Anderson (11) and senior Sam Skoyen (11) also reaching that mark. Anderson had a three-minute stretch in the second half in which he hit a 3, a midrange jumper, and a driving layup that helped UW-L's lead hover around 10 as Viterbo made a comeback push.
Viterbo coach Wayne Wagner said his team didn't keep its principles at times, and that allowed the Eagles to get easy baskets.
"A staple of ours has been a five-man approach to defense. On too many possessions, one or two of our guys just weren't where they should've been," Wagner said. "We were missing that edge on defense."
A win — even an exhibition one — was a welcome sight for the Eagles after their charter bus went off the road in Iowa on the way back from their loss at Central. No one was injured, although the driver was taken to a local hospital.
With two tough matchups on the horizon, Dernbach was happy to see his team start showing its potential.
"We needed to win this game," Dernbach said. "We had to play good basketball for our belief that we know we're taking steps to be the team we know we can be."