After being the star on her high school basketball team and then transitioning to a NCAA Division I school, Chelsea Olson faced numerous challenges when it came to taking on tougher opponents and gelling with a new team.
The Westby High School graduate, and now college sophomore at Youngstown State (12-5, 4-2), has taken the changes in stride, thanks to the development of a trait that comes in handy in nearly every situation faced on and off the court — confidence.
"I just have more confidence in myself," Olson said during a recent phone interview. "Having positive self talk is big at this level. Knowing that you're here for a reason and playing for a reason and having the ability to go out and make things happen, everything just goes up."
As a sophomore, Olson has been showing that the success from her freshman season has continued to escalate. So far, Olson has compiled three double-doubles and put up a season-high 22 points against Akron.
The 5-foot-10 point guard's contributions to the team has been no surprise to Penguin's head coach John Barnes, who knew he landed a special player after watching Olson play in high school.
"We saw her in high school and AAU basketball and we knew she was a very special player," Barnes said. "When you get to a Division I college level, it's a lot more difficult, harder to score and harder to defend which hurt her confidence a little.
"At that point she just kept working and striving to get better and she's just continued to grow and get better every day."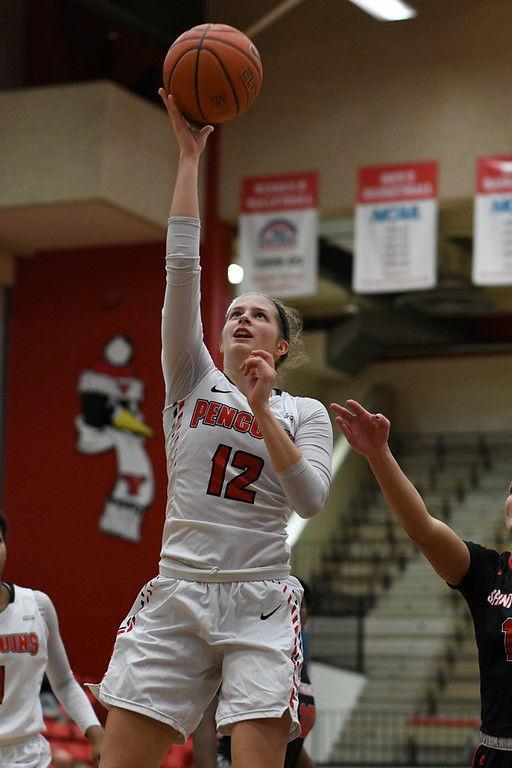 Olson's constant work in the gym during the offseason came at a time in where she stepped back into the position that she played throughout high school — point guard. Youngstown graduated its starting point guard in Indiya Benjamin, and Barnes knew that Olson could fill the shoes that were left open. Olson played shooting guard during her freshman year at Youngstown State.
Barnes figured that Olson could help out the team after the numbers she put up during her inaugural year of college basketball. Olson averaged 7.9 points per game and rounded out her season with 252 points, 139 rebounds, 55 assists and 24 blocks. Not only that, but she was also named the program's Newcomer of the Year, was the Horizon League Freshman of the Week four times, and led conference freshmen in 3-pointers.
Although the awards and honors can be a positive thing, that isn't Olson's top priority, according to Barnes.
"It's very nice and kind to be rewarded for hard work, but that thing about Chelsea is that she's not to worried about awards," he said. "She's more worried about winning games and helping the team win. What's even more refreshing about her is that she doesn't care if she scores 20 points or two points, she just wants the team to win."
Olson's growing level of confidence in herself and a team-focused mindset has allowed her to take challenges, such as switching positions, in stride.
And at the end of the day, its apparent Olson will do anything it takes to help the team succeed.
"I'm a person who likes new opportunities and takes challenges head on," Olson said. "I'm just doing the best I can to help the team win."