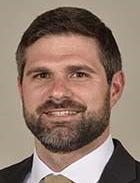 The UW-La Crosse football team is turning to Bryan Whitehead to lead its defense under new head coach Matt Janus.
Whitehead was announced as the team's defensive coordinator on Monday.
Whitehead spent the last two seasons as an assistant coach at Wofford College (S.C.) and coached the defensive backs last season. He was also a defensive quality control coach and video coordinator for the team in 2018 and helped the team with recruiting.
The Eagles were 7-3 overall and 5-2 in the WIAC last season. They allowed an average of 22.1 points per game to rank fourth among conference teams and were third against the run (107 yards per game allowed) and sixth against the pass (257.6 ypg).
"It is a tremendous honor to be named the defensive coordinator at UW-La Crosse," Whitehead said in a UW-La Crosse press release. "I am excited for this opportunity, and I cannot wait to help this football program win a conference championship."
You have free articles remaining.
UW-L was fourth in overall defense in allowing an average of 365.3 yards per game. Linebacker Rusty Murphy, who will be a senior, is the top returning defensive player after earning a spot on the All-WIAC first team as a junior.
Murphy was part of 71 total tackles last season and had 12 stops behind the line of scrimmage. He had four sacks and recovered three fumbles, returning one of them 86 yards for a touchdown.
Linebacker Joey Bolda and defensive back Noah Schober are other top returnees. Bolda had 7½ sacks and recovered three fumbles, and Schober had 54 tackles and two interceptions last season.
Whitehead, who played at UW-Platteville, helped Wofford win Southern Conference championships in each of the last two years. The Terriers qualified for the NCAA's FCS playoffs in each of the past four seasons and ranked 20th nationally by allowing 335.3 total yards per game.
"I am so excited to work with Bryan once again, and the UW-L football program is excited to welcome him and his wife, Ilse," UW-L head coach Matt Janus said in the release. "I know the kind of person that Bryan is, and he is going to build some tremendously strong and meaningful relationships within our football program and university. As a coach, he brings a wealth of experience most recently at Wofford, where he has been a part of multiple conference championships and FCS playoff games. He will bring a winning approach that will be vital for this program to take the next step."
Janus was previously an assistant coach at UW-Platteville. Whitehead, an Elgin, Illinois, native, also worked as an assistant for the Pioneers.
The Eagles start the 2020 season at Concordia College (Minn.) on Sept. 5.
Be the first to know
Get local news delivered to your inbox!