The UW-La Crosse women's soccer team wasn't going to let the weather be the story of its first-round NCAA tournament game on Saturday afternoon.
Instead, the Eagles scored early, added another goal in the second half and held off Wartburg College (Iowa) 2-0 at the Veterans Memorial Field Sports Complex.
UW-L (18-2-2) will host the University of St. Thomas (19-2) at 1 p.m. Sunday in a second-round game, after it beat Knox College 1-0 on Saturday morning.
Sophomore Kaitlyn Villars got the Eagles on the scoreboard first when her perfect cross found senior Natalie Herzog open on the back post. Herzog easily finished the pass, giving UW-L a 1-0 lead just 2 minutes, 50 seconds into the game.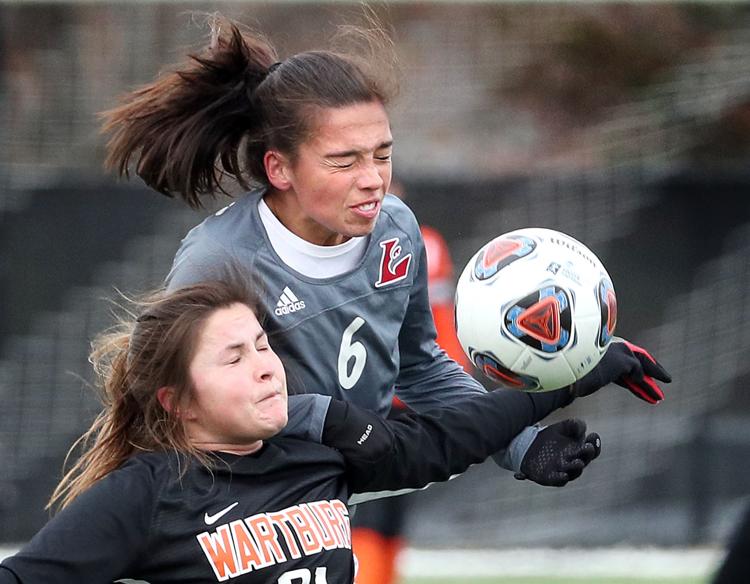 "It's always great in this environment when you get that early goal, and I thought we did a really good job of chasing it from the get-go," said Eagles coach Jason Murphy, who has guided UW-L to three NCAA appearances in his five seasons as coach. "Kaitlyn did a lot of work, and Natalie did her job on the finish."
That goal held up as the only shot on goal in the first half as both teams acclimated to temperatures that stuck in the low 20s. Murphy said that the Eagles had the right mentality about approaching a game in mid-November.
"It is what it is. There are 64 teams left playing in the country, so you can be cold or you can be excited about the fact that you're still playing," Murphy said. "I think our players have a really good mentality with that thought process. It was cold today, but I think our kids battled."
Senior and two-time WIAC offensive player of the year Margaret Harings got things fired back up after halftime, seconds after getting an initial shot attempt that was stopped by Knights (13-6-1) goalkeeper Marissa Lopez. Freshman Hannah Beech took the ensuing corner kick, which Harings drove home with her head from the back post to add an insurance goal in the 72nd minute.
"It says a lot about her mentality," Murphy said of Harings. "She probably deserved to score prior, but the goalkeeper made a fantastic save. Margie went and got the next one, so it's always great that when you get [stopped], ten seconds later you can go and get the finish."
Harings said that her goal added some reassurance for the Eagles, who then had to focus on containing Wartburg for the final 18 minutes.
"I think they definitely ramped it up a bit at the end," Harings said of the Knights, who earned an at-large berth to the tournament out of the American Rivers Conference. "We needed to find the corners on their side a little bit better, so I think we could have done better at that but we did good at finishing it off."
Waiting for the Eagles are the Tommies, who bested UW-L 4-0 in a game in La Crosse on Sept. 9. Harings said that some early season injuries worked against the Eagles at that time, but that her team will be more than ready for the rematch.
"I think we have a lot of players back that we didn't have at that time," said Harings. "They're a good team, so we're excited to get another chance to play them closer. It will helpful that we both had good games the day before, so we'll both kind of be at the same level. It will be an exciting game."
Murphy said that UW-L is a totally different team in the 60-odd days since last playing the Tommies.
"We're playing better, we have a full complement of players, and we're excited about still having the opportunity to play," Murphy said. "Winning games in the national tournament is no joke, and so we're pretty excited about the opportunity to play."