The Viterbo University volleyball team, ranked No. 2 in the NAIA, took a set to shake off some 13-day rust, then powered its way to a 25-23, 25-13, 25-18 victory over No. 23 Jamestown Friday night at Beggs Gymnasium.
Viterbo, which had not played since Sept. 9, won its 13th consecutive match to start the season. Viterbo will attempt to make it 14 straight wins today when it hosts Dickinson State at 3 p.m. in another North Star Athletic Association match.
Viterbo and Jamestown (7-6) exchanged punches in a back-and-forth first set where each team displayed its power and defense. Viterbo was able to use a strong performance from All-American middle hitter Natalie Geidel to outlast the Jimmies.
"I scheduled a little break in our season. It gives us time to refresh a bit and get healthy," Viterbo coach Ryan DeLong said of the break.
"In the first set, offensively we played pretty well. We had 16 kills and we held them to nine kills. It was a conference game and rivalry game and Jamestown came out playing hard. That was a big set to get."
Viterbo took control of the second set from the start and built a 20-10 lead before cruising to a 25-13 win. It was more in the same in the third set, as Viterbo's depth and talent proved to be too much for Jamestown.
"We worked hard to win that first set and settled things down after that," DeLong said. "It kind of took the wind out their sales mentally as well.
"The start of sets two and three, we got out to big leads and kind of controlled things with our offense. We had 16 kills a set, and when you are doing hat and controlling the net, it's pretty hard to stop."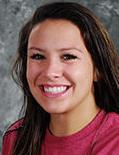 Geidel led the V-Hawks with 12 kills, while Miah Garant, a 6-2 freshman middle hitter from Fort Atkinson, Wis., added 11. Garant moved into the starting lineup three matches ago when senior Sierra Skow suffered a season-ending knee injury. Skow, an honorable mention All-American from Hartford, Wis., suffered an ACL tear.
"She went up for a kill and came down on her own and tore it," DeLong said of Skow. "It is a tough loss for us. Fortunately, we have some depth and I am confident in the girls we have. It is a tough way for Sierra to end her career, but she is on the bench helping us out."
Amelia Grahn led Viterbo with 42 assists, while Baylee Gross led the V-Hawks' defense with 13 digs.