Sawyer Smith, a University of Wisconsin senior and graduate of Central High School, finished second in the decathlon at the Big Ten's outdoor championships Sunday in Bloomington, Ind.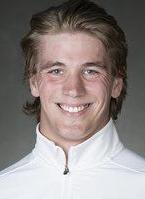 Smith placed fourth or better in nine of the 10 events and had his best showing as the runner-up in the pole vault by clearing 15 feet, 1 inch.
The overall winner was Michigan State's Nick Guerrant with a final score of 7,569. Smith finished with 7,496.
Smith, a decorated WIAA state qualifier during his career with the Red Raiders, fnished third in the 100-meter dash (11.03 seconds), 1,500 (4:54.33), high jump (6-5½), long jump (23-5½), discus (133-7) and javelin (184-1).
He was fourth in the 400 (49.58) and shot put (45-3) and ninth in the 110 hurdles (16.07).
Smith was third in the decathlon as a junior and 10th as a sophomore. His posted scores of 7,.249 as a junior and 6.969 as a sophomore.
Smith was a 13-event state qualifier while running at Central. He helped the Red Raiders win the 1,600 relay as a junior and placed among the top six finishers 10 times. His best individual finish was third, which he accomplished in the 400 twice and the long jump once.