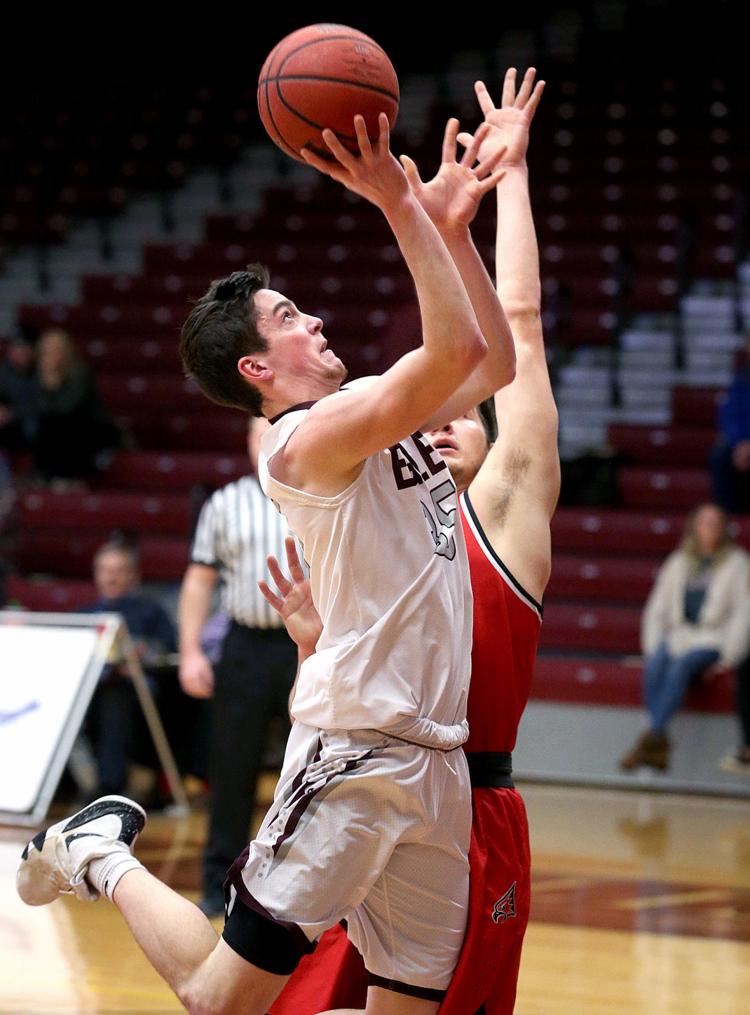 When the UW-La Crosse men's basketball team looks across the floor at visiting UW-Oshkosh on Wednesday, it might seem like the Eagles are looking into a funhouse mirror.
Both teams have similar identities and styles — tough-minded, defensive bunches. Both are in the top 40 in NCAA Division III in scoring defense, with La Crosse being 28th (66.0 points per game allowed) and Oshkosh 37th (66.9), which are good for second and third, respectively, in the WIAC.
But the funhouse element of this matchup — slated for 7 p.m. at Mitchell Hall — comes in the fact that the No. 3 Titans are tall and long at seemingly every position, and they have a significant size advantage at the center spot in junior Jack Flynn.
Before diving in deeper on Oshkosh (22-1, 12-0), preparation this week for the Eagles (15-8, 8-4) has been about correcting the mistakes that have led to a three-game losing streak. Turnovers have been a key culprit in a stretch that has seen La Crosse post three of its lowest point totals of the season. The skid came after the team had won eight of its first nine conference games.
"I think, maybe, we got a little satisfied with ourselves," senior Brendon Manning said. "And then we lost three games in a row, and we kind of hit the wall."
Manning said Monday's practice was focused on righting the ship offensively, and cutting down on the 14 turnovers per game the Eagles have averaged during their losing streak.
"Always having a guy setting a screen. I think that's a big reason why we're struggling is we don't have guys out there setting screens every single time, which is bad for motion offense," Manning said. "But (Monday) helped with that, with 3-on-3 actions, coming off of screens, I think it's going to help us."
UW-L coach Kent Dernbach has talked with Manning and other team leaders on how they can get going in the right direction this week and heading into next week's conference tournament. The Eagles have a one-game cushion on second place in the conference, meaning a first-round bye in the WIAC tourney. But Eau Claire, Stevens Point and Platteville are all just one game behind.
Dernbach said poor execution offensively of late and shots not falling that have in the past are also factors in the struggles.
"When you combine those two things, that's when you start asking, 'How good are we?'" Dernbach said. "I think we're a pretty darn good offensive team. We just have to execute down the stretch against teams that, like us, are playing for playoff position and the best seeds."
Oshkosh's length creates problems, but Flynn is the biggest mismatch in Wednesday's matchup. At 6-foot-8 and 240 pounds, the Appleton, Wis., product has a combination of height and heft the Eagles have trouble slowing down.
Manning and Dernbach said Eagles who draw Flynn defensively will be trying to force him off his spot and force his catches to be further from the basket than their first meeting, a 72-66 win for the Titans.
"If we stay committed to fighting the ball, meeting him early, making him work, forcing him to his off hand, and finish with rebounding, then we're going to give ourselves a really good shot on our home floor," Dernbach said.
POINTS AT A PREMIUM: For the No. 24 UW-L women's basketball team (20-3, 9-3), Wednesday's an opportunity to create some chaos at the top of the WIAC standings. La Crosse is tied with Whitewater for second place in the conference, both a game behind Oshkosh.
The Eagles travel to Oshkosh for a 7 p.m. Wednesday tilt that will have a great impact on seeding for next week's conference tournament, and could be a big NCAA tournament resume booster if La Crosse can win.
But knocking off the No. 15 Titans (20-3, 10-2) on the road will require a high level of offensive efficiency, because the Titans boast the seventh-best defense in Division III at 48.7 points allowed per game. UW-L isn't far behind (50.9 ppg allowed, 19th in D-III) in that category.
The Eagles have been shooting the lights out from the 3-point line the past four games — 41 makes on 92 tries (44.6 percent) — and are two 3s away from breaking the program record for 3s made in a season (178). The Titans held La Crosse to 5 of 21 from 3-point territory in their Jan. 19 meeting, mostly by cutting off driving lanes and making it difficult for the Eagles to drive and kick out to open shooters.
KEEPING THE STREAK ALIVE: The UW-L women's swimming and diving team will compete for its eighth consecutive WIAC championship this weekend at Eau Claire. The championship meet is slated for Thursday-Saturday.
If they win, the Eagles (4-0) would tie Eau Claire with 19 team titles.