The UW-La Crosse football team has had some standout players over the years, including a number that have had significant NFL careers. Joel Williams, Tom Newberry, Mike Masloski and Bill Schroeder, to name a few.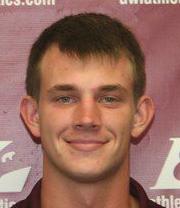 The list of star receivers is long and impressive, too, but there is a new name to add to that list. The top of the list, to be specific, as no one in the storied history of the Eagles' program recorded the kind of season turned in by Nick Holcomb. The 6-foot-2, 190-pound wide receiver from Germantown, Wis., did it all for the Eagles during a turnaround season as he shattered single-season records for receptions (80), yards (1,401) and TDs (20). His 20 TD receptions are a WIAC record and led all of Division III. His 1,401 receiving yards led all of Division III.
For his performance, Holcomb comes in at No. 5 for the Top 10 Tribune sports stories of the year.
Holcomb, who was incredible at finding holes in the coverage of opposing defenses, set UW-L single-game records for yards (263 against Ripon), TDs (5 against River Falls) and tied a program record with 15 catches in a game (against Division III semifinalist Oshkosh). Holcomb, a quiet and humble player off the field, was one of four finalists for the Gagliardi trophy, which is basically the Division III player of the year. He was also named to several All-America teams.
Holcomb's consistent high-level performance week in and week out allowed UW-L to go from 5-5 in 2016 to 8-2 in 2017.