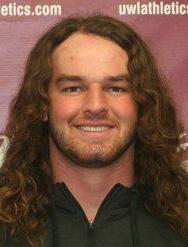 Zack Zillmer expected his trip to Germany to play professional football, which also doubled as his first time out of the United States, to have plenty of bumps. Sure enough, they came.
The Black River Falls High School graduate and former UW-La Crosse defensive end had to sprint through Hartsfield-Jackson Atlanta International Airport to catch his connecting flight to London, which was nearly empty. His check-in bag was left behind. Then, after he landed in Munich, he didn't get off a train at the right stop.
"I was in the middle of nowhere, and they kicked me off the train because I was at the end of the road," said Zillmer, who left the U.S. for Germany on Saturday. "Then I was like, 'I don't know what I'm going to do.' I finally got on the right train and got to where I needed to be, but it was a crazy 24 hours of travel."
For all the challenges Zillmer could have foreseen in his first season with the Albershausen Crusaders, who play in the third division of the German Football League, a global pandemic wasn't among them.
"Even a week ago, I didn't think it was going to be anything like this," Zillmer said. "That's how fast it's changed already."
Now, it's reality as Zillmer gets settled in Albershausen in southern Germany.
COVID-19 has hit countries around the world and sickened more than 200,000 people. Germany has more than 10,000 cases of the virus and 20 deaths as of Thursday evening. In efforts to curb its spread, the Crusaders — like sports teams and organizations across the globe — have had practices suspended and games pushed back.
The team, which had been practicing for about a month before they were suspended last week, won't be able to practice again until early April, when games were originally slated to start. Albershausen was scheduled to play a preseason scrimmage later this week, but that has been canceled. And the start of the regular season has been pushed back until early May.
Poland, Great Britain, Serbia and Sweden are among other countries that have pressed pause on their American football leagues.
"I don't know what's going to happen with how things are going to develop, and that's the thing I think I've learned the most from this whole situation is you can't predict what's going to happen next because things are changing so fast," Zillmer said. "Just have to be taking it day by day."
For Zillmer, at the moment, that means spending a lot of time at home with his roommate, who is from Maryland. Germany isn't under a total lockdown, but restaurants, bars, gyms and schools are closed, and large gatherings are discouraged. Zillmer, who has only met a handful of members of the team, has been forced to work out in his bedroom, though he did get a chance to lace up his cleats for the first time in a couple months on Wednesday at a nearby soccer field.
"Did a warmup, did some football agility drills and some sprints," Zillmer said. "... That helped a lot, kind of got rid of the cabin fever a little bit."
Zillmer has also taken the opportunity to explore Albershausen and the surrounding area, albeit with caution, making the most of his first trip abroad as he optimistically waits for football to return. Zillmer knows, though, that day might not come.
"If worst case scenario, they end up having to cancel the season, I would definitely want to come back and try again next year," he said. "By just being here and getting a small little taste of it, I can just tell how much fun it would be."
Concerned about COVID-19?
Sign up now to get the most recent coronavirus headlines and other important local and national news sent to your email inbox daily.