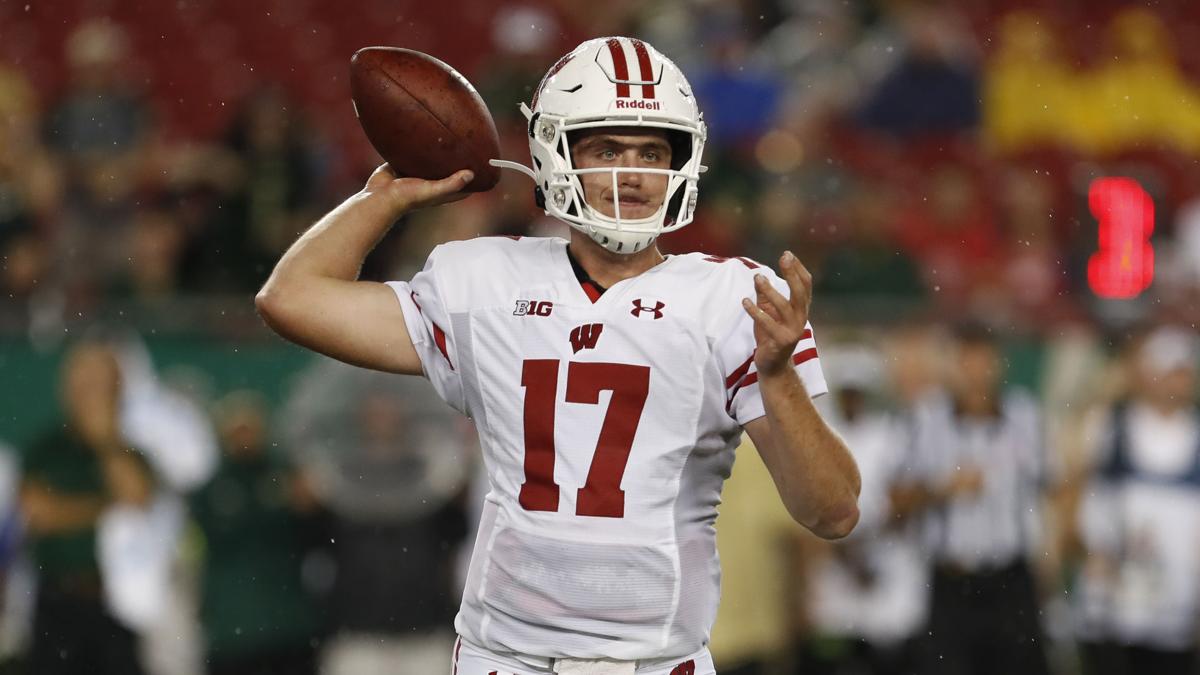 Jack Coan completed 19 of his 26 passes for 201 yards and two touchdowns with no interceptions in the University of Wisconsin football team's season-opening rout of South Florida last week, but all anyone wanted to talk about afterward were the two times he overthrew wide receiver Quintez Cephus on deep passes.
Welcome to the world of social media, where everyone is a quarterback guru and patience isn't a virtue.
That's not to minimize the two missed opportunities, because Coan will have to start connecting on deep balls to become the playmaker UW needs at quarterback. But Coan's performance — or anyone else's, for that matter — can't be judged on two plays.
Though his inexperience showed on several other occasions, Coan's overall performance against the Bulls was very promising and showed considerable growth from the end of last season, when he started four games for an injured Alex Hornibrook.
"I just thought (he had) a confidence that was different," offensive coordinator Joe Rudolph said. "We were running a lot of different things and he just had a poise to his game. He got us out of a few things with some throws in the run game. I just liked the way he led the group. He led the huddle, he led the drives, he was in command. It was good."
Coan's confidence and command of the offense in the opener showed why coach Paul Chryst picked the junior as the starter over redshirt freshman Chase Wolf and highly touted true freshman Graham Mertz. When Coan starts against Central Michigan in UW's home opener today at Camp Randall Stadium, his understanding of the offense will allow Chryst to dig deeper into a playbook that clearly has expanded since the end of last season.
Due to his small-school background and the fact the Badgers tried — and failed — to redshirt him last season by limiting him to four games, Coan took until this season to truly get up to speed in terms of his size, strength and comprehension of the offense. Especially his comprehension of the offense.
"I think it's excellent. I really do," Rudolph said. "I think that's what really separates him right now is he does have a really strong command of it and he's got great confidence in that. His confidence is steady. I think if he's able to keep that rolling, that's a really good thing for us."
One thing Coan did well against South Florida was convert on third down and give UW's running game, led by Heisman Trophy candidate Jonathan Taylor, another opportunity. That started on the opening drive, when he drilled a 13-yard slant pass to Cephus on third-and-7. For the game, Coan was 3-for-4 on third-down conversions when he was able to throw the ball.
That stat is a reflection of how good Coan was on short and intermediate passes. He was 0-for-3 on passes that went 20 or more yards downfield, 19 of 23 on completions of 19 yards or less.
You have free articles remaining.
"I thought Jack for the most part saw things pretty well," Chryst said. "I thought he was purposeful as far as getting the ball out of his hands."
When asked about the downside of Coan's performance, Chryst cited the three sacks, especially one he could have avoided with better recognition of the defense, and the pass to Taylor short of the end zone on the final play of the first half when UW had no timeouts. Only Taylor's second effort turned the play into a touchdown. Otherwise, UW would have gotten nothing.
"They just overloaded one side in a pressure and I basically could have gotten the ball out of my hands with just a quick easy completion instead of going through my normal progression," Coan said of the sack.
Chryst thought the sequence at the end of the half was a great learning experience for all the quarterbacks because it showed how quickly things can change. UW started out at a leisurely pace but had to deal with the expiring clock by the end.
"I think that drive started with like 6 minutes," Chryst said. "But then it comes down to where the clock is an issue and we've got to do a better job of helping him and he as the leader can help, saying, 'OK, guys, it's changing gears on you and let's go.'"
Those are mistakes practice and experience can fix. The deep ball thing is something Coan is going to figure out on his own.
While it's true that he had to dodge a pass rusher the second time he overthrew Cephus and that he had limited work with the late-arriving Cephus this fall, Coan had almost no success throwing deep last season and must prove he can make that throw consistently.
"We definitely had two good one-on-one opportunities and I've just got to give him a chance on that," Coan said. "There's no excuses for that."
Though Coan said he played with good rhythm and took what the defense was giving him, the throws were a reminder that he is still developing.
"The first one I thought he had a shot at it and overshot it a little bit," Chryst said. "But I liked his willingness. It was comfortable for him on that one. It wasn't like he had to stress it and it wasn't like he was trying to force something. If we're going to be better offensively, we're going to have to win those when they present themselves."
Against South Florida, Coan gave UW the kind of efficiency the run-first Badgers need from their quarterback. But for the Badgers to be really good, he needs to give them more than efficiency.