The UW-La Crosse football coaching staff was sent UW-Whitewater's defensive schemes before the teams played Sept. 29 at Veterans Memorial Field.
An email containing eight PowerPoint presentations that detail the Warhawks' defensive principles, coverage rules and alignments against a number of opponents' formations was sent to UW-L coach Mike Schmidt on Aug. 22 and sent from Schmidt to UW-L offensive coaches on Sept. 17.
The email containing these PowerPoint files was sent to the Tribune as part of an open records request into the reassignment and eventual resignation of former La Crosse offensive coordinator Luke Bengtson.
The five-times-forwarded email chain started with craigsmith0306@gmail.com — Craig Smith was the former offensive coordinator at UW-Whitewater, whose contract wasn't renewed after the 2017 season. The Tribune confirmed it was the account of that Craig Smith via email.
The account emailed the PowerPoint documents to edmondsnelson@gmail.com, which forwarded it to NEdmonds@dbq.edu, the University of Dubuque account of Nelson Edmonds, the dean of student engagement and services and a former assistant coach at Whitewater. Edmonds forwarded it to the university email of Stan Zweifel, the Spartans football coach, who then forwarded it to Schmidt.
Schmidt sent the files to four offensive coaches.
The Tribune confirmed that the PowerPoint documents were accurate and featured code words that pertained to Whitewater schemes this season.
Dubuque lost to Whitewater 38-6 in the season opener, and La Crosse fell 30-7 in the first WIAC game of the season.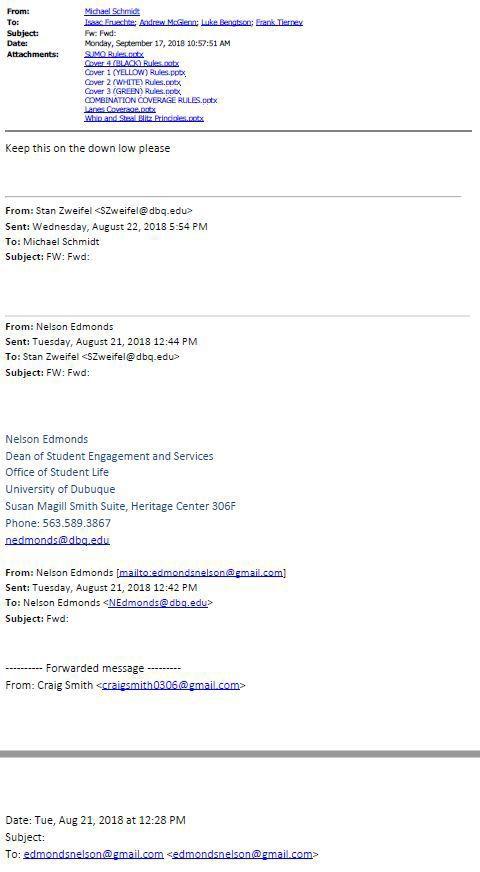 Be the first to know
Get local news delivered to your inbox!