The 4-1 start of the UW-La Crosse men's basketball team wasn't expected by many — and with fair reason.
Only one starter and a handful of role players from last season's team remained on the roster, and with interim coach Kent Dernbach parachuting in after longtime coach Ken Koelbl resigned, getting the Eagles on the court with any semblance of organization would have been a win in itself.
But UW-L is winning games despite learning everything on the fly, and has a chance to run its record to 5-1 when it plays Northland College (2-3) at 4 p.m. Saturday at Mitchell Hall.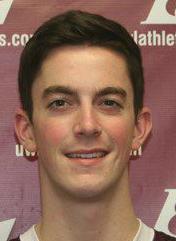 Four new starters — juniors Taulvish McCray, Tanner Bruchs and Brendon Manning, and sophomore Terek Nesheim — are still adjusting to their expanded roles after spending their collegiate careers coming off the bench.
"It's been a big step for me," said McCray, the Eagles' lightning-quick 5-foot-10 point guard. "But all summer I was preparing for it. And the guys on this team are making it easy because they're instilling confidence in me and each other."
All four of the newly minted starters are averaging between 6.2 and 9.4 points per game as UW-L learns the intricacies of Dernbach's motion offense. Junior forward Ben Meinholz, the lone returning starter, leads the team at 18.8 points per game. The Eagles had a stretch of five games in 11 days in mid-November, and while the results were nearly perfect, their practice time was geared more toward preparing for the next opponent than refining their style.
UW-L has had a full week to prepare for Northland, and Dernbach said much of this week's preparation has been focused on executing their schemes better and trying to establish more consistent second options behind Meinholz.
"I think the most important thing is each player having confidence in ourselves and our teammates," Manning said. "We haven't even talked through all of our offensive points yet, like what we're going to run X's and O's wise. But I think the guys stepping into the starting roles … have done a good job so far."
The Eagles' offense had two bad stretches in their loss to Bethel on Nov. 25, but otherwise has been capable enough. Dernbach said as the season goes on and players become even more comfortable in their spots that the offense will flow better.
"It certainly wasn't great offensive execution that got us off to a solid start," Dernbach said. "It really was our effort on the defensive end. And it really starts with those two guys, Taulvish and Brendon, just being warriors on the defensive side."
McCray and Meinholz have been menaces to opposing ball-handlers, tallying a combined 26 of the team's 45 steals through five games and forcing many more turnovers with their ball pressure.
A smaller team overall, the Eagles have relied on Manning's rebounding prowess to end opponents' possessions. He's pulling down 8.6 boards a game, while Meinholz (5.0), Bruchs (3.8), and sophomore Nolan Wright (3.8) all chip in.
Manning stands just 6-3, and was a point guard for most of his high school career, but he's jockeying post players for position and coming out on the winning side of those battles.
"I think it's that determination of going and getting the ball," Manning said. "I'm not the strongest guy out there, but I'm always trying to block people out and get the ball off the rim."
UW-L isn't nearly what it will be when WIAC play starts in January, but Dernbach said he's been impressed with the toughness his team's shown in the early portion of the season.
"One thing I noticed the first week is that we have a couple really tough players, mentally tough and physically tough," he said. "That's something you can trust in as a coach."
VITERBO'S TOUGH TEST: The V-Hawks (7-3) have won seven of their past eight games, and have a road game at Bellevue (4-5) Saturday to kick off NSAA play. They split two games against Bellevue — which is receiving votes in the NAIA Top 25 — last season.
Viterbo had a six-game winning streak end in a close battle with UW-La Crosse last weekend, but bounced back by throttling Martin Luther College 99-41 on Monday.