The UW-La Crosse football team has a chance to go unbeaten in nonconference play for the third consecutive season when it makes its home debut at 1 p.m. Saturday against NAIA No. 20 Dickinson State.
Tribune beat reporter Colten Bartholomew gives a quick breakdown of NAIA No. 20 Dickinson St…
That's a feat the program hasn't seen since 1995-1997, which includes the national championship run of 1995 and the playoff berth of 1996. The current Eagles players were either toddlers or not even born yet in those years.
To do it, UW-L — 2-0 and ranked No. 23 in the d3football.com poll — will have to handle the speed the Blue Hawks possess on both sides of the ball.
"They have tremendous speed all over the place, from tailback to wide receiver, they have a ton of speed on the perimeter," Eagles coach Mike Schmidt said.
Dickinson State (1-1) is coming off a loss at No. 10 Rocky Mountain College, and will rely on strong-armed quarterback Hayden Gibson to lead the way. At 6-foot-3 and 225 pounds, Gibson has the ability to stretch the field with deep throws.
Schmidt said he knows because of the defense his Eagles play — primarily man-to-man coverage — the Blue Hawks will likely test the secondary often with leading receiver Randy Ivey (11 catches, 230 yards, two TDs).
"We've got a huge challenge in our secondary. My guess is they throw it 50 times on us," Schmidt said. "We're going to have to defend and tackle in space."
What may be more important to the UW-L defense, though, is how they cover running backs in the receiving game. Illinois Wesleyan's small and shifty Bryce Dooley gained 10 yards per catch last week on swing routes and screens out of the backfield, to the tune of 120 yards. The Blue Hawks have the same kind of speed backs that can attack those spots.
UW-L sophomore linebacker Rusty Murphy — the team's tackler and one of the players oftentimes responsible for covering backs on pass routes — said the defense has focused on closing those areas of the field quicker.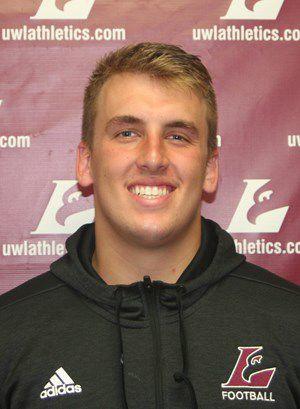 "We hadn't seen it all that much with our offense or Luther to that point, so we've been repping it out," Murphy said. "This quarterback likes to stick in the pocket more than last week's, and that's what we like to see as a D-line and linebackers.
"I'm excited to see what we can do."
When UW-L has the ball, a key will be finding a way to account for linebacker Daniel Moreno. Moreno, a junior college transfer from California, has 25 tackles on the season. The Blue Hawks' defense is predicated on keeping Moreno free to run sideline to sideline and make plays.
It'll be up to the Eagles' interior lineman, like senior center Bradley Schultz, to get movement along the line and get to Moreno and his teammates at the second level to create running lanes. That's easier said than done with defensive linemen like Jeremy Poyer (6-4, 305), but Schultz said he's confident the line can stick to its fundamentals.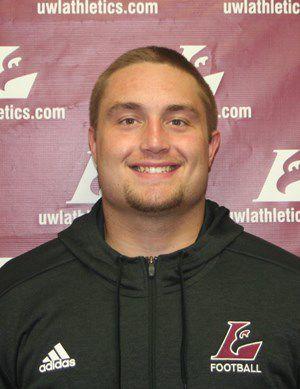 "They're a very talented group, but what's important for us is to think about what we've been doing this whole time," Schultz said.
"Our technique, what coach (Andrew) McGlenn tells us, we know that works. So if we stick with that and not try to do our own thing, we'll be just fine."
La Crosse has done a good job so far rotating running backs and those players gaining yards and falling forward, as the team has gained 182 rushing yards per game thus far. But if Poyer and Moreno are as disruptive as they have been in the first two weeks, that might be tough.
Schmidt again emphasized the importance of his team being able to adjust on the fly Saturday, as a lack of experience against Dickinson State or common opponents make game planning more difficult.
"It's kind of strange where we don't know much about these guys. New offensive and defensive coordinators over there," Schmidt said. "But you can tell what they want their identity to be. So you can't necessarily pick up on too many tendencies, but you know what they want to be, so you play you base stuff in ways to cover that."