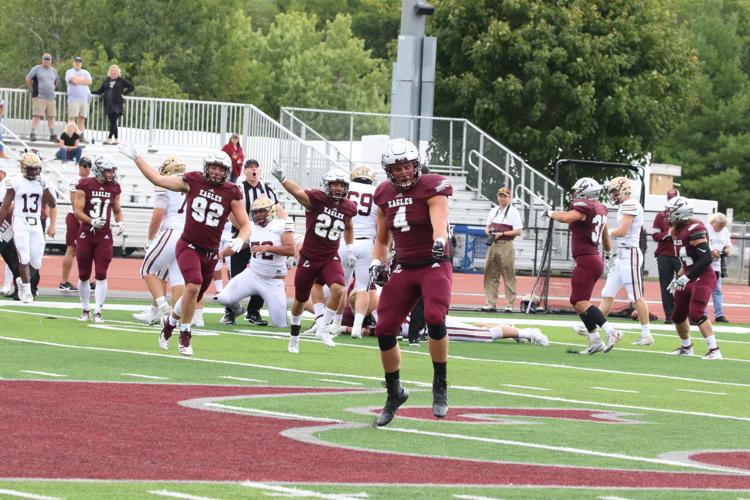 Peter Kissling struggled to put what this game meant into words. It was the first game in 11 months for the redshirt senior safety after a dislocated elbow that tore every ligament and ended last season with six games left.
That's why Saturday was so special.
Kissling delivered an interception late in the fourth quarter and recovered a fumble in overtime to seal the season opener for the UW-La Crosse football team, as the Eagles escaped Concordia College (Minn.) 21-14 in overtime on Saturday at Veterans Memorial Field.
For Kissling, games like Saturday make the grueling rehab and recovery process so much more enjoyable.
"Gosh, it was fun," Kissling said with a laugh. "Nerves, I hadn't played a game in 11 months. It's nothing new. It's just a game, so I just have to go out there and have fun. Coach Matt Janus just told us to freeze the moment and that's what we did today."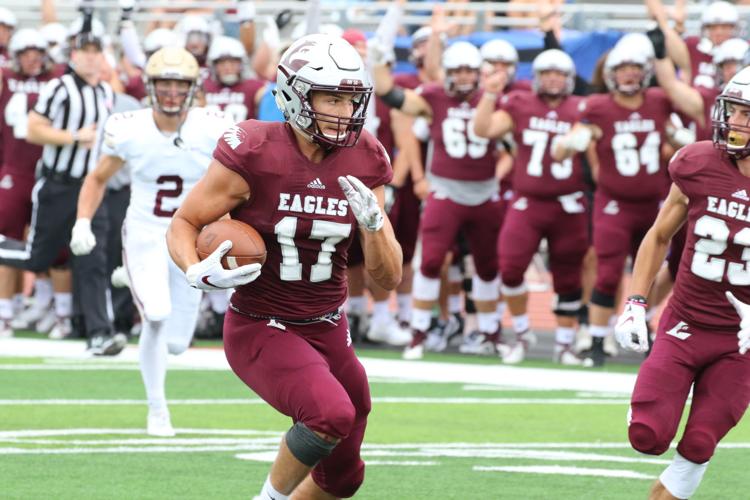 UW-L took the lead in overtime on a nice play from sophomore quarterback Evan Lewandowski — who bought time in the pocket before finding receiver Dominic Labellarte for an 8-yard score on third-and-goal. Concordia put the ball on the ground after botching the option pitch on its first play of the overtime. The ball appeared to lay on the ground for forever, and for Kissling the goal was simple: Do whatever it took to end this game.
"I saw the ball on the ground and I said, 'I have to get that ball,'" Kissling said. "So I fricken jumped on that ball."
You have free articles remaining.
Register for more free articles.
Stay logged in to skip the surveys.
Kissling was one of many standouts for the Eagles on Saturday. The front seven mauled Concordia throughout the day. Linebackers Rusty Murphy and Joey Bolda looked like men possessed, as they constantly stuffed the Cobbers triple-option attack. Unfortunately, due to errors within the UW-L sports information department there were no statistics kept.
"It was no surprise to us," UW-L coach Mike Schmidt said of the linebackers. "That group is terrifying. I think that group is the best in the league and they showed it today. That's a really good team over there. They have averaged seven wins a year for the last 20 years. And those guys just beat the heck out of them all day."
It was a gutsy effort for the Eagles defensively, who were asked to be on the field for what felt like the majority of the game due to the struggles offensively.
The Cobbers also blocked two punts and started four drives in Eagles territory. The Eagles forced three turnovers (two fumbles and an interception).
"On the defensive side, those guys just went crazy today," receiver Cole Spieker said. "Just their effort kept us in it. They had drives start in their own territory or the 30 on that last blocked punt. They had short fields, and we still stopped them. Our defense picks us up when the offense needs them to."
But they finally broke late in the fourth quarter. After Kissling's interception halted Concordia's potential tying drive, the UW-L offense went 3-and-out. The ensuing UW-L punt was blocked which gave the Cobbers the ball at the UW-L 27 with 40 seconds left. After a defensive holding turned what would have been a third-and-20 into a first down, Concordia quarterback Blake Kragnes found Matt Bye for a 12-yard score to tie the game at 14 with 30 seconds left.
Offensively, the Eagles looked like a team that was implementing a new offense. Dropped passes and 20 yards in pre-snap penalties plagued the Eagles, but they had quite a few near misses. Passes that were just out of the reach of wide open receivers. But the explosiveness was there. Lewandowski showed off his impressive arm strength when he fit a pass between two defenders and to Jake Simuncak, who took it 72 yards for UW-L's first score. Spieker scored the second touchdown on a 45-yard catch and run.
"We need to clean up the little things," Lewandowski said. "We would get something going and then shoot ourselves in the foot. We just have to clean up those little things to finish off drives. We should have put up more points today and I missed a couple of guys today … those are on me, but we will get it cleaned up this weekend."