You might say the UW-La Crosse football team is on a stairway, as it has been able to climb a number of steps since Mike Schmidt took over as coach in February of 2016.
Now, in their second season under Schmidt, the Eagles — who moved into the AFCA Top-25 poll Monday, as they are ranked No. 24 — have a chance to take another big step.
UW-L, which dismantled UW-Eau Claire 45-14 Saturday when it scored a special teams, defensive and offensive touchdown in the same game since 2009, faces Whitewater at 7 p.m. Friday. The Eagles are 5-0 — just like they were last year when facing Whitewater — and have a chance to make another statement to the WIAC, and perhaps beyond.
Whitewater has uncharacteristically struggled this season, dropping nonconference games to Illinois Wesleyan (17-10) and Concordia-Moorhead (25-17) to open the season, then falling to UW-Oshkosh 37-20 in its WIAC opener. It enters Friday night's game with a 2-3 overall record, and 1-1 mark in conference play.
Doesn't matter, Schmidt said. It's Whitewater.
"This is what we had last year. We had the same opportunity and we let it get away," Schmidt said of a 32-22 loss to the Warhawks that started a five-game, season-ending skid.
"This is where we thought we were going to be at is right here, at 5-0, and playing them. We know the tough stretch that we have coming up here. We know it gets tough and we know what this league is about."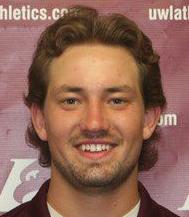 UW-L is led by quarterback Tarek Yaeggi, who connected on 15 of 33 passes for 290 yards and three TDs against Eau Claire. Yaeggi missed several open targets against the Blugolds, and his receivers had at least three drops.
He knows UW-L must be sharper, and more efficient offensively to beat the Warhawks at 13,500-seat Perkins Stadium.
"We are right where we were last year, too. The whole thing is, what are we going to do this year better than we did last year to prepare ourselves mentally and physically when it comes to playing Whitewater," Yaeggi said.
"Going into Whitewater, it is going to be a hostile environment down there. It is just going to be how we prepare ourselves."
The Eagles were able to hit some quick-strike plays against Eau Claire, but didn't move the ball as consistently as Schmidt, or Yaeggi for that matter, would have liked. The difference in this team as compared to the one that took field last year against Whitewater, however, may not have anything to do with the offense.
UW-L's defense, even without leader Ryan Weber on Saturday (injured foot), was dominant in the first half against Eau Claire and has allowed just over 10 points per game though its first five games.
And the Eagles special teams continue to excel, as UW-L blocked two punts against Eau Claire, one of which it recovered for a TD, and also had an interception returned for a TD by Luke Winnen.
"It is going to be a big test. We are going to have to put in a good week of practice," Winnen said. "We know we have to play our best game of football to beat those guys. Those guys have been at the top of the conference for a reason."
MORE THAN A FEELING: Schmidt said he and his staff saw some things on tape when it came to the Eau Claire punting game. He had a very good feeling the Eagles were going to raise some havoc, but did he think they would block two punts?
"Honesty, I knew we were going to block a punt today. I didn't know we would block two, but I knew we were going to block one for sure," Schmidt said. "When we got the first one, I thought it (blocking scheme) was exactly what we were going to get. I knew we were going to get another one (if Eau Claire didn't adjust)."
INVISIBLE MAN: The question had to asked, and was: How does star receiver Nick Holcomb get so open? It was almost as if the UW-L receiver was wearing camouflage at times against the Blugolds as there were several times there was no one within 10 yards of him.
Holcomb made the Blugolds pay, too, as he caught five passes for 129 yards and two TDs.
"I think they had a couple of coverage busts and Nick beat them on some coverage, too. Hey, that is what great players do," Schmidt said. "They cause you to move coverages around, and that has a higher likelihood of having a bust and things like that."