Time's running out for the UW-La Crosse football team to prove it can be the kind of team it wants to be — namely, an NCAA Division III playoff qualifier.
Tribune beat reporter Colten Bartholomew breaks down the keys to the UW-La Crosse football t…
Last week's yo-yo performance against UW-Stout that saw the Eagles build a two-score lead midway through the fourth quarter, give that lead up, and then win on a wild, walk-off strip-sack fumble return was the Eagles' season in a nutshell. It had flashes of brilliance on both sides of the ball tempered with mistakes that seemed like it couldn't have been the same team as earlier in the contest.
That's why Saturday's tilt with Stevens Point takes on such importance. The 6 p.m. kickoff at Veterans Memorial Field isn't just about getting another win, but winning in a way that builds momentum moving forward.
"I'm very aware that we're almost done with the season. In less than a month, the season's over," Eagles third-year coach Mike Schmidt said. "It's rapidly upon us. That urgency is what we keep preaching to this team, and what our emphasis is for this week.
"If you don't make a change and fix stuff, when will you? You're going to run out of time."
La Crosse (3-2, 1-1 WIAC) hasn't had a home win yet this year, however this matchup with the Pointers is by far the easiest home game on paper to this point.
Stevens Point (2-3, 1-1) is coming off a grind-it-out, 9-3 win over Eau Claire that also exemplified its identity. The Pointers rely on their defense to keep them in games, and anything they from the offensive side is gravy.
Almost each day at UW-La Crosse football practice, the same three coaches hit the field first.
A rash of injuries on offense — the Pointers' starting center is converted fullback Noah Pulsifer (6-1, 230 pounds) — is hindering Stevens Point's ability to consistently get the ball to big-play targets like Steve Herra, a 6-foot-3 tight end who leads the team in receiving. He has 25 catches for 297 yards and two scores.
The Pointers list freshman Max Herro as starting quarterback, and he had one completion and 47 yards on 10 carries at Eau Claire. It would be Herro's first start, however, it's expected that junior Matt Urmanski will also play.
Even with the injuries on offense, UW-L's defense needs to limit the Pointers' chances down the field. The Eagles did that well for long stretches last week, aided by a great pass rush, but faltered at times as well. Senior safety AJ Villarreal said the secondary has been drilling ball disruption and tackling hard throughout the past weeks.
"They've got some guys who are physical. They're not the fastest team out there," he said of the Pointers. "They're going to test us, but if we're in the spots we're supposed to be, I think we'll be fine."
When La Crosse has the ball, it needs to find an even flow that has eluded it this season. There have been big plays, and the occasional long drive, but they've often been spread out through a game and the in between drives are three-and-outs.
That's something senior quarterback Ben Schramski (1,009 yards, eight TDs) said he believes will be fixed. The Eagles are two games removed from changing offensive coordinators, with the former OC Luke Bengtson being reassigned in the athletic department and assistants Isaac Fruechte and Andrew McGlenn taking over that role.
"I think every week we get a little bit more comfortable. Obviously, we have a new coaching system right now, and every week that gets better. It just comes down to us making plays," Schramski said.
Expect sophomore Dominic Labellarte (281 yards, five TDs) and junior Cole Spieker (449, four) to continue being Schramski's top targets. The pair have proven capable of winning one-on-one matchups in crucial spots, especially in the end zone.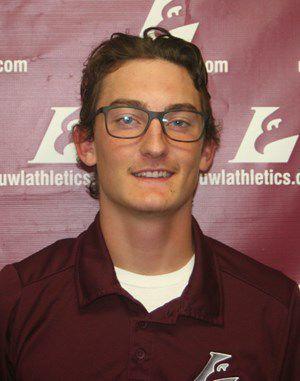 Labellarte said that aside from executing on the field, the offense has to fight complacency when it gets a lead, as it did last week.
"I think we just need to keep the pedal to the metal. I don't want to say we get content, but we almost feel that sometimes," he said. "Being up two scores, like we were at Stout, that content isn't enough. We just need to keep going."
This is a game where the Eagles have a talent advantage, and have a huge test on the road next week at Oshkosh. There's trap game potential, and Schmidt knows that.
"You look around the league and everybody's kind of the same. There's a lot of new faces," he said. "There's one dominant football team in our league, and then there's the rest of us, who all could beat each other on any day."