Nick Holcomb has three games remaining in his UW-La Crosse football career.
That means opposing defenses have just 12 quarters left to figure out how to stop the 6-foot-2 Germantown, Wis., native. Holcomb was a focal point of the Eagles offense, again, Saturday in its 42-28 loss to No. 3 Oshkosh. He pulled in 15 catches for 190 yards and two touchdowns, tying the Eagles' program record for catches in a game — a record set last season by Joel Oxton.
Second-year Eagles (5-2, 2-2) coach Mike Schmidt knew Holcomb was poised to have yet another breakout performance against the Titans, despite the fact Oshkosh's secondary was one of its strengths.
"Honestly, going into this game, we thought Nick was going to break the record for receptions in a game," Schmidt said. "Not because we wanted to break the record, but because giving him the ball and letting him make guys miss is a great play for us."
Holcomb beat the Oshkosh defense in a variety of ways Saturday, and showed again why he's such a difficult matchup for opponents. On his first touchdown, Holcomb used his large frame to box out his defender, fought through a holding penalty by the cornerback, and hauled in a 12-yard strike from junior quarterback Drew David to tie the game at 7 in the first quarter.
Later, he leaped over an Oshkosh cornerback for on a fade route into the end zone — arguably the route on which he's most dangerous — to haul in a 13-yard score and give UW-L a lead late in the second quarter.
"A lot of it was the play-calling," Holcomb said. "(Offensive coordinator Jake Landry) knows what he's doing up there. Then some of it is just going up and making a play."
Holcomb had eight catches and 82 yards at halftime, and then showed his versatility as a receiver in the second half. Oshkosh, determined not to let Holcomb get behind its secondary, started to play its cornerback 5-7 yards off the line against him. Holcomb used the cushion to get ball quickly and gain yards after the catch with short in-cutting routes and modified screens. He also burned corners who tried to run with him step-for-step by adjusting in the air to back-shoulder throws from David.
Holcomb has 57 catches, 912 yards and 12 touchdowns this season. The dozen scores is already the second-most in a season in UW-L's history — Paul Kling (1994) and Scot Burnoski (2004) are tied for record with 14. Holcomb is on pace for 81 catches, 1,302 yards and 17 TDs, all of which would be UW-L records.
"I think in the past I was able to make an impact when I got to play, but I had Joel and Sam (Zwieg) ahead of me," Holcomb said of his production this season. "I think now that I'm the No. 1, you just see it more."
BIG DAY FROM DAVID: The Eagles knew running the ball against Oshkosh was going to be a chore, so for the most part, they avoided it. Or did enough window dressing with jet sweeps and other motions to get the ball away from the Titans' big front seven.
That put the game on the arm of David, who did his best to lead the upset bid. His 414 yards were the fifth most in a game in program history, and he withstood big hits to continue giving the Eagles a chance in the second half.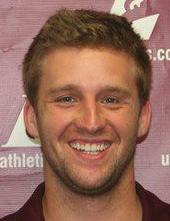 "What more can you say about Drew David?" Schmidt said. "Drew played his heart out. I'm really proud of him."
David's issue was a ball-hawking Oshkosh secondary that seemed more interested disrupting passes in the air than getting to him for sacks. David had six passes batted down at the line of scrimmage, with linebackers essentially standing at the line waiting to do so.
BEAT UP: UW-L had to retool its offensive line in the middle of the week after starting center Oliver Vasanoja aggravated a leg injury that held him out of the season's first three games.
That was just the start of the Eagles' injury woes.
Starting linebacker Michael Garvey left Saturday's game in the second quarter and didn't return. Senior safety Ryan Weber started and played most of the first half, but was on the sideline without pads in the second. He's nursing an ankle injury that held him out of the Eau Claire game as well.
Starting quarterback Tarek Yaeggi is still week-to-week with an AC joint sprain is his right, throwing shoulder.