Mike Schmidt has seen a bevy of highly skilled wide receivers in his decade as a collegiate coach.
He was at NCAA Division II Minnesota State University, Mankato when that staff was recruiting now-Vikings stud Adam Thielen. He pulled in a strong group of pass-catchers seemingly each year he was the recruiting coordinator at Division III University of Dubuque.
So when Schmidt, the second-year coach of the UW-La Crosse football team, gets to speaking — and speaking highly — about the crop of receivers that the Eagles will pit against opposing secondaries this season, you can take it to the bank.
"I always speak in hyperbole when I talk about those guys," Schmidt said. "It's really amazing to see what they do in practice every day."
UW-L's receivers are shaping up to be the backbone of an offense looking to duplicate the 36 points-per-game average of a season ago. Here's a look at what it is about this group that has Schmidt and the Eagles believing special things can happen on the outside this season.
WIDE ARRAY OF SHAPES, SKILLS
When players break off into individual position work at a UW-L training camp practice, there's a relative homogeny in size of the players that trot off to their respective parts of the field.
But not with the wide outs — and that's a good thing, they say.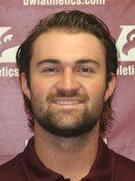 "There's a diversity at the position, a lot of new guys at the position have a great skill set, and a lot of returning guys that can do a lot," said senior Ryan Kruser, who led the Eagles with 1,354 all-purpose yards (470 receiving) in 2016 and will be the starting slot receiver. "We have a lot of confidence. We're feeling really good."
Kruser, who stands 6-foot-1 and also played basketball at UW-L, was the surprise of last year's wide receiver corps. Kruser gives the offense a weapon over the middle and on underneath routes. He also was effective in the Eagles' jet-sweep attack, picking up 123 yards off handoffs.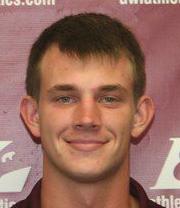 On the outside, senior Nick Holcomb (6-1) provides a deep threat. His long arms, leaping ability, and solid technique on high-pointing the ball in the air made him a favorite target of quarterback Tarek Yaeggi last season. Holcomb scored seven touchdowns on just 29 catches last year, and led the team with a 16.3 yards-per-catch average.
"Every practice we're getting better. It gets crisper and crisper with routes," Holcomb said. "(Yaeggi) knows that I'm going to break here, he knows when I'm going to this or that. And it's that with everybody else too. We're pretty in sync right now."
Those two, plus 6-foot senior Tripp Soma — healthy after lingering knee issues held him out of five games last season — 6-3 Division II transfer Keenan Winge, and 5-8 freshman Devonte Amos, and the Eagles present opposing cornerbacks an array of difficult covers.
"It's a really good dynamic. A big guy that can go over top of people, stretching the safeties and the defense out. Then you've got smaller guys in the middle that can run around, and possession receivers who can make the grab and get yards," Soma said. "It's tough for the defense because we'll make them guard every spot on the field. I think we're going to be dangerous."
Think of the UW-L receivers like a basketball team — they've got the post players on the outside that are a physical mismatch and the backcourt players that can beat you with speed.
NEW FACES
The Eagles graduated one of the top receivers in program history, Joel Oxton, this spring. Usually with the loss of that caliber of a player — 72 catches, 951 yards and 10 touchdowns as a senior, 138-1,744-19 for his career — you'd expect a drop off in production.
While UW-L may not replace Oxton in one man, the class of new players Schmidt and the coaching staff brought in should be able to in the aggregate. Winge redshirted his freshman season at Concordia-St. Paul, but has shown all the physical tools in camp to become a stellar D-III receiver. More time to learn the system will help him show those traits on Saturdays.
Two other transfers — Ben Wachter from D-II St. Cloud State and Michael Marchese from Southwest Minnesota State — are listed on the opening two-deep.
Amos, a blazing fast slot receiver from Barrington Hills, Ill., has made "wow" plays throughout training camp, and will be in the rotation as well.
"It's tough (on a defense)," Yaeggi said. "One play you'll have Kruser running at you and he's a little more physical, and the next you'll have Devonte Amos, who takes one step and he's gone."
Amos, Kruser, Soma and Winge all have taken reps as kick and punt returners as well, as UW-L coaches know good things happen when those players get the ball in space.
TIGHT ENDS
Along with the receiver group comes a solid trio of tight ends — Trent Milliken (6-4, 210 pounds), Zach Schradle (6-5, 220 pounds) and Cole Spieker (6-2, 210 pounds) — who will not only help the Eagles attack the middle of the field passing, but should help as added blocking on run plays as well.
Milliken was the starting tight end most of last season, hauling in 19 catches for 150 yards and a touchdown. Schradle was the UW-L basketball team's leading rebounder and second-leading scorer last winter, and Spieker was on the 2015 roster before taking 2016 off.
UW-L didn't get as much production from tight ends as coaches would've liked, and secondaries were able to key in on players like Oxton and Kruser. The Eagles believe the tight ends of this year will be able to create mismatches over the middle and be more of a factor, especially because of the group's versatility.
"(Defenses will) see three tight ends come on the field and, if we want to, we can spread them all out because they're that gifted," Yaeggi said. "They're going to help out our run game, our pass game, everything."
In an ideal world, the Eagles will be able to be effective on the ground to help loosen up defenses for their passing attack. But with four new starting linemen set for Week 1, the receivers know it'll be in their hands to get the offense moving.
"We're confident in our group, and with our group comes Tarek, and the O-line and everything else," Holcomb said. "It's going to come together because we've got everybody we need."