There was a sense around the UW-La Crosse football team that it was only a matter of time before senior Ryan Kruser broke out with a big game.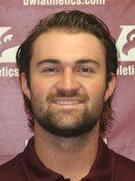 A talent like his is exceedingly difficult to contain for more than a couple of games, and Kruser showed every bit of his athletic ability on Saturday against a Carroll defense and special teams that never found a way to slow him down.
Kruser was Eagles' leading receiver and returned a punt for a touchdown in the team's 41-6 win over the Pioneers on Saturday, again establishing himself as a premier player for UW-L.
"It was great being back in that position (slot receiver)," Kruser said. "I've got to give all the credit to the guys up front blocking, especially on special teams, those guys made it easy."
A former UW-L basketball player, Kruser was attacked the middle of the Carroll defense was made himself available often for senior quarterback Tarek Yaeggi. He hauled in a team-best six catches for 65 yards, including a 33-yard catch that got UW-L inside the red zone in the second quarter.
He tipped-toed along the sideline for a catch to set up a third-and-2 situation from the Carroll 8-yard line, and then brought in a catch in a tight window to convert third down. The Eagles (3-0) punched in a rushing touchdown the next play, en route to a 5-for-5 day in the red zone.
"That's what we've got to do with Ryan, get him more involved, get him more touches on offense," UW-L coach Mike Schmidt said. "It was hard to get him touches on offense because he was so dang tired from those big returns.
"We had a great day returning the ball, and Ryan's the reason for that. We've got to keep getting him involved and getting the ball in his hands."
Kruser nearly broke away on his first punt return, gaining 13 yards, and had a long punt return called back on a block in the back. After recharging at halftime, he was pushed out of bounds at the 50 after a 36-yard kick return, sparking a TD drive.
After Carroll went three-and-out, Austin Harter booted a punt to Kruser which he fielded at the UW-L 42. He darted to the left and got around one defender, turned the corner and turned on the jets down the sideline with the help of a couple of big blocks for his second career punt return TD.
"It was really a scheme (return)," Kruser said. "Coach Schmidt and the coaching staff do a great job in practice getting that work in and being able to simulate game situations. We worked on that (return) all week in practice.
"I've just got to get to the wall and it's easy from there."
The Pioneers made a concerted effort to take senior receiver Nick Holcomb away from UW-L's offense Saturday. And while Holcomb was limited to two catches for 27 yards, the focus they placed on Holcomb allowed Kruser and others to shine — seven players had multiple catches for the Eagles.
As the Eagles enter conference play this week, with a road matchup against Stevens Point coming up, Kruser said he's happy with where his team is at.
"We just try to keep building on what we've done," he said. "We've got a lot of great guys on our team, and I think we can make a run this year. We've still have a lot of work to do, but we're excited for the next week."
The UW-La Crosse football team was focused on being efficient in its game against Carroll on…
BEATING THE HEAT: The heat index at kickoff Saturday was 96 degrees Fahrenheit. The field-turf at Veterans Memorial Field adds at least a couple extra degrees to that, so the Eagles and Pioneers played on a nearly 100-degree environment.
Schmidt said UW-L was preparing for the heat in the days leading up to Saturday, stressing hydration and extra rest for its players. But he also said they emphasized staying looser and more relaxed once play began.
"There's a lot of psychology in it," Schmidt said. "You don't want to be so jacked up and tense, because it's part of what causes cramps. We did a nice job dealing with that."
Schmidt and multiple players said Carroll wasn't able to sustain its energy through the game, and seemed worn out in the third quarter.
KICKING BATTLE: The Eagles weren't sure of who would be handling their point-after and field-goal kicking duties heading into the season, but freshman Bryce Wesling has emerged as the leader in the competition through the nonconference schedule.
Wesling was 4-for-4 on PATs against Carroll, and made a 39-yard field goal in the fourth quarter to keep the Eagles perfect in red-zone scoring attempts.
Sophomore Michael Pakos also had a good day, making a field goal from 26 yards out in the first quarter and tallying three touchbacks in eight kickoffs.