Few, if any, first-graders can tell you with absolute certainty what they want to do in college, or even tell you what a college major is.
But Austin Mancosky knew from the ripe age of 9 that he wanted to play football for as long as he could. On an assignment that asked him to write what he wanted his college major to be, he wrote, "Football." He still remembers his grandparents — who were watching him at the time because his parents were on a vacation — telling him that a football major wasn't possible, and the tears that followed that news.
The UW-La Crosse senior almost had his favorite activity taken from him due to a broken foot last season, but instead of allowing it to end his career, Mancosky decided to enroll in graduate school at UW-L and spend one more season in an Eagles uniform.
When Mancosky joined the rest of the UW-L team at Friday's first training camp practice, it was his first practice in nearly 10 months that he could run at full speed.
"I love running around. You sit around on a scooter on the sideline and that's the thing you miss the most," Mancosky said after Friday's practice. "People dread doing conditioning, and I'm sitting over there like, 'I would do anything to do that if I could.' It's the little things you miss, so it was a lot of fun today."
Mancosky broke his left foot in July 2017 and had to have surgery to repair it. That kept him out of fall training camp and the early portion of the season. He was finally activated for the team's road game at Carroll, but then early in the second quarter, a stroke of cruel coincidence hit.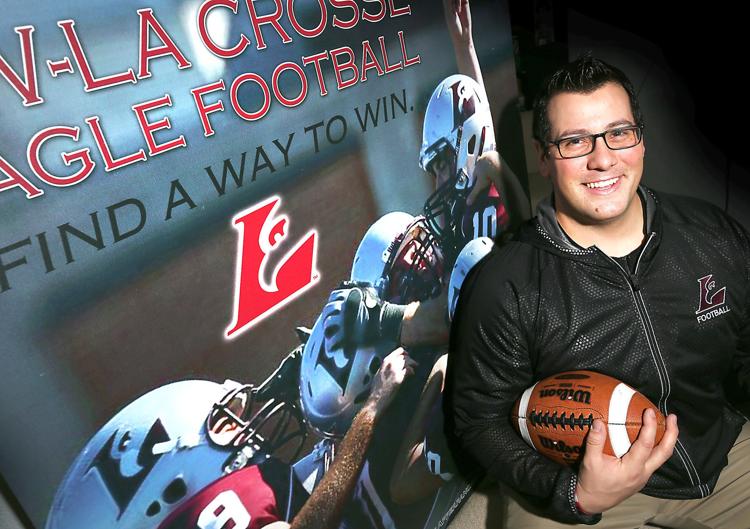 On a 12-yard rush, Mancosky was dragged down in a pile, fumbled, and broke the same bone in his right foot that had broken in his left. He was reminded of his last carry in high school, a play on which he fumbled, too.
"Just working so hard, putting so much effort into that and then just have it taken away from me was just a lot," Mancosky said. "That weekend was probably the toughest weekend of my young life, emotionally.
"We we're having such a great season, and I really wanted to be a part of it. I just couldn't."
His recovery from the second break lasted until after the season, and he wasn't able to practice during the spring.
But on Friday he was breaking the huddle with his teammates, some 5 years younger than him, splitting first-team reps with junior Jalen Clark, who is coming off an elbow injury that derailed his sophomore season.
"I'm so happy for Austin that he gets a shot to play this season out. I don't know that I've ever been as devastated as I was for him and Jalen last year, the way that it went down," said UW-L's third-year coach, Mike Schmidt. "They had both worked so hard to get back and then instantly, for both of them, they go down in the first game they're back."
At 6-foot, 225 pounds, Mancosky gives Schmidt and new offensive coordinator Luke Bengtson a bruising option between the tackles. He had 155 yards and a touchdown as part of a running back rotation in 2016, and had 382 yards (5.4 per rush) in a similar role in 2015.
But Mancosky's value on the roster goes beyond his production on the field. He's someone Schmidt sees as a model for younger players, and his experience in picking up new offenses — UW-L is on its third offensive coordinator since Mancosky arrived on campus — will help the rest of the position group.
His third season as the coach of the UW-La Crosse football team will present Mike Schmidt a …
"Austin's a grad student, he's worked, and he's still in school — what a great example for our team. And he's such a smart guy," Schmidt said. "He's been through this. He understands the ups and downs of how that install is going to go: Some days are going to be really good and some days are going to be really bad. And figuring out how to pick it up and play fast will be valuable for him to play this year, and also help the guys around him play."
That used to be a weakness of his, as Mancosky was more reserved earlier in his career, and less likely to speak up. But his experience with graduate school, which involves teaching, has helped him open up and feel more comfortable speaking in front of a group.
"It's definitely a cool thing," Mancosky said of being someone his teammates can approach for advice. "I'm not the most vocal guy on the field … I'm looking forward to it, having that opportunity to teach the young guys what we need to do."