STEVENS POINT, Wis. — Zach Schradle stood on the football field with his arm draped around his mother, Diane.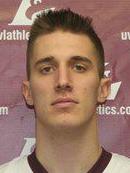 The UW-La Crosse football team has just put the finishing touches on a statement victory over Stevens Point, but that, for the moment, was secondary. The smiles on Zach and Diane's faces accented by the mist in their eyes. Just a year ago, the mother and son — and the whole Schradle family — didn't know how many moments such as this one they had left to share.
About a year ago, Diane was diagnosed with breast cancer, and times like Saturday night at Goerke Park are a far cry from the difficult days and nights the past year has brought for the Schradles. But there they stood as both teams gathered near the Pointers' sideline after the game — Stevens Point's annual Pink Game for breast cancer research.
Stevens Point and the foundation that puts on the event donated more than $55,000 to breast cancer research. They also made another $1,000 donation in honor of Diane, a UW-L graduate, by recognizing her with a check presentation at the postgame ceremony.
"I got a little emotional," Diane said. "What a neat, neat atmosphere. This is what it's all about, people battling together."
Zach, a 6-foot-5 tight end for the Eagles, is in his first season with the football program after playing basketball for UW-L last year. He transferred to UW-L after beginning his college career at UW-Superior. It wasn't long after Zach arrived in La Crosse that Diane was diagnosed.
The news rocked him. His mind was on being a contributor on a new basketball team, learning about his new teammates and school, and then in an instant his focus was on his mother.
"It was my senior year, so I wanted it to be big, and when she was diagnosed, it hit hard," Zach said.
He said he had trouble adjusting to the news, unsure on what he should do. Diane fixed that.
"She actually called me and said, 'I want you to stay down there and focus on what you need,'" Schradle said. "So that's what I did.
Zach went on to lead the Eagles in rebounding and was their second leading scorer, earning All-WIAC First Team honors. As he was excelling on the court, Zach kept Diane in his mind, calling her nearly every day.
"She's always been a great supporter for me throughout my life, and I supported her through her fight," he said.
Sports are a constant in the Schradle family. Diane was the varsity volleyball coach at Clayton High School for more than a decade before Zach's sister Sadie took over the program in 2015. Diane's husband, Mike, is the athletic director at the school as well.
Perhaps that's why, when facing something as daunting as breast cancer, Diane encouraged Zach to stay locked into basketball and school. She knows firsthand the power sports bring a person, and the support system a team provides.
The perspective Diane keeps when discussing her battle is downright astounding.
"I think it's having a lot of faith, knowing that everything's going to be fine," Diane said. "It's one of those bumps in the road in life, and we'll battle through it. And we have."
Part of having a loved one fighting cancer is fear — fear that things can turn bad, fear that the person may be gone. Zach said as much as he fought it, that fear was present for him over the past year.
"I tried not to think about the negatives too much, but I can't lie, it was in the back of my mind quite a bit," Schradle said. "She made it to every game she could still, which was awesome. And even though she was fighting, she still supported me through everything."
Diane probably knew Zach was scared — moms always do — and she took a moment to think when asked about how Zach has supported her.
"He's a strong kid," she said quietly, fighting back tears as her family talked behind her. Clayton is about three hours from Stevens Point, but Zach had about a half-dozen family members waiting for him after the game.
Diane is nearing the end of her treatment, with one surgery remaining. That she is winning her fight with cancer is almost to be expected; the Schradles are winners. Diane and Sadie have built Clayton into a volleyball power, making a combined five WIAA state tournaments under their direction.
Zach said the past year has made him more aware of the blessings in his life, and more dedicated to make each day count.
"It shouldn't take something like that, but it made me realize how good I had it. I started realizing you can't take days for granted," he said. "I really live through that right now, even with football, you never take a practice for granted, you never take a day for granted."
Diane wears a bracelet with an inscription of, "You never fight alone." That's how she's approached her battle — buoyed by her family, whose bond is as strong as ever.
"We really have always said things happen for a reason, always. It's funny because both of my children said that when this came about, good things can come out of bad things," she said.
"I really feel like they have, and things are going well. You can't ask for more than that."