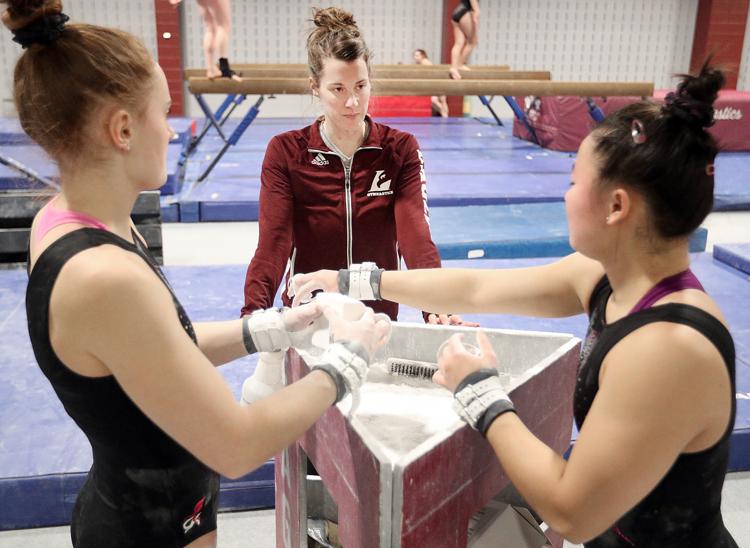 The UW-La Crosse gymnastics team has been the most successful in the NCGA despite practicing in a more than 100-year-old building that was near closure.
That changed this year when the Eagles, winners of 17 NCGA national championships, moved from Wittich Hall into new digs inside the Cartwright Center. The new practice space, which almost doubles the square footage available for training according to UW-L coach Kasey Crawford, is in a renovated portion of Cartwright, which was formerly the student union.
La Crosse begins its year Friday with a practice meet at 6:30 p.m. at Mitchell Hall, and then has its first recorded competition Jan. 11 against UW-Eau Claire. The team has been in the new facility since open practices began in September, and Crawford said the expanded space has helped the team's training.
"It's been amazing. Absolutely outstanding," she said. "The girls love it, the coaching staff loves it. Every day you feel excited to be here. It's fun to show people around, and our alumni love it. The equipment's what we need, the environment's what we need, we have a locker room for the first time. All of it is great."
The move was part of a $24.6 million renovation to Wittich, which will be the new home building for the College of Business Administration on UW-L's campus. Cartwright also houses the wrestling team's practice facility, which opened before the 2017-18 season.
UW-L's new digs include a raised portion that allowed for soft landings to be built into the floor in the floor exercise area, and the building's high ceilings allow gymnasts to practice on the bars with ease. The added space allowed for more bars and beams to be set up as well.
However, the move to Cartwright could be temporary, according to plans on the university's website that suggest the gymnastics team would move to Mitchell Hall once the new fieldhouse is built to the east of Veterans Memorial Field.
Crawford is a former gymnast for UW-L, and she has a talented team to train in the new facility. La Crosse features three returning All-Americans — Dani Barmore, Sam Weyler and Samantha Wiekamp — and a strong freshman class that bonded with the rest of the team quickly.
"They got to know each other before they got here, and that's made an awesome difference," Crawford said of the seven freshmen. "They mesh well, they were outgoing. They've elevated (the team) because their personalities have just mixed in right away."