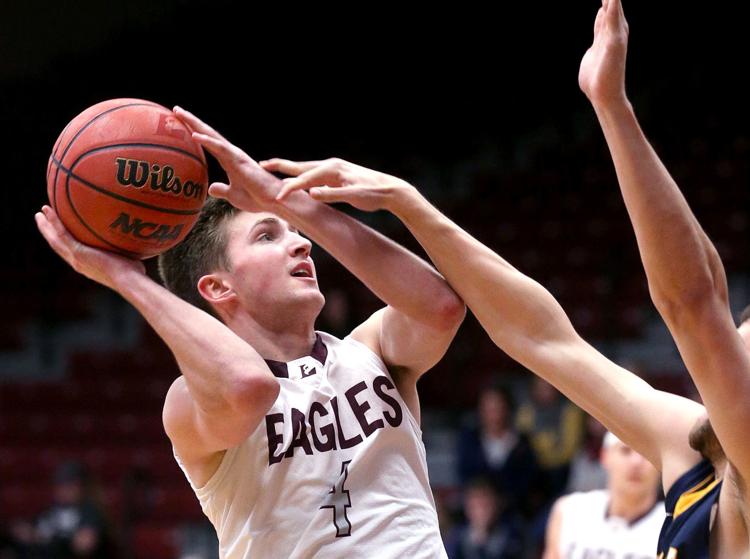 The woeful shooting start the UW-La Crosse men's basketball team experienced Saturday would normally take a team out of a game quickly. But the Eagles battled enough defensively to keep it close at the halftime break.
However, the shooting never came around, and even the smallest breakdowns on the defensive end allowed Eau Claire to build and maintain a comfortable lead for most of the second half. Shots finally fell in the final two minutes, but it was too late for La Crosse to make a serious run at changing the outcome in a 61-52 loss in front of 415 people at Mitchell Hall.
Turnovers have been a killer for the No. 25 Eagles in the past three games, all loses. They gave the ball away 14 times Saturday, including nine in a first half in which they scored just 16 points. La Crosse coach Kent Dernbach credited the double-team pressure that Eau Claire brought when his players got the ball in the post.
"We're really comfortable at dumping the ball inside. They came with a double team, and that's really, probably, the first time we've seen that all season," Dernbach said. "We didn't do a good job handling it. We probably turned the ball over six or seven times from that.
"When they took away that comfort zone from us … it left us with an awkward feeling out there."
Even on possessions in which UW-L (15-8, 8-4) was able to get a good look, the shots wouldn't fall. La Crosse shot 17 of 55 from the field, but five of those makes came in the final 2 minutes, 12 seconds when Eau Claire (14-9, 7-5) already held a comfortable lead.
UW-L also wasn't able to take advantage of getting the Blugolds in foul trouble in the second half. Eau Claire had five team fouls with 10:21 left, but the Eagles — who shoot 76.1 percent from the free-throw line as a team — didn't enter the bonus until the 4:49 mark.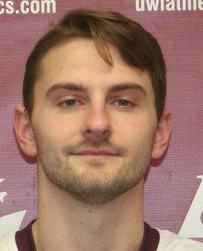 "I think it was just us not moving like we usually do," senior Tanner Bruchs said of the offensive struggles. "We struggled when they doubled down on the post. But this next week, we've got a big one coming against Oshkosh, so we've got to be ready."
Bruchs scored 12 points on the strength of four 3-pointers, and had six rebounds. Senior Ben Meinholz scored 13 points and had five rebounds and two steals. Blake Wacholz and Spencer Page paced Eau Claire with 13 points apiece.
Eau Claire was able to get inside in the first half, scoring 16 of its 28 points in the paint before halftime, and then used drive-and-kick passes to go 5 of 8 from 3-point land in the second half. UW-L stayed within striking distance, and a Bruchs 3 cut the lead to nine with 6:02 left, but Eau Claire seemed to answer every time La Crosse built momentum.
"We hit a couple 3s, but then they came back down and hit a few. Our defense broke down, and you can't leave those guys open," Bruchs said.
UW-L's losing streak prevented it from clinching the No. 2 seed for the conference tournament, but it still sits alone in second place in the WIAC. Stevens Point, Eau Claire and Platteville all sit a 7-5, a game behind the Eagles. A season sweep over the Pointers gives UW-L the tiebreaker over Stevens Point should it come into play, but series splits against the Blugolds and Pioneers may make things interesting when the regular season wraps up next week.
La Crosse has a major test upcoming Wednesday when No. 3 Oshkosh (22-1, 12-0) — who has won the regular-season conference title and clinched the No. 1 seed in the conference tournament — comes to Mitchell Hall on Wednesday.
Their shooting slump and season-worst losing skid have put the Eagles' backs against the wall, and Dernbach said the players have to stay true to who they are down the stretch.
"We can't waver on who we are. We're a defensive team first, and we're going through an offensive rut right now," Dernbach said. "We know the type of team that we can be, and we have two more regular season games and four more practices to figure that out before the conference tournament."