When the Buena Vista University men's basketball team started Saturday's game at UW-La Crosse making almost every shot it took, things looked to be bleak for the Eagles.
They were doing a good job of defending the rim, but UW-L was allowing the Beavers to get open 3s and they were burying them. But a timeout in the first half settled things down, La Crosse got back to its defensive principles, and it pulled away for a 85-73 nonconference win in front of 200 people at Mitchell Hall.
Buena Vista started the game 7-for-10 from the field, including 4 of 6 from the 3-point line to build an 18-8 lead and prompt a timeout from UW-L (4-3) coach Kent Dernbach. It was in that huddle that the Eagles got things on track.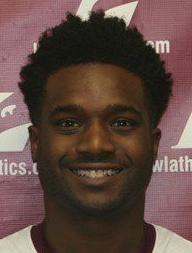 "At the timeout, we knew we just had to look at ourselves and go back to what we do, and that's playing good pack-the-line defense and getting out on defense," senior point guard Taulvish McCray said.
The Beavers (3-4) led 23-11, but the UW-L went on a 14-2 run to tie it at 25, and then took the lead when freshman Seth Anderson converted a three-point play, and then made a jumper on the next possession. The Eagles never trailed after that point. Five UW-L players finished in double figures, led by freshman Ethan Anderson's 18 off the bench. Seniors Ben Meinholz and Sam Skoyen each added 11 points, while senior Brendon Manning and McCray scored 10 apiece.
Dernbach said the offense got going when it was more disciplined with moving the ball.
"We don't have selfish players. There's not a game that we shouldn't be hovering around 15 assists," he said. The Eagles had 14 Saturday, and 14 in their exhibition victory over Viterbo on Wednesday.
Buena Vista started the game with a traditional lineup, but quickly pivoted to having five guards on the floor. That was what they had shown on film, and UW-L was ready for the challenge. It changed things a bit, namely taking freshman center Josh Dahlke off the floor for long stretches, but he was still effective with eight points including a two-handed dunk in the second half that woke up the crowd.
Dernbach said he liked how the team played with the smaller lineup, something that was effective in their win at Bethel (Minn.). McCray said the key was to continue playing inside-out even without a traditional post player on the floor.
"When we play inside-out, we're a lot better. Sometimes we get stagnant on offense, swinging it around on top, and that's easier on the defense. It ends up with us putting up a 3-point shot that we can get at any time," McCray said. "When we play inside-out, we move a lot better off the ball, and then our ball movement opens up better shot."
UW-L has some momentum going after topping Viterbo and Buena Vista, but it has a tight turnaround with a 3 p.m. game Sunday against Wartburg (Iowa) at Mitchell Hall.