A track and field scholarship was what Jim Hoesley wanted after a successful career in multiple sports at Arcadia High School.
After collecting seven top-five finishes in three trips to the WIAA Division 2 state track and field meet, Iowa State University came calling with an offer that Hoesley decided was too good to pass up. But after a year competing for the Cyclones, something was missing.
He wore the same colors as the people competing around him, but Hoesley — who was also a stellar receiver and defensive back for the Raiders football team — never felt like he was part of a team.
That feeling prompted him to reevaluate where he'd continue his career, and he ultimately chose to transfer to UW-La Crosse.
"At the Division I level, I would say, there's not that good sense of community like there is here. I've really noticed that everyone cares about each event, every person. They're cheering for you at every meet. It's really a team feeling," Hoesley said Thursday at UW-L's last chance meet.
"At the D-I level, you don't really have that. You've got to get your own, get your own way, your own success."
The spring semester may have concluded this week at UW-La Crosse, but the corridors of Mitchell Hall will continue to buzz throughout May and …
Hoesley — who won a state championship in the 300-meter hurdles as a junior (38.5 seconds) and swept the 110 (14.41) and 300 (38.41) hurdles races as a senior at Arcadia — was asked to become a decathlete at Iowa State. He competed in six meets for the Cyclones, getting the hang of different throwing events he'd never done before, but the atmosphere around it wasn't what Hoesley wanted.
UW-L coach Joshua Buchholtz remembers vividly the last recruiting conversation he had with Hoesley.
"When he told me he was going to go to Iowa State, I just told him if it doesn't work out, we'd love to have you back at La Crosse. We won't hold it against you," Buchholtz recounted.
About a year later, Buchholtz's phone rang.
"'Hey coach, remember when you said give me a call if I wanted to come back? Well, I want to come back.' So then we went from there."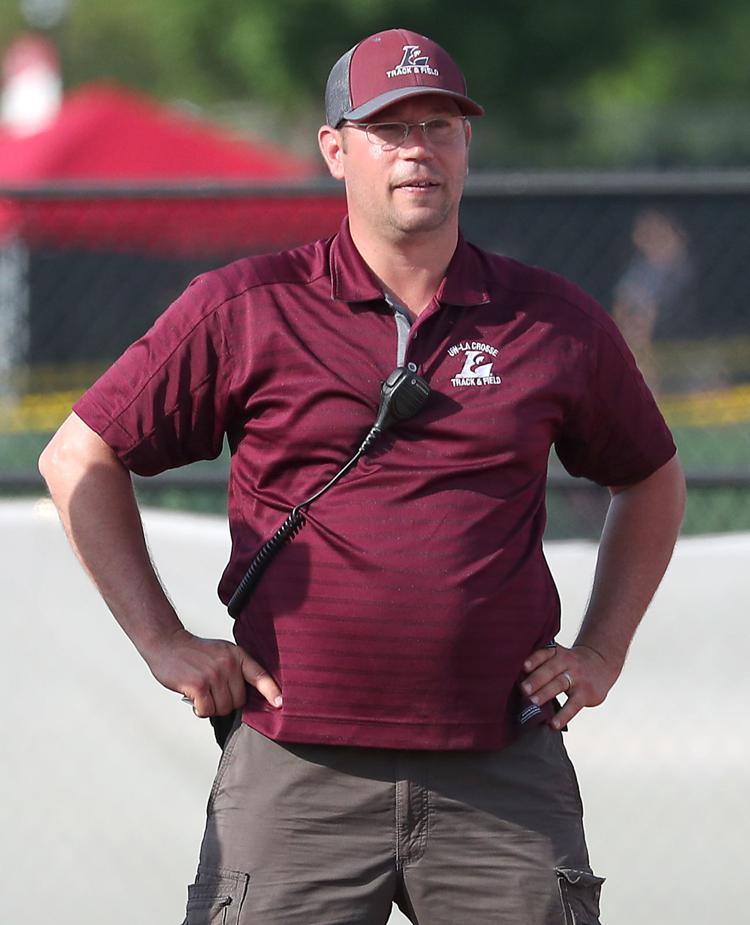 Hoesley, who's a sophomore at UW-L, took the fall semester of classes at the Ames, Iowa, campus and before transferring to La Crosse. Buchholtz said he and the coaching staff charted the course of what they expected from Hoesley this season, and he's followed that plan.
However, there were some bumps in the road. Getting back into top-level shape after a few months removed from a disciplined training regimen isn't easy.
"He's had some days where he's on all fours, hating life, after a hard workout, but it's starting to pay off now," Buchholtz said.
After competing in the hurdles and some sprint events during the indoor track season, Hoesley has zeroed in on sprints during outdoor season.
He's got a good team around him, and he's thrived as a member of the team's 400 relay. Senior Ernest Winters and Hoesley run the two middle legs of the relay, with freshmen Rob Willison and Josh Koenecke book-ending the squad. The group's 40.63-second turn around the track at the WIAC championships earlier this month is the best time in D-III heading into the national meet.
It didn't matter what the stopwatch said, or what place Ernest Winters was getting in his track meets — he wasn't right last season and he knew it.
UW-L is hosting the NCAA Division III outdoor track and field national championships this week, and Hoesley has a chance to contribute to the Eagles' attempt at winning a fourth consecutive national title.
"With a relay, you get to share that moment with three guys, and really the whole team is looking at the 4-by-1 team to do well. It's fun," he said. "We had a couple mishaps, like at the Drake Relays, but then at the conference meet we put it all together, and it was what we wanted."
The fact that Hoesley can help the 400 relay and his team as a whole this weekend — 400 relay preliminaries are at 2 p.m. Thursday and the finals at 12:05 p.m. Saturday — isn't lost on him. The fact that chance comes at Veterans Memorial Field Sports Complex makes it all the more special.
"It's awesome, it's everything you could've dreamed of," Hoesley said.
"To be able to compete not only for the 4-by-1 national championship, but also the team national championship at the stadium here that I've grown up coming to every year. To have all my family and friends cheering me on, it's awesome."