Cassandra Berger chases challenges.
Her college career as both an athlete and as a student show her commitment to pushing herself beyond what she thought originally possible. She was a triple major at the University of Dubuque, and helped the Spartans launch its women's lacrosse program as a player.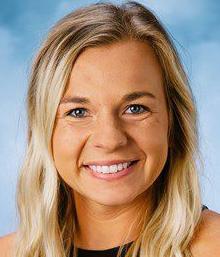 She'll have to draw on both experiences now as the new coach of the startup women's lacrosse program at UW-La Crosse. The Eagles will add the sport to the varsity roster next year, and will start play in spring 2020. Berger's hiring was announced Thursday after a long search by the university, which posted the position in June.
In a phone interview Friday, Berger said her knowledge of being on the ground floor of a program will help her in the new role.
"I helped build the program at Dubuque from the athlete side, and I think that gave me the experience I need for this," Berger said.
The Waukon, Iowa, native began playing lacrosse once she arrived on Dubuque's campus. She originally intended to play basketball for the Spartans, but decided to focus on schoolwork. However, the spring semester of her freshman year was the first year the university sponsored women's lacrosse, and she had a handful of friends joining the team.
"They said, 'You're an athlete, you can do this.' And I tried it, and pretty soon fell in love with it," she said.
Berger recorded 24 goals and 38 points in her career at Dubuque, and she used her triple-major bachelor's degree in accounting, human resource management and business administration to land a career in accounting.
She worked for a year before knowing that the corporate world wasn't for her, and she wanted to get back into the college space.
"I didn't fit the stereotype of the typical accountant," Berger said with a laugh. "I'm very passionate about higher education, and working with 18- to 22-year-olds. The energy and the development young people go through in that time, I knew I wanted to work in higher education."
She coached at Dubuque this fall and was one of the primary recruiters for the Spartans, landing 12 players.
That skill will be crucial to taking over a UW-L program that essentially is a blank slate. The one known element is the team will play on the FieldTurf soccer field of Veterans Memorial Field Sports Complex. The rest, essentially, is up to Berger.
"Obviously, starting with zero players, recruiting is the No. 1 priority," she said. "But then there's the other little things like getting the field ready, ordering equipment and gear. A lot of it is stuff I didn't always see as an assistant coach, but it's also exciting. I get to mold this program from Day One."
Recruiting players to a new program is always an uphill climb, but when it's in a sport like lacrosse — which isn't sponsored by the WIAA or the high school leagues of most Midwest states — there's extra challenges in place.
Berger said she's already been in contact with the existing UW-L women's lacrosse club team, and it has members interested in trying out. She's also attended a handful of recruiting tournaments where club teams play with the specific goal of getting seen by coaches. She went to the IWCLA Brine President's Cup in Orlando, and she's got more recruiting tournaments on her schedule in the spring.
She said her goal is to build a team — rosters average around 20 players in Division III — that has multiple years of experience in the sport. Berger will juggle the tasks at hand with the UW-L program along with finishing her master's degree at Dubuque next semester while working remotely. She will move to La Crosse when it's completed.
UW-L joins River Falls as the only WIAC schools to sponsor women's lacrosse, but Berger said she's already been able to secure games for the inaugural season. Between the CCIW, which features seven teams within reasonable driving distance, and tournaments, Berger said she believes the program should have a full schedule in its first season.
"Obviously, starting with zero players, recruiting is the No. 1 priority." Cassandra Berger,



wUW-L lacrosse coach