University of Wisconsin men's basketball coach Greg Gard experienced a personal low and a professional high in the span of seven weeks in 2015.
His father, Glen, passed away after a six-month battle with a rare form of brain cancer. Then, about 45 days later, Gard was named the Badgers interim coach after Bo Ryan retired midseason.
Gard was able to succeed in his new role, leading Wisconsin to a Sweet 16 appearance and earning the permanent position with Wisconsin that he holds to this day. But the experience of losing his father taught Gard something valuable.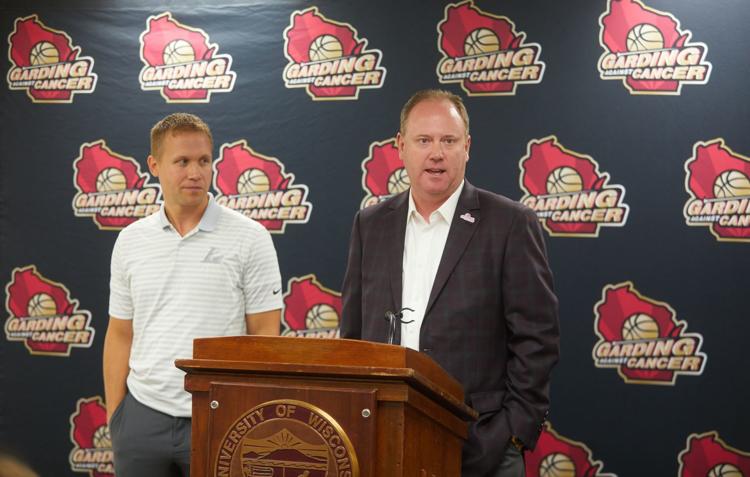 "I think as a coach, you're wired to feel invincible. You think you can win every game, you think you can find a way," Gard said Tuesday at UW-La Crosse's Mitchell Hall. "But what I learned through that cancer journey with my dad is you're not invincible. There isn't a ready-made answer for what we were dealing with."
Once he and his wife Michelle were able to catch their breaths from that whirlwind basketball season, they decided they wanted to help in the fight against cancer. They started a foundation, Garding Against Cancer, which Gard has been able to tie into his team's annual exhibition games against WIAC programs.
Garding Against Cancer is holding a fundraising event on Thursday, Sept. 12, at UW-L's Student Union. The event, slated for 5:30 p.m., will raise money for cancer research at the UW Carbone Cancer Center as well as La Crosse-area hospitals and organizations' cancer efforts.
Keeping that money in the community is a focus for Gard because it mirrors the vision and lifestyle of his father, he said.
You have free articles remaining.
Register for more free articles.
Stay logged in to skip the surveys.
"People are impacted by cancer every single where you look," Gard said. "With partnering with the UW Health System, UW Hospitals, the Carbone Center, the UW Alumni Association, we're able to branch across the state."
Garding Against Cancer has raised about $4.2 million since inception, Gard said.
This is the third year that Garding Against Cancer has held a fundraising event in the community of the Badgers' exhibition opponent. UW-L will play at the Kohl Center on Friday, Nov. 1, in an exhibition game. Ticket information is pending.
UW-L coach Kent Dernbach, whose team played UW-Milwaukee in an exhibition game in 2017, said the chance to be part of the fundraising event and to play the Badgers is unique and the Eagles will make the most of it.
"Coach Gard and his foundation don't have to do this in La Crosse. Just because we're playing in an exhibition doesn't mean he has to bring his foundation here," said Dernbach, who's entering his second full year as UW-L's coach after one as the interim. "For him to go across the state helping different areas, including now La Crosse, and being a part of it in a small way, we're really pleased to do that."
Gard, who is coming off his third NCAA tournament appearance as Wisconsin's coach, said he knows that his position grants privileges others may not have in fights with cancer. But he wants to change that.
"Having gone through it myself, I understand that journey, and it can be a very painful journey. There's a bond, so to speak, with people who have gone through that. The highs and lows of it," Gard said.
"I was able to have a lot of resources nationally to try to find an answer for (my father). I had access to a lot of resources that maybe the general public doesn't have. So I wanted to help bridge that gap or decrease that gap."