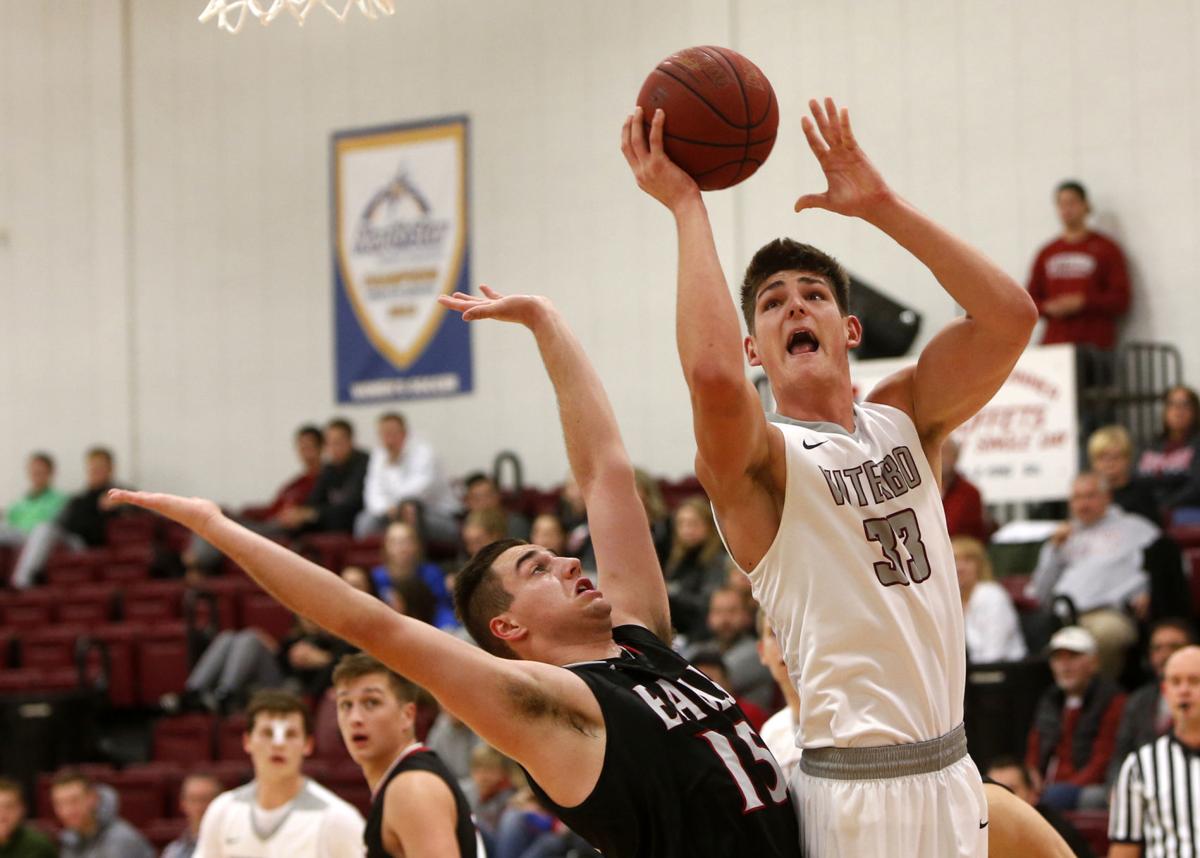 Barry Fried was stuck staring at a handful of not-so-great options in the spring of 2015.
The Viterbo University athletic director was facing a decision:
Keep his department a member of the rapidly-shrinking Midwest Collegiate Conference.
Join the North Star Athletic Association and figure out the challenges of extensive travel its far-flung opponents presented.
Become an NAIA independent and hope his teams could fill their schedules adequately.
Change affiliations to NCAA Division III or II, and sign off on five years of his teams being ineligible for postseason competition.
Fried and his department chose Door B, and it's been miles and miles of bus trips ever since.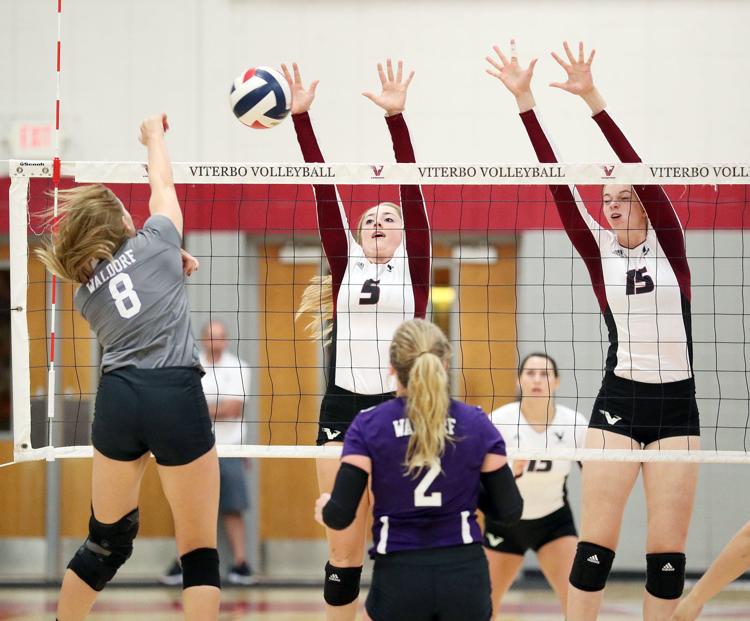 Last season, the 13 Viterbo athletic teams that compete in the NSAA traveled a combined 26,619 miles for regular-season conference road competitions. Just one — the volleyball program, which has been in the NAIA national championship tournament the past four seasons — had a winning record on the road.
Fried and the V-Hawks aren't in the dire straits they found themselves in three years ago. But as they enter their fourth year in the NSAA, and after one of the conference's top schools in every sport, Jamestown, has left, the sustainability of staying in the NSAA is worth considering.
"Overall, our teams have enjoyed the North Star," Fried wrote in an email. "We've been competitive in most sports. Yes, the trips are longer than our previous conference, but our coaches and athletes have handled it as well as can be expected."
Viterbo teams' mileage
| Team | NSAA road competitions | Miles traveled | Hours by bus (approx.) |
| --- | --- | --- | --- |
| Baseball | 12 | 2,731 | 39 |
| Softball | 12 | 2,644 | 38 |
| Volleyball | 8 | 4,506 | 64 |
| Men's/women's basketball | 8 | 4,150 | 59 |
| Men's/women's soccer | 2 | 1,812 | 26 |
| Men's/women's golf | 2 | 1,689 | 24 |
| Men's/women's track | 1 | 696 | 10 |
| Men's/women's cross country | 1 | 22 | 1/2 |
The miles
The more than 26,000 miles traveled by Viterbo teams is a daunting number in sheer amount and the costs that come with it.
Almost all conference contests in the NSAA take place over the weekend, thus travel costs for the V-Hawks include food and lodging over multiple days for teams and coaches.
The volleyball team topped the travel-weary list of Viterbo squads with 4,506 miles traveled over eight weekends of games. Given an average speed of 70 mph on these trips — which might be a tad generous — V-Hawks volleyball players spent 64 hours on a bus for conference games.
Viterbo volleyball coach Ryan DeLong said there was a good deal of travel when the team competed in the MCC, and the weekend schedule of the NSAA makes it a bit easier than mid-week away games. However, there are still adversities with that much time on the road, even after the team went 8-0 in NSAA road games this season.
"We don't really talk about the travel. We've just kind of dealt with it," DeLong said. "It's a grind, no one wants to get home at 2-3 in the morning on a Monday."
Buses rolling back into town early Monday mornings has been reality for Viterbo teams since the shift to the NSAA.
The men's and women's basketball teams, whose road schedules are synced via doubleheaders, had 4,150 miles and 59 hours of windshield time. They were a combined 3-13 in those games.
For 12 road trips this season, the V-Hawks baseball and softball teams traveled 2,731 miles (39 hours) and 2,644 (38), respectively, and even then had to endure rainouts and other hindrances that made trips even longer. The teams combined for a 4-16 road NSAA record.
"It's kind of the perfect storm," said Brian Lewis, Viterbo's baseball coach who also serves as the manager of the La Crosse Loggers in the summer months. "In La Crosse, with baseball in the spring it's tough to play your home games, and we're in a conference where it's spread out quite a bit. You just have to play the cards you're dealt, and that's what we're trying to do."
For two games apiece, the men's and women's soccer teams spanned 1,812 miles; the track teams had a 5½-hour each way trip for their NSAA championship meet. The cross country teams had the least miles traveled, as the NSAA championships were at Maple Grove Venues in West Salem.
"We are also mindful of the student-athlete experience and realize there are some long bus rides, but they have been very understanding," Fried emailed.
Distances to NSAA opponents
| Opponent | One-way distance (miles) |
| --- | --- |
| Bellevue | 412 |
| Dakota State | 342 |
| Dickinson State | 681 |
| Jamestown | 485 (leaving conf. this year) |
| Mayville State | 452 |
| Presentation | 495 |
| Valley City State | 451 |
| Waldorf | 166 |
Academic impact
A common phrase you'll hear when speaking to or about Viterbo student-athletes is that their No. 1 priority is the classroom.
One can assume that is true because of the school's academic reputation, especially in nursing and the fine arts, as well as its price tag in excess of $30,000 before any scholarships or grants kick in.
There's research abound on how participating in athletics is a benefit for students in the classroom as well, but such a balance requires a high level of dedication by the student-athletes. Throw in multiple long bus trips and 2-4 competitions over a two-day span, the demand on the student-athletes gets even heavier.
"A lot of time we're rolling into town Monday morning at 2, 3, 4 in the morning and they're expected to be in class at 8, 9 a.m.," Lewis said. "We're not asking that anybody change any policy, they know it's their responsibility to go to class, it just isn't an easy lifestyle."
Viterbo student-athletes must coordinate with professors often for missed lectures or exams, especially for Friday classes. Weekend road trips that begin with Friday evening competitions mean Friday classes are often missed completely.
Lewis and DeLong spoke about preparing incoming student-athletes for the rigors of college classes, which can be made even tougher with the extensive travel of their teams.
"We have to be proactive with our student-athletes to get the work done. We do miss a fair amount of class time due to travel," DeLong said. "Especially for nationals. The week before finals is nationals for us. Our girls have done a great job handling that."
Possible solutions
There aren't many ways to cut the amount of travel needed to play in the NSAA while staying in the conference.
Syncing trips for sports like men's and women's basketball as well as baseball and softball will continue, per the V-Hawks schedules next season.
One possibility played itself out this season when, due to weather making some teams' fields unplayable, NSAA baseball and softball teams came together at a neutral site and got a handful of conference games in on the same weekend. Lewis said the preference around the league is to stick closer to a traditional conference schedule so teams can have their home games — that sentiment was echoed by DeLong.
"In the MCC, we only had 5, 6 home games, now it's 12 or 13. We'd have a home game in the past, and then be gone for four weeks. People can forget about you. So that's a good benefit (of this conference)," DeLong said.
Changing conferences may help, but there aren't many options in that vein.
The Chicagoland Collegiate Athletic Conference features closer teams and more closely aligns with Viterbo's recruiting area. Previously the conference carried football and didn't want to add a school that didn't have football such as Viterbo. However, the football programs of the CCAC joined a separate conference, the Mid-States Football Association, so that presumably wouldn't be an issue now.
One obstacle would be that the CCAC's basketball programs participate in non-scholarship NCAA Division III.
Other conference options such as the Great Plains Athletic Conference or the Heart of America conference feature some closer games, but would create even longer trips otherwise.
Becoming an independent for some or all sports is an option, but it creates the challenge of finding enough quality games to become eligible for the postseason. It also creates a tough situation at the end of the season, as the Viterbo women's soccer team learned.
The women's soccer team, which plays in the Association of Independent Institutions for the postseason because the NSAA doesn't have an automatic bid, had to travel to Lawrenceville, Georgia, to play its pseudo-conference tournament.
"The landscaping of college sports is always changing. We've seen that in recent years with Big 10, Big East, Big 12, with conference alignment. ... That trickles down to small college athletics as well," Fried emailed. "I think schools always have to keep an eye on what's happening and constantly evaluate opportunities and what's in the best interest of the school and the student-athletes."
There's not one perfect solution for the amount of travel Viterbo student-athletes face each year, but with the NSAA not growing the way administrators once believed and travel costs likely to continue to rise, change may become necessary for the V-Hawks.
Tribune reporter Sarah Waara contributed to this report.
Be the first to know
Get local news delivered to your inbox!