It was a team that defied the odds during the regular season, then simply refused to believe it couldn't win it all once it reached the NAIA Volleyball National Championship in Sioux City, Iowa.
Viterbo University, which lost three first-team All-Americans from the 2017 squad, reloaded, regrouped and went on a national tournament run that won't soon be forgotten.
The V-Hawks, who finished with a 33-8 mark in a season some thought would be a rebuilding year, reached the NAIA's Final Four for the fourth time in five years.
Columbia, the eventual national runner-up after a 3-2 loss to Park, Mo., in the national title match, ended the No. 7 V-Hawks' run by a 3-1 count on Saturday, but it didn't erase Viterbo's gritty run to the semifinals.
Viterbo, which had to scrap its way out of pool play just to reach the Round of 16 with a one-set playoff match against Jamestown, N.D., proved once again it belongs on a national stage. The V-Hawks posted 4-2 record at the national tournament, which didn't include its one-set playoff win over the Jimmies.
"I don't know if we ever had a team that left it out there like this group did. This is a gritty group," said Viterbo coach Ryan DeLong, who has compiled a 496-142 record in 14 seasons with the V-Hawks, including a 25-8 mark in six national tournament appearances.
"We may have had more talented groups and groups we thought would go far, but this group, they were unbelievable.
"This is the first time in my career I can say I sat there and wasn't upset that we lost (in the semifinals). We left our blood, sweat and tears — literally — on the floor down there. It was pretty fun, and a hell of a ride."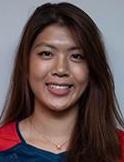 Viterbo, which graduated one of its top all-time hitters in Natalie Geidel, its record-breaking setter in Amelia Grahn and super defensive specialist Baylee Gross, reloaded this season with Lydia Xu, a 6-foot-4 sophomore hitter from Shanghai, China, who earned North Star Athletic Association and American Volleyball Coaches Association North Central Region player of the year honors.
Xu, who finished her first collegiate season with 365 kills, finished second in the NAIA in attack percentage at .431, which trailed only Nyssa Baker of Indiana University-Kokomo (.440).
Still, it took a strong senior season by Sparta High School graduate Aubrey Aspen, a 6-3 middle/right-side hitter who led the team with 412 kills, as well as from sophomores Miah Garant (349 kills) and Katie Frohmader (313 kills).
"You lose three of the best players, maybe in the history of the program, and you get to the same point (Final Four) as last year. I don't think anyone, outside of our locker room, thought that when we started Aug. 1 that we would be here, playing in the Final Four," DeLong said.
"This may be the most dedicated group we have seen and they want to get back here. This group, they put their stamp on the program and this senior group has put us in great position for the future. We have established a tradition and one we need to keep rolling with."
While Vitebo loses Aspen, Siera Skow, Hannah Erickson, Gabi Gomez and Erin Krysinski, it returns its top defensive specialist in Rachel Frankowski, a throw-her-body-at-anything player who suffered a gash on her forehead in the opening pool-play match, then played the rest of the tournament with four stitches that were needed to close it.
The V-Hawks top two setters in Chloe Jakscht (855 assists) and Lauryn Sobasky (793) also return.
"With Lydia, we have one of the best players in the country, and Frohmader, Miah (Garant) and Maya (Roberts) around again, it is a very dedicated group, maybe the most dedicated, and they want to get back there (Final Four)," DeLong said.
"Frohmader, she is a next level kid, which everyone saw at that national tournament. Her ability to play at the next level is pretty unlimited."
Still, DeLong admitted, there is some frustration to reach four Final Fours and not advance to the national championship match.
"To me, this group played the best 48 hours of Vitebo volleyball history, beating Southern Oregon, then Jamestown (in a do-or-die playoff), then coming back and beating Northwestern, then knocking the No. 1 team, an undefeated team in Grand View," DeLong said.
"Still, you fall a little short. As much as we have accomplished and done, there is a little bit of frustration when you can't quite get to that next game."