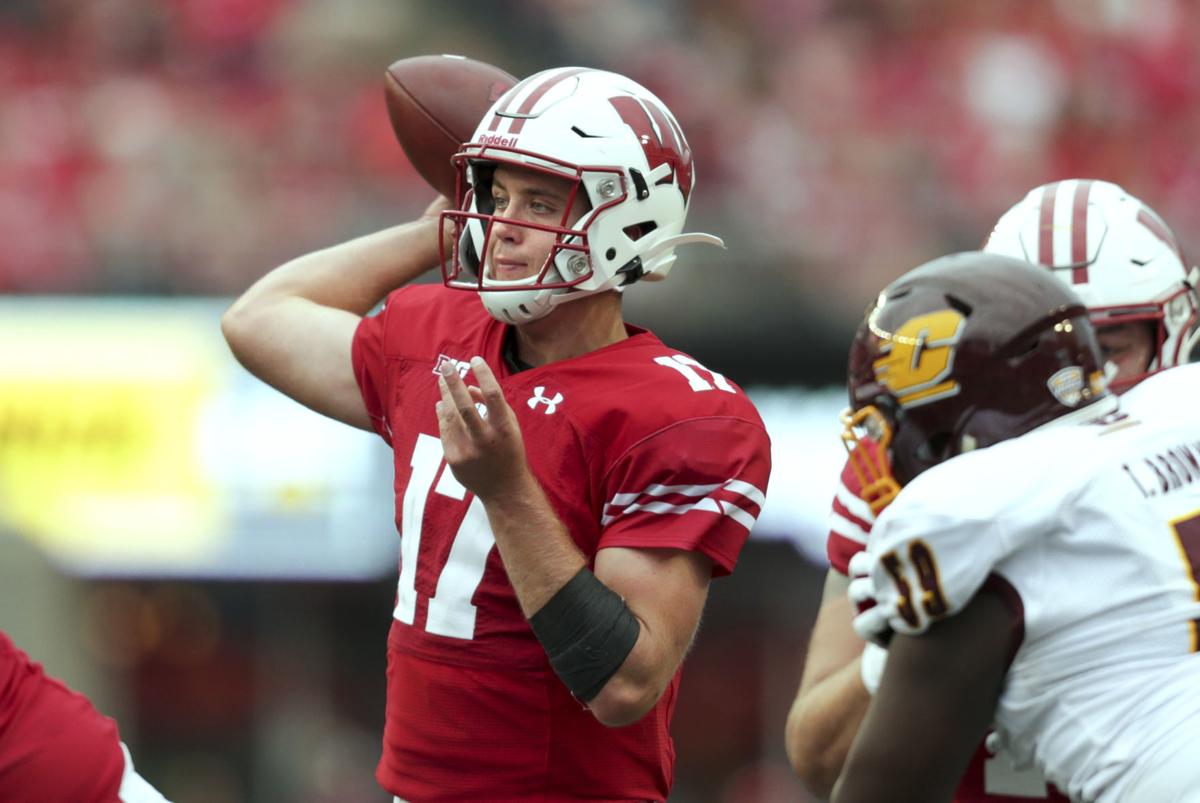 After a season in which attendance for University of Wisconsin football games fell to its lowest level in a quarter century, a potential indicator of 2019 crowd sizes has slipped.
Sales of season ticket packages for the home schedule that opened Saturday dropped by 2% compared to the 2018 season, according to figures reported by the school athletic department.
UW experienced a net loss of 1,391 season ticket packages over last season, most of it coming from general seating areas as opposed to suites, clubs and student sections.
The 14th-ranked Badgers have a season ticket base of 65,149 for the seven home games at 80,321-seat Camp Randall Stadium. Saturday's game against Central Michigan drew an announced crowd of 74,437.
That was the second-smallest attendance for a UW home opener in the last 22 years. The only smaller crowd for the first home game of the year in that span was 74,145 last year for a Friday night game against Western Kentucky.
While season ticket sales fell, senior associate athletic director Justin Doherty said UW was "thrilled" to have around 94.5% of last year's buyers renew for 2019. Renewal rates in recent years have been reported as between 95% and 99%.
"We certainly want to sell every ticket, and we're continuing to work to do that," Doherty said. "But we think we have one of, if not the best fan base in the country, and to have those high numbers like that, I think especially in comparison to a lot of schools, is a credit to the loyalty of the fans here."
UW is sharing in a wider trend of attendance-related suffering around college football as some fans opt for other interests or to watch games on TV.
The average announced attendance for home games at NCAA Football Bowl Subdivision schools in 2018 was down 1.4% from the previous season.
A year ago, home UW football games averaged 77,153 fans, the lowest figure since 1993. Of that, 66,540 was through season tickets. Only two games surpassed the 80,000 mark in announced attendance, which represents the number of tickets sold and distributed: Sept. 15 against BYU (80,720) and Oct. 6 against Nebraska (80,051).
The 74,038 announced attendance for the Nov. 24 regular-season finale against Minnesota was the lowest against the rival at Camp Randall since 1992.
You have free articles remaining.
Since last season, UW has brought on board Legends, a national planning and marketing firm, to work on ticket sales, marketing and development with its football, men's basketball and men's hockey teams.
Legends, which also lists Notre Dame, USC, the New York Yankees, Dallas Cowboys and Manchester United among its clients, started a partnership with UW earlier this year. It had previously studied the market and demand for premium seating in connection with the school's plans for adding club seats in Camp Randall's south end zone.
That project is tentatively scheduled to begin after the 2020 season, according to UW-Madison facilities planning documents.
Of the 65,149 UW football season tickets sold for 2019:
47,726 were in general seating, a 2.7% drop from 2018.
2,321 were in suites and clubs, a 3.9% increase.
2,004 were complimentary packages.
13,098 were in student sections, a gain of 0.3% and considered to be a sellout of those seating areas.
UW also has an Oct. 5 non-conference game against Kent State on the home schedule. The Badgers host Michigan (Sept. 21), Northwestern (Sept. 28), Michigan State (Oct. 12), Iowa (Nov. 9) and Purdue (Nov. 23) in Big Ten Conference games.
Two new features at 102-year-old Camp Randall Stadium were introduced for last week's game.
The athletic department installed railings in the aisles between sections B and C of the lower bowl and between sections BB and CC in the upper deck as a test project. Officials will monitor how the safety improvement impacts traffic flow to evaluate whether adding them to the entire stadium is worthwhile.
A lactation pod for mothers was installed inside the Field House. It's accessible during football games from the Camp Randall guest services office near Section YZ.
Ohio recruit commits
Saturday's home opener was a fruitful one on the scoreboard and the recruiting front.
James Thompson Jr., one of the players who visited Camp Randall Stadium for the 61-0 win over Central Michigan, orally committed to UW on Monday.
Thompson, a 6-foot-5, 255-pound defensive end who plays at Roger Bacon High School in Cincinnati, is the 15th known member of the 2020 recruiting class. He also had scholarship offers from Iowa State, Akron, Ball State and Navy, among others, and was receiving interest from Big Ten programs such as Michigan State, Northwestern and Purdue.