HOLMEN — Tyler Church isn't as much of a fixture as he once was at golf courses around the Coulee Region.
Whether he was competing or practicing in the years prior to or during his career at Holmen High School, Church played a lot of golf.
But now Church is grown. He graduated in May from Cardinal Stritch University and is working as a business analyst for Kwik Trip.
He said Saturday that he only golfs an average of once per week now, but that didn't stop him from winning the two-day Lawn Care Specialists Open at Drugan's Castle Mound with a 4-under-par 138.
"This and the (La Crosse) County Am are the only two big tournaments I am playing this summer," Church said after holding off runner-up Paul Williamson by one stroke. "Those are the tournaments everyone around here wants to play well in, and they are ones I want to play well in.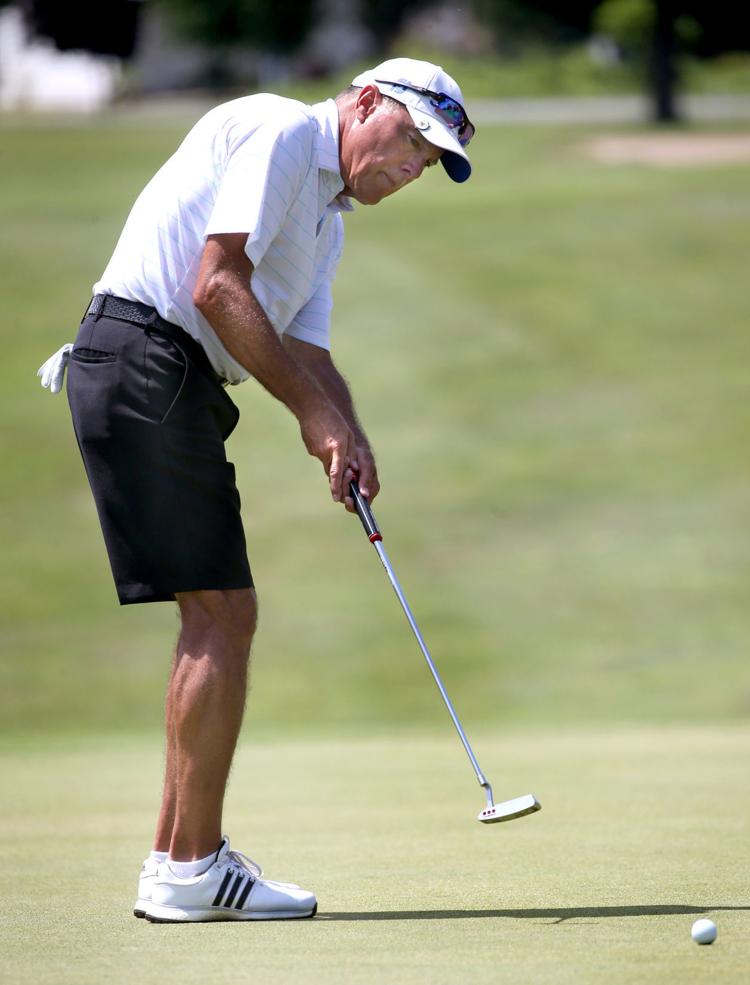 "Today was great until the end, anyway, but I was still able to win."
Williamson, the first-round leader, trailed by four shots heading into the final three holes. He picked up one stroke each on 16, 17 and 18, but Church was able to collect himself and sink the final putt needed for victory.
"I've been in contention before (at the Lawn Care), so I knew what to expect," Church said. "There's more pressure when things are going bad, but you have to find a way to block it out and figure things out."
Church closed out with a 3-under 68 on a much hotter and muggier second day after opening with a 70. Williamson began with a 69 and finished with a 70 after going 3-under with a birdie and an eagle on the back nine.
Keegan Drugan was third at 141, and Jake Dunn and Max Hosking tied for fourth at 143.
Hosking was trying to win for the second time in three years and Drugan for the first time since 2013. Williamson last won in 2003, and Dunn was looking for his first Lawn Care victory.
You have free articles remaining.
Register for more free articles.
Stay logged in to skip the surveys.
Church, who was named the player of the year in the Chicagoland Collegiate Athletic Conference for Cardinal Stritch as a senior, took control early by opening with an eagle and following it up with two birdies.
"I didn't have to make putts from distance a lot," Church said. "I think on those first three holes, the putts I made were from a combined nine feet."
Church said he used a driver and 8-iron to set up the eagle on No. 1. He also said he has eagled that hole before, so it wasn't necessarily a sign of big things to come.
"Having a par-5 to open with is a good opportunity," Church said. "I thought about hitting a 7-iron from the fairway, but I didn't want to go long, and I put the (approach) shot about three feet from the hole."
The two birdies that followed led to three straight bogeys that brought him back to the pack.
Church was in a group of three players at 70 and one shot behind Williamson after 18 holes.
Drugan, who also pushed Church to the end with a 33 on the back nine, and Joel Preeshl were the others.
FIRST FLIGHT: Doug Hageness shot rounds of 75 and 78 for a 153 to hold off runner-up Jim Socha by three shots. Mitch Gault and Jeff Zielke tied for third at 159.
SECOND FLIGHT: Randy Blank's 158 on rounds of 76 and 82 was seven shots better than second-place Emery Healy (78-87—165). Greg Espenes and Brent Staff tied for third at 166.
THIRD FLIGHT: Keith Seidel made up four shots on the final three holes to win with a 170 (87-83) over runner-up Damian Bork (86-85—171). Tony Raymond was third with a 174.
Drugan's Castle Mound in Holmen | par 71 final results