Livi Pappadopoulos isn't your ordinary high school athlete.
Sure the Holmen High School junior practices every day, has a hunger for competition and has been competing in the sport she loves since she was in elementary school. But what makes the 16-year-old stand out is the sport in which she has earned five amateur world titles — log rolling.
Pappadopoulos recently made the jump from the amateur to professional level when she competed in the Midwest Log Rolling Championships in Madison on June 9. She had an impressive debut, too, as she rolled her way to a first-place finish, defeating 2016 world champion Ellie Davenport along the way.
"I was expecting to do well at that tournament, but I didn't think I was going to win. I wasn't planning on winning," Pappadopoulos said. "It was a surreal feeling to actually win the whole thing. I didn't know what to do when I actually won — it was so exciting."
The tournament is just the first stepping stone of the season for Pappadopoulos, who also competes in powerlifting. With plans to participate in the U.S. open in Gladstone, Mich., on July 4, and the World Championships in Hayward, Wis., in a month from now, Pappadopoulos dedicates three to five hours a day practicing for the upcoming tournaments.
None of this surprises Shana Verstegen, who has trained with Pappadopoulos several times. Verstegen, who has won six world titles and has more than 30 professional wins, has witnessed Pappadopoulos' passion for the sport first-hand.
"The first time I met Livi she was a really young, little girl that came to a tournament in Madison," Verstegen said. "She was very quiet and very shy, but you could tell that she really liked log rolling. It was fun to watch how young she was and how determined and motivated she was. After that first season, nobody could touch her. It's been really amazing to watch."
Surprisingly, it's not balance that comes into play when preparing for national tournaments, according to Pappadopoulos.
Instead, it's speed, power and endurance.
Register for more free articles.
Stay logged in to skip the surveys.
"Balance comes in a much distant fourth. It's definitely key, but it's a lot more important to have a lot of strength and speed and endurance because when you're trying to get that other person off (the log), it's not always about being able to just stand there. It's about being quicker and having the strength to push them off," said Pappadopoulos, who competed in her first world championship at the age of 11 and came away with a fourth-place finish.
Speed, power and endurance all come into play in the best-of-five tournament matches. The matches take place on one of three logs. The rollers first compete on a No. 2 log for one minute and if nobody falls off, they make the move to a No. 3 log for a three-minute competition. If there is no victor, the match moves to the No. 4 log for an unlimited amount of time.
Each log gets narrower, forcing the rollers to roll faster which makes it harder to stay on, according to Pappadopoulos.
Mastering the logs and nailing the four skills it takes to be a professional log roller has been years in the making for Pappadopoulos.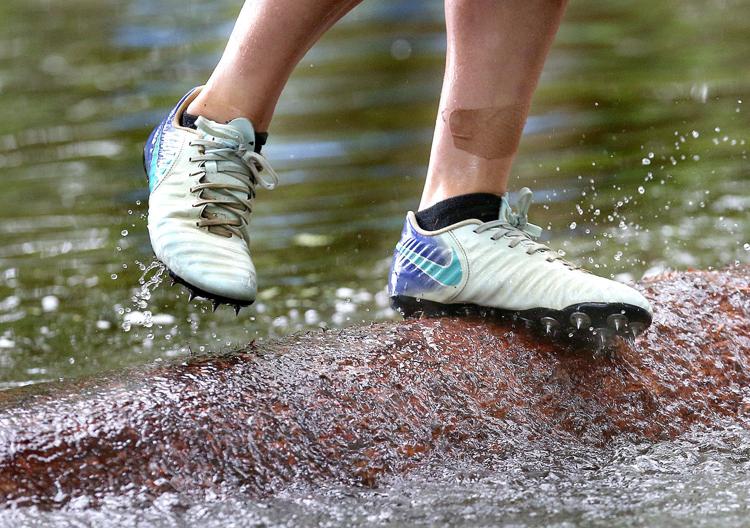 "I started working a lot harder at it when I was getting into the world championships when I was 11," she said. "Each year since then it's gotten more and more into my life. My life is log rolling — it revolves around log rolling."
Besides competing in the sport, Pappadopoulos also teaches area youth at the Holmen Area Aquatic Center, Sparta Aquatic Center, Erickson pool and at the Dahl YMCA. While teaching kids how to log roll, Pappadopoulos is reminded of how she grew to love a sport she began when she was eight years old.
A sport that she's still passionate about. A sport where she's making waves.
"This year the other pros are shaking in their boots because she didn't disappoint in her first pro competition," Verstegen said. "It's been a lot of fun to watch. My favorite thing about her is she's such a nice girl. She's not a mean competitor. She's just such a nice girl and one of the reasons why she's doing well is because she truly loves the sport and that's what I love to see."