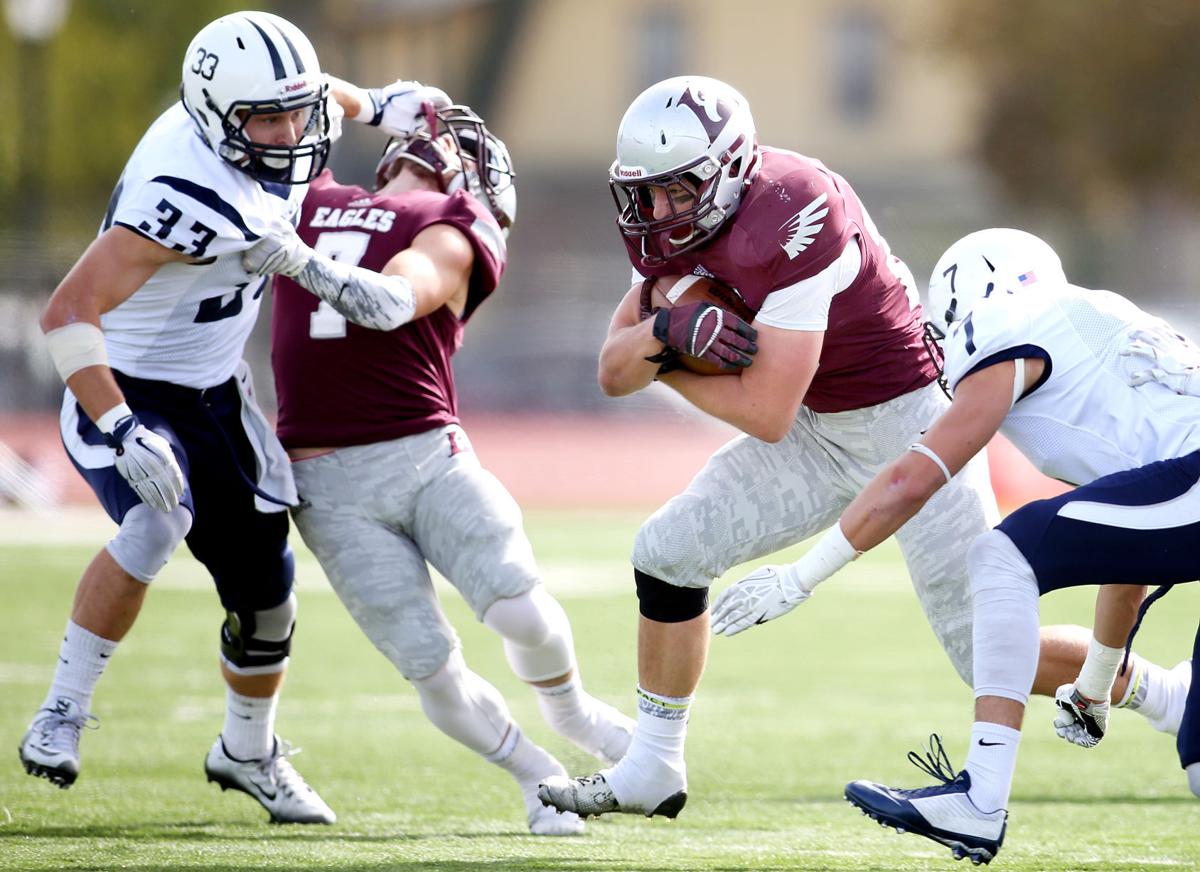 See the hole, run through the hole.
The way that Tyler Jenkins has been running for the UW-La Crosse football team (2-0) exemplifies that simplicity.
He's gained more than 100 yards in the Eagles' first two games — both blowouts — before giving way to reserves. He's averaged 7.65 yards per carry and his performance, buoyed by a veteran offensive line, has allowed the offense to skew toward the run game. UW-L has run the ball on 62 percent of its snaps so far this season.
With his keen vision and a good fall training camp, Jenkins won a four-man battle over NCAA Division II transfer Jalen Clark, Austin Mancosky and Troy Bailey for the starting running back position, which Jenkins occupied a season ago.
If you ask first-year UW-L coach Mike Schmidt, putting Jenkins' feet to the fire early was part of the plan.
"I don't think there's any question that competition helped him improve. He's a senior that's been a starter and the returning leading rusher. We infused some competition into that spot, and it pushed him to be better," Schmidt said. "The idea behind all of it was to push Tyler Jenkins, because we always thought he was going to be the guy, but this made him a lot better."
Having to battle for the top spot wasn't new for Jenkins. He won the role his junior season in camp as well.
"It was kind of the same thing as the year before where we had a lot of guys itching to play," Jenkins said. "I knew they were bringing in Jalen too, so I knew the competition was going to be fierce. I stepped up my game this summer and made sure I did what I could to secure the spot."
To get ready for the position battle, Jenkins dedicated his summer to returning to La Crosse in the best shape possible.
"I grinded harder," he said. "I told my trainer that we had to step it up, because it's my senior season and I want to the best I can and do the most for my team. I'm ready to go all out."
What set Jenkins apart during camp was his ability to read a play. With the Eagles employing a shotgun-based offense under first-year offensive coordinator Jake Landry, the ability to read the offensive line's blocks and where linebackers are flowing is imperative. Jenkins has been able to do that to great ends thus far, ripping off touchdown runs of 51 and 39 yards.
"He's got the best vision of all of our backs for what we're doing. He's got tremendous field awareness," Schmidt said. "He's not going to jump off the charts in an area, but he's got tremendous subtle moves in the open field that create space and yards for him. He's always had that."
Jenkins, a native of Crystal Lake, Ill., said his vision is both a result of repetition and some natural gifts.
"A lot of it comes from experience, knowing where plays are going to be and how the line will block. But a lot of it, too, is instinctual. You'll make reads in half-seconds and you won't even think about it because it's happening so fast," Jenkins said.
Landry said that he's got confidence calling plays for Jenkins because of the work he's seen him put in and the way he's performed thus far.
"He's got great attention to detail. He's very tuned into his reads and he's playing really well with his eyes," Landry said. "Myself and coach (Jonny) Brenner are tough on him every day to be good with his eyes. He's not going out of what we're asking him to do. He's trusting in what we're doing and trusting the system."
Pass protection is also a strong point of Jenkins, which was what Schmidt identified as the team's biggest issue when he took the job in January.
"We knew we had an issue we had to address, and we've addressed it with formations, tempo and a balanced and improved running game. That helps the offense all work together," Schmidt said.
Jenkins said he knew being able to pick up blitzers and stepping up his protection ability was paramount to playing.
"At this level, you have to pass block. That was probably the biggest factor in playing time," Jenkins said. "Everybody can run, but you've got to block, too."
UW-L's backs haven't been featured much as receivers to this point, instead staying in to help pass blocking. But Landry said he likes the improvement he's seen in the backs' catching, and if the protection up front is good enough, there could be more sets with backs lining up as receivers.
Schmidt said when the team opens WIAC play — Oct. 1 at home against River Falls — the level of physicality will pick up and Jenkins will have to continue to respond. But Jenkins is confident in his blockers and believes he can go as far as they will push him.
"The credit goes to the O-line. They did a fantastic job the first two games," Jenkins said.
"They keep doing what they're doing, I'll keep doing what I'm doing, and we'll keep this thing rollin'."
INJURY UPDATE: UW-L's opponent on Saturday — the Carroll Pioneers of the CCIW — will likely see a lot of Jenkins as Clark will likely miss the game with an ankle injury.
Defensively, the Eagles may be missing linebacker Tyler Hyde, who suffered what was originally feared as a broken leg against Ripon, but X-rays were negative. Hyde has six total tackles from his reserve linebacker spot.
UW-L may also be without Alexander Villarreal, a sophomore defensive back who's played mostly on special teams thus far.
Be the first to know
Get local news delivered to your inbox!