Cole Phillips may call the best night of his bowling career a fluke, but that night landed him his first honor count series as well as his first perfect game.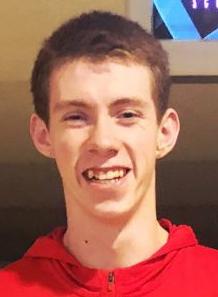 What's even more special about that night in the Merchants League at South Lanes is that Phillips, who picked up the sport five years ago after an extended time off, landed three pins over 800.
"My first game (that night) was a 300 and that took me by major surprise," the 20-year-old said. "After that, it was just a matter of me wanting a 700 (series). I strung together my spares and strikes and at the end I did that math and was like, 'Huh, I really did just throw and 800.'"
Phillips astonishment and disbelief in his once-in-a-lifetime, 29-strike night at the lanes comes after dropping the sport at 10 years old to focus on basketball, which he played throughout all four years of his high school career at Westby High School. But once Phillips' schedule opened up during his freshman year, a past bowling coach convinced him to make a return to the lanes, which has proven a wise decision.
Phillips isn't like most avid bowlers — he only owns five bowling balls and bowls two or three times a week — but that didn't stop him from having big goals in his second year in the adult leagues.
"My biggest goals of the year were to bowl a 300 and a 700 (series)," he said. "I really only wanted a 700 and I knew it wasn't out of reach, but it just didn't seem realistic to me with how I've been bowling lately … I just wanted that 700."
After accomplishing goals that were once thought impossible, Phillips isn't aiming to go any higher. Instead, he's hoping to get a 700 series and hopefully another perfect game because he thinks that he, "probably won't be able to do it again. Part of me thinks it was just a fluke."
Phillips' burst of luck last week at South Lanes came after a complete change of form at the end of last season. After experiencing trouble during his first year in the adult leagues, he practiced using a completely different approach toward the end of the year. Although it didn't work right away, some fine-tuning along the way has proven successful.
HEILMAN'S LEAD CLASSIC LEAGUE: Nick Heilman pushed his way in to the area men's Top 10 series with an 803 recently at Pla-Mor Lanes, which positions him in a four-way tie with Cole Phillips. That same night, Tom Heilman rolled an honor series (756) that also included a perfect game.
TWO 300'S IN ONE LEAGUE NIGHT: The Men's South Lanes League saw two perfect games last week. Steve Schaub recorded his first ever 300 while Tim Sires recorded another to add to his list. Schaub rolled a 705 honor count while Sires finished ahead with 714.
JIRSA, MOLDENHAUER TOP 10: The area women's Top 10 series list saw some movement after three bowlers — all in the same league — recorded a 700 series. Hanna Jirsa's 747 put her in second place, but that's fine with her as she already owns the top spot with a 790. Julie Moldenhauer dropped to third with a 728.