A year ago, there were at least 20 different hats in the Northwoods League — one for each team.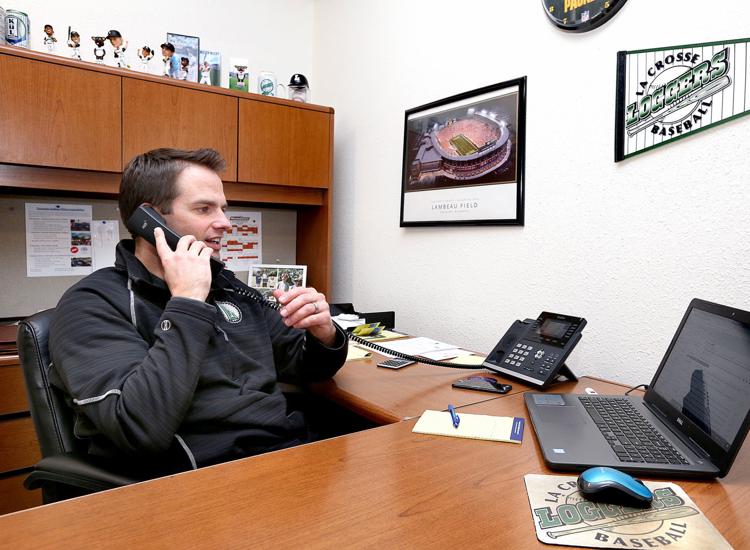 All of them have been in the La Crosse Loggers' organization over the past 15 years, as Kapanke has performed every task required to put on a Northwoods League baseball game. That means everything from selling tickets to taking them, from ordering Logger dogs (foot-long hot dogs) to grilling them.
From pursing group sponsorships to making sure the mascot is suited up and ready to entertain fans at Copeland Park.
Now, the 39-year-old Kapanke gets to wear another hat, one that carries with it far more responsibilities than any he's worn before.
Ask those within the 17-year-old NWL franchise, and they adamantly say he's ready.
"He knows it (organization) as well as anybody. This is, in terms of a transition phase — we don't even consider it a transition phase as we are all one big team," said Chris Goodell, who is also switching hats, going from the Loggers GM — the only one the team has ever had — to President of Bases Loaded Entertainment.
"While both Ben and Chris (Callaway, the Loggers' new assistant general manager) will be taking on more roles, we will all be working as partners."
Ben Kapanke has been a part of the Loggers since the team joined the fledging NWL in 2002, then put its first team on the field in 2003. It was by choice, he says, as his parents — Dan and Ruth Kapanke — took a chance on buying into a relatively unknown league and needed help from family, friends, employees and sponsors to make it work.
For all involved, including the Kapanke family, it was — and remains — a labor of love. Not only are Dan and Ruth actively involved in the operation, sister Elizabeth Kapanke is the team's group sales coordinator.
"My parents instilled in me a hard work ethic and be humble in your approach and good things will happen," Ben Kapanke said. "That is just something that I started hearing from Day 1 and still believe in.
You have free articles remaining.
Register for more free articles.
Stay logged in to skip the surveys.
"Basically, I have had a 15-year internship and Chris (Goodell) has been the professor every step of the way. Every year after the season, in October, we kind of tip the organization upside down, shake it, and see what comes out."
What came out, Dan Kapanke and Goodell said, is a window of opportunity for a number of folks, including Ben Kapanke. In addition to his new job as GM of the Loggers, Ben Kapanke is minority owner two other NWL franchises, the Mankato MoonDogs and Rocehster Honkers.
"For me, it is a time I have been ready for. I am excited for the opportunity and the venture and the challenges they present," Ben Kapanke said.
"I started (with the Loggers) in 2005, working hand-in-hand with Chris, knowing, 'Hey, we are going to start at the entry level, we are going to learn every aspect. Obviously after 15 years, I am ready for the opportunity, ready for the challenge."
The Loggers are not without their challenges and not without room for growth, Ben Kapanke said. But that's not his only challenge, as he is a key player in the Copeland Park & Events Center. Ben Kapanke was instrumental in the development of Copeland Park as an outdoor entertainment venue, as he spearheaded efforts to land country music acts as well as a MMA event and craft beer festivals. But, as coaches often do, he continually talks about the team aspect of the operation, not individual players.
"There is a lot of room for growth and opportunities. From the Loggers game perspective, we have 3,000 seats we can fill on a nightly basis and tons of different promotions we can do," Ben Kapanke said.
"And we did a major renovation a couple of years ago that enhanced our front entrance and retail and concessions, which was a huge part in taking the ball park forward."
Being a key part of a team that drew 98,649 fans last season and 100,000 or more fans for 11 consecutive seasons from 2005-2015, Ben Kapanke knows there is more weight on his shoulders, but he welcomes it.
Again, he reiterated that he isn't toting the load by himself.
"I think there are big visions that we have, but we are taking them with a one step at a time approach," Ben Kapanke said. "We have a lot of exciting things happening, not just in 2019, but beyond as well."
LOGGERS ATTENDANCE | LAST 10 YEARS
| Year | Overall Attendance | Avg. Per Game | NWL Rank |
| --- | --- | --- | --- |
| 2018 | 98,649 | 2,740 | 2nd |
| 2017 | 99,070 | 2,752 | 2nd |
| 2016 | 98,088 | 2,725 | 2nd |
| 2015 | 103,842 | 3,054 | 2nd |
| 2014 | 110,251 | 3,150 | 2nd |
| 2013 | 104,266 | 2,979 | 2nd |
| 2012 | 103,292 | 2,951 | 2nd |
| 2011 | 101,888 | 2,997 | 2nd |
| 2010 | 104,772 | 3,175 | 2nd |
| 2009 | 111,054 | 3,266 | 2nd |
| | | | |