Their names are Mike McCormick and Marty Kirchner, but after Saturday, they will forever be known as the "Walleye Wonders."
The duo battled 197 other two-angler teams, falling water levels and constantly changing current to pull 11 walleye from the murky Mississippi River over an intense three-day tournament.
The combined weight of those walleye was 44 pounds, 15 ounces, which earned McCormick, of Holmen, and Kirchner, of La Crosse, the first-place prize of $25,000 and a $70,095 Mercury-powered Ranger boat.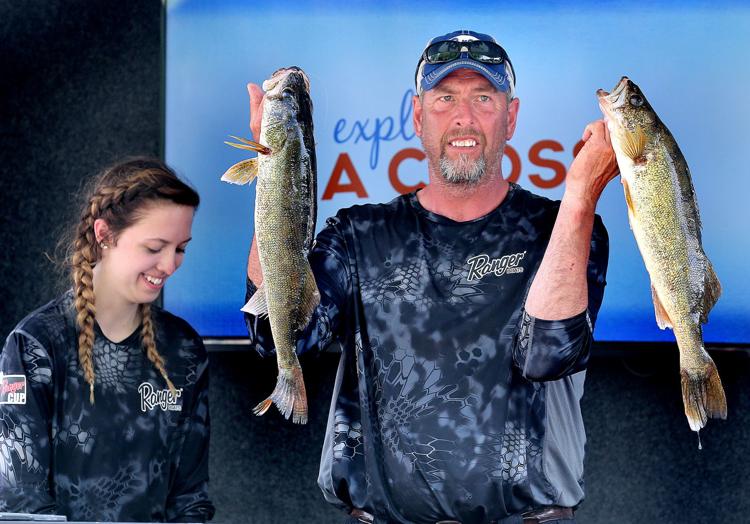 Equally important to each, they received first-place trophies for winning the prestigious Cabela's National Team Championship, a tournament that drew top walleye anglers from 21 states to pools 7,8 and 9 of the Mississippi River. A tournament that was relocated at the last minute from the Quad Cities to La Crosse because of high water levels.
"It makes you nervous the whole time," McCormick said of being the last of the 25 teams to weigh in at Veterans Freedom Park near the Clinton Street bridge Saturday afternoon. "I knew it was going to be close when we put them on the scale. We felt pretty good until you see what everyone else is bringing in.
"We knew somebody would have to bring in about 18 pounds to beat us today."
They didn't, but the Prairie du Chien father-daughter team of Paul and Katie DeVoss made McCormick and Kirchner sweat a bit, and kept at estimated crowd of 450 people on the edge of their seats.
Paul, 53, and Katie, 17, entered Saturday's final day in fourth place with 25 pounds, 10 ounces, and were the 21st out of 25 teams to weigh in. When they carried a bulging bag of five walleye that topped the scale at 17-15 — the biggest bag of the day — the crowd roared as the two gave each other a high-five on stage.
A three-day combined weight of 43 pounds, 9 ounces put them in first place with three teams yet to weigh in. Would that weight stand up?
"We thought we had it. We knew we were close. It is that whole adrenaline thing that gets going when you're up there," Paul DeVoss said. "We were coming to win. We had a really good feeling with this one."
Kirchner, meanwhile, had a different reaction when the DeVoss team weighed their fish.
"When we saw that (DeVoss' total), my Adam's apple went up my throat," said Kirchner, who owns a construction company in La Crosse with his brother. "I looked over at Mike, and we knew it was going to be super close, probably within ounces."
The two, who fished all three days in Pool 9 near Stoddard, gave each other an aggressive, WWE-style, bear hug when their Saturday bag weight of 14 pounds, 6 ounces, pushed them to an untouchable weight of 44-15.
"It feels great. There are a lot of really good walleye fishermen in the area, and everybody here is great," said McCormick, who fishes every day and operates McCormick's River Guide Service as his occupation.
"This is the biggest tournament I have ever won. The trophy means more than anything to me, just to say you have won it."
It took a great first-day catch (28-12), then surviving a rough second day where the two caught just one 15-inch legal walleye. Entering Saturday's final round, they had 30 pounds, 9 ounces, which was still 3 pounds, 4 ounces more than the Jesse Nussbaum and Dylan Nussbaum of St. Mary's Pa.
"We had 10 spots picked out on Day 2. Our No. 1 spot, somebody took it, and they pulled 17 pounds out of that spot," Kirchner said. "If we would have that spot yesterday (Friday), this game would have been over."
Paul DeVoss has fished some big-time walleye series, such as the FLW and Masters Walleye Circuit, but there is one tournament that ranks far a…
Instead, Kirchner said the two struggled and caught one fish on their last spot.
"We were worried that we would be embarrassed coming in with no fish after a 28-pound first day," Kirchner said, smiling. "We knew we were still in it."
So the two headed back to the same area where they nailed the walleye on Friday. They anchored their boat in about 4 feet of water, then cast their line to the edge of the river channel, where it was about 30 feet deep.
"We put the boat up in about 4 feet of water and pitched willow cats," said the 38-year-old McCormick. "Every half hour we could catch a fish. We had five fish in the box (live well) about noon."
Then it was a wait-and-see game, as Jesse and Dylan Nussbaum weighed in five walleye that topped the scale at 11 pounds Saturday, leaving them with 38-5 pounds and in fourth place. Steve and Dan Bodinger of Chilton, Wis., entered Saturday's final round in third place (28-6), and weighed in five walleye that tipped the scale at 15-5, leaving them with a 41-pound, 11-ounce total and in third place.
"Last night, when we were still in the lead and figured we needed 15  | CABELA'S NATIONAL TEAM CHAMPIONSHIPpounds to win," Kirchner said, "I didn't feel any pressure. Mike McCormick can catch 15 pounds any day on this river — any day.
"Mike probably had more pressure than I did because he fishes for a living. I am just along for the ride, the first mate. He is the best fisherman I know."