In what has become fish-flopping theatre, Tom Monsoor stood speechless.
In the biggest moment of his long and almost to-die-for professional bass fishing career, he stood on stage one week ago as the emcee of the FLW Tour pumped him with questions over the blare of Monsoor's theme song, "Sweet Home Alabama."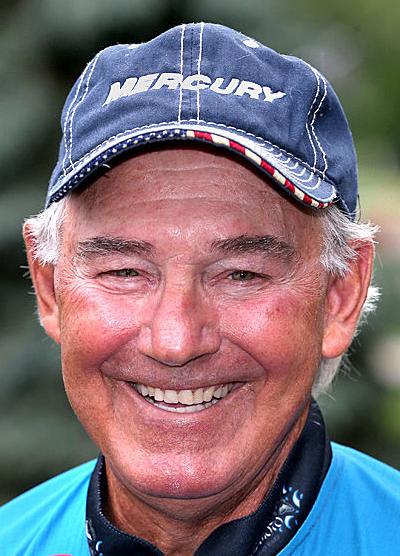 Yes, a Wisconsin man with a classic Lynyrd Skynyrd tune as his theme song. More on that later.
Here he was, the winner of a $100,000 FLW Tour event on the Potomac River in the Washington D.C. area, and La Crosse's top bass fisherman struggled to hook the right words.
"To me, it is like that (winning the Super Bowl) because this is what my life is about," said Monsoor, who has fished on the premier FLW Tour for 14 years but never won an event before June 18.
"My life is about fishing, whether it is commercial fishing or bass fishing. This is the pinnacle for me. When I told them I could die now, I was serious. I did what I needed to do, getting that trophy.
"Not that having my family, my kids and everything, my dog, a nice house, are not important. They are. I am lucky, I know that. But winning that (FLW event) is the pinnacle of my work. It is what I do."
It is who he is, what he is known for. It identifies him.
Monsoor, a 68-year-old who has fished rivers and lakes across the country to the tune of $848,851 in career FLW earnings, has come close to the big prize before, but never won it. He's chased the big-time trophy (it weighs at least 20 pounds) for years, but someone — or something — always seemed to take it from him.
Ironically, Monsoor was one of the favorites to win the FLW Tour event on the Mississippi River last month, but didn't even make the first cut and wound up finishing 105th out of 165 pro anglers. Instead, Bryan Schmitt, whose home waters are the Potomac River, won the La Crosse event.
This time, Schmitt missed the cut and Monsoor grabbed the top prize.
"To win one of these is unbelievable. I have been close, top five, in a half dozen or so (FLW events). It was always a 'this is never going to happen' type of thing. Then when it happens, it is surreal."
It took his words away, but not his breath. A three-time heart-attack survivor, Monsoor knows how fortunate he is to still be fishing, and able to relive that memorable last day on the Potomac River.
Monsoor found himself in second place after the first day of the four-day tournament after catching five bass with a combined weight of 19 pounds, 6 ounces. The second day, he caught a limit weighing 16 pounds, 14 ounces, putting him in the lead with a two-day total of 36-4.
Still, Monsoor wasn't entertaining any thoughts of where he would spend $100,000.
"The writers (covering the tournament) were calling me every night because I was leading it and asking me, 'Do you think you are going to win it?' I told them 'No,'" Monsoor said. "I was catching 15- and 16-pound bags after the first day because you weights usually go down. Your best spots dry up, they don't get better.
"This one guy (Brandon) McMillan of Florida, he was actually getting better. He had two 19-pound bags in a row, so I figured he was going to win."
Maybe he was downplaying his chances in his own mind after coming close but never winning such a big-time event. Maybe he truly believed his best spots had produced their biggest fish.
Maybe, in his own mind, he didn't believe a kid who grew up on the north side of La Crosse, graduated from Aquinas High School, then spent all of his adult life in a modest home on French Island, was supposed to win such a coveted professional tournament.
How could a Midwest born-and-raised man who has probably spent more waking hours on the water than on land over the last 15 to 20 years, win a tournament typically dominated by southern-based professional anglers.
Monsoor was on the cusp of his biggest professional victory, yet he had convinced himself he wasn't going to win. Extremely challenging weather on Sunday, the final day of the tournament, just cemented those thoughts.
"The last day, there were 4-foot rollers (waves) with whitecaps. It was really bad, so we (there was a cameraman with him on the last day) went to my first spot and it was pretty bad (rough), but I caught a limit," Monsoor said. "It wasn't a big limit, but it was OK. You have to have a limit to save face.
"So I told my camera man to hang on as it was going to be a windy ride with big waves."
Monsoor, who only fished two spots in the entire tournament, made a dash to the second spot. He knew once he got there, it would be somewhat out of the wind. The spot had produced twin 4-pound, 10-ounce bass the first day, then back-to-back 4-pounders on the second day of competition.
It was worth one more shot, or so Monsoor thought.
"I knew it had potential, but it wasn't getting any better. We pulled in, and I fished for an hour and a half, and all I caught was three catfish. It sucked," Monsoor said, breaking into laughter.
"I thought, 'that's the way it is.' It was so windy I couldn't go out running around. It was dangerous, it was so windy."
Monsoor had all but conceded he was likely going to finish in the top five, but certainly not win.
"Just about then, I am looking back (over his shoulder) and there are six docks off the back. I had caught a 3-pounder off one of them (previously). I only fished one of them (docks) because I caught it right away, so I left them alone."
With nothing to lose (well, actually thousands of dollars were on the line), Monsoor eased his 2011 Ranger bass boat closer to the docks. Any serious bass angler knows that fishing near, or under, docks can produce an occasional fat-bellied bass.
Would it happen this time? Would this be the finishing touches on an already impressive tournament?
"I thought, 'Geez, I should run back there and BANG! I got a 4-pounder," said Monsoor, his eyes widening like it just happened.
So Monsoor stepped on an electronic button that extends spider-like arms attached to the rear of the boat near the motor. Those arms, called power poles, are like anchors as they extend into the water, then push a small rod into the sediment. He wasn't about to drift an inch from this spot.
"I care of the (4-pound) fish, culled one out, then made another cast. BANG! I got another one, a nice 3-pounder. So then I am thinking I have a decent bag now, probably 13 pounds, which is a light estimate. Better to be light on the estimate, as guys that over estimate, nobody likes them," Monsoor said.
"I am thinking I am for sure top-five (finisher) now. I am happy with that."
At this point it is 2:30 p.m., and Monsoor's check-in time for the final weigh-in is 3:15 p.m. His trip back to the launch area usually takes 30 minutes, but weather conditions have not improved, so he leaves himself some extra time.
"I made it in 15 minutes. I went a little faster than I should have," Monsoor said, smiling.
Monsoor, who had all but convinced himself he wasn't going to win the entire tournament, was beginning to allow some hope of a longshot victory slip into his head. As with each of the six FLW Tour events during the regular season, the crew puts on a production of sorts for each day, but none bigger than the final day.
Each of the 10 finalists walks across a stage with a bag of bass and their theme song playing as the emcee builds the suspense by weighing each bag, then declaring the leader to that point.
For Monsoor, thoughts of returning home to see his family, his girlfriend, his 2-year-old yellow lab "Jigs," were suddenly replaced by the moment.
"I am listening to all those guys talk on stage. I am the last one, and the guy in front of me was the one catching the big bags, and he said he didn't have them (on Sunday)," Monsoor said.
"I thought, 'that's good,' but the guy behind him, said he had a really big bag. I didn't know this, but the day before he said the same thing and was 2 pounds light."
It was Monsoor's turn, the moment he had waited what seemed like a lifetime for. The moment he had endured a career's worth of fishing in wind, rain, freezing temperatures and steamy hot days.
Was his lifelong goal about to materialize? Or, would be it another oh-so-close tournament?
"They call me up and tell me I need 14 pounds, 14 ounces (to win). I am thinking that is going to be rough," said Monsoor, whose 'light' estimate by himself was 13 pounds. "They put them on the scale — and they do it one at a time — and I hold the last two up for the cameras, and they are pretty good fish.
"I take them over and put them in the scale, and he (emcee) has his hands over it (read out of the weight).
"He moves his hand and I see 15. I think, 'Holy (expletive)!' I finally won one. Most guys jump around; I just stood there with my mouth open because I couldn't believe it.
"It was unreal … Sweet Home Alabama was playing, and I stood there with my mouth hanging open. I couldn't believe it."
With 15 pounds, 2 ounces of bass on the last day, Monsoor's tournament total of 66 pounds, 11 ounces beat Chad Warren of Sand Springs, Okla., by a mere 5 ounces. Monsoor, finally, is a FLW Tour event champion.
One of the questions Monsoor was quickly asked was how he was going to spend the $100,000 first-place prize.
"The money is nice, don't get me wrong. But you know what I told them? I got money, but I don't have one of those (FLW trophy). Like I told them on stage, 'Now I can die. If I die now, I'll be a happy camper."
Monsoor, who at 68 became the oldest pro angler to win an FLW Tour event, has made the final step. He won an event on the FLW's beginning series, the BFL, in 1991, then an event on its mid-level series, the EverStart Series, in 2004. Now, 13 years later, he is an event champion on the highest FLW (Fishing League Worldwide) series, the FLW Tour.
"I don't know how many people have won tournaments in all three divisions," Monsoor said. "I don't believe it would be very many."
And before you ask, he isn't about to retire. In fact, he's going to use the biggest share of his prize money to buy a new Ranger bass boat. After all, there are more FLW tournaments coming up next year.
"The first one is always the hardest one, just like the first kiss," said Monsoor, breaking into more laughter. "It took me years to win my first one (FLW tournament, any level), then I won all kinds of them."
He's hoping the pattern continues.