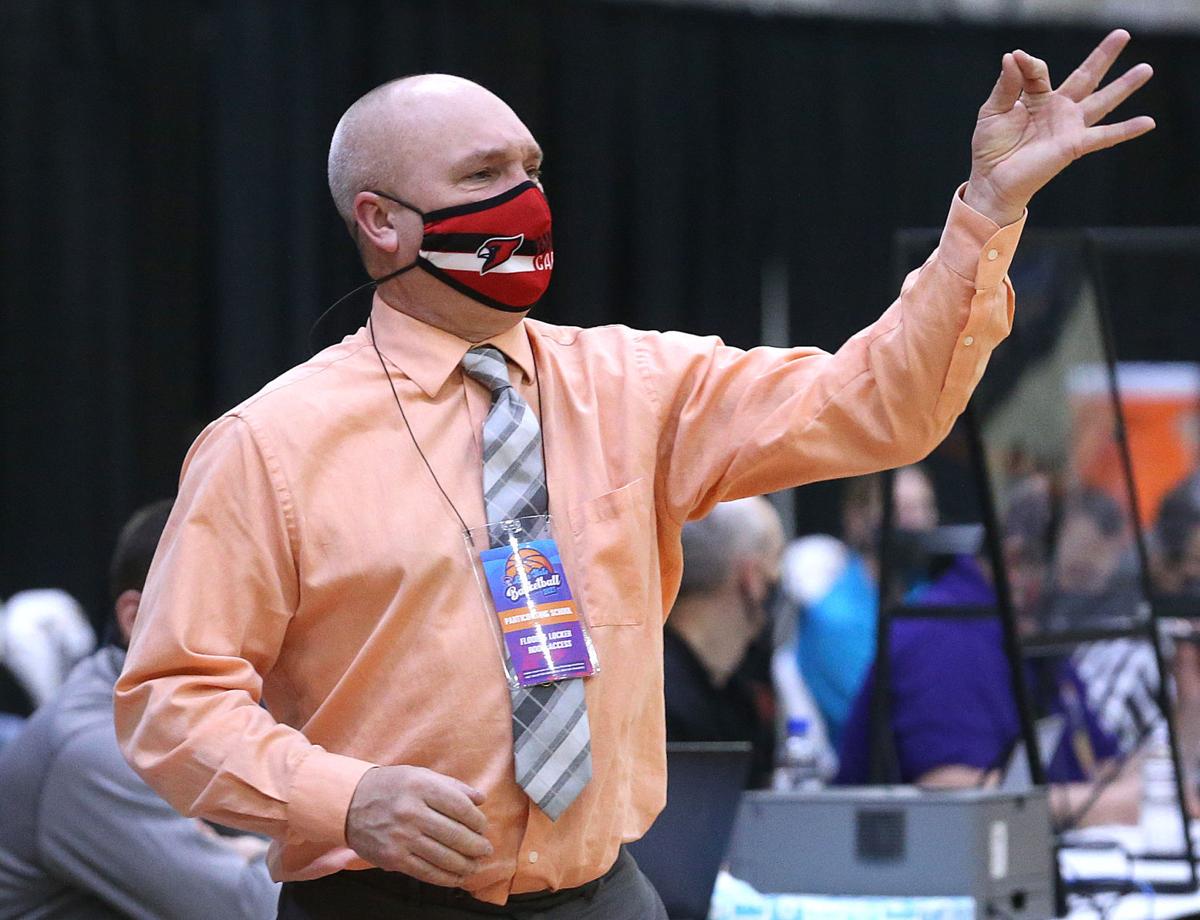 Merlin Jones still remembers Paul Wittmershaus' words.
The Bangor High School girls basketball coach was enjoying his team's sendoff for its WIAA Division 5 sectional final in 2015, complete with a fire truck escort. But Wittmershaus, who was a part of the program's state title in 1997, had a different thought on his mind as the Cardinals tried to get back to state for the first time since that championship run.
"He's like, 'You know, you think this is cool.' He said, 'You ought to see, if or when we win — as far as to come back into town — the celebration,'" Jones said. "I had never experienced that myself, so I was like, 'Really?'"
Jones didn't find out that season, as Bangor lost to Barneveld, which went on to win the state title. Nor did he find out the next, as the Cardinals fell to Hillsboro in a sectional semifinal.
"To be that close and to not make it was like, 'Man,'" Jones said. "I mean, you really hope that's not the only chance you ever have."
But in 2017, his team earned a trip to state by beating Shullsburg in a sectional final, which kick-started a run of four state appearances in five seasons, including a state title in 2018.
So was the celebration coming back into town better?
"It really was," Jones said.
Bangor's impressive stretch of basketball continued this season — one year after making it to state only for the tournament to be canceled because of the COVID-19 pandemic before the Cardinals could take the floor. Bangor had to replace its best player from that team — Karsen Kershner — and moved up to Division 4 but still qualified for the state tournament.
For that, and for turning the Cardinals into a small school power, Jones has been named the Tribune's girls basketball coach of the year.
"I just have a great appreciation for the kids that have committed their time to me, as far as that goes," Jones said. "I've just been the fortunate one to be able to have had such great kids to work with and the support of the community to allow me to work with our kids all the way through it.
"... I can't do it without the kids and the support staff I've had — from my family, as well as from the assistant coaches that I've been able to work with and the youth programs."
Before Jones took over in the 2010-11 season, Bangor had just two winning seasons in its previous seven. And it took some time before the Cardinals looked like they do today; the team had one winning season in Jones' first three at the helm.
But since the 2012-13 season, Bangor has compiled a 173-34 record and had six seasons with four or fewer losses. The Cardinals have also claimed seven straight Scenic Bluffs Conference titles to go along with their string of state appearances and the 2018 state championship.
Jones is quick to credit local youth programs for getting kids invested, and it's no secret Bangor has had plenty of talented players — from Morgan Horstman to Emma Wittmershaus and Kershner. Jones also believes he has benefited from coaching a mix of experienced seniors and contributing underclassmen, who can then learn the ropes.
It has all helped make qualifying for the state tournament an expectation for the team, which Jones said can be a double-edged sword.
"The first few years, it was a goal. It was an aspiration," Jones said. "But now that we've done it, you feel like every year … if you don't get there, you're not successful, and I guess that's the scary part.
"And I guess, maybe in some ways, it keeps you hungry and keeps you driving to do and to achieve and to attain that high standard."
That extended to this season, especially after the way the 2019-20 season ended; after the tournament was ripped away, Jones vowed to return in 2021.
Doing so, though, wasn't easy. The pandemic loomed over the season, and the graduation of Kershner left Jones without a 6-foot post player for one of the few times in his career.
But the Cardinals adjusted to new roles and found consistency as the season wore on.
Senior point guard Megan Miedema became more of a scorer after primarily facilitating as a junior, senior Haley Jones showed grit in the post despite being a little undersized for the position at 5-foot-9, and sophomore Nora Tucker gained confidence after scoring 7.0 points per game as a freshman.
That's not to mention the team got key contributions from senior Andrea Olson and juniors Taylor Jacobson, Madeline Janisch and Aliyah Langrehr.
"It took us time to kind of find these pieces and draw it all together," Jones said. "And for the kids to kind of understand what their role was in comparison from last year to this year, that was the neat part — the unselfishness that each and every one of them had."
Bangor posted a 15-2 record in the regular season with wins over G-E-T, Sparta, Melrose-Mindoro and Shullsburg and losses to Onalaska Luther and Royall. The Cardinals breezed through their regional and proved they could compete in Division 4 with a 67-55 win over Auburndale in the sectional final.
The team then lost to Mineral Point in a state semifinal, but that did little to take away what it accomplished.
"For them to be at state three times in a four-year period, as seniors, I think is quite a testament to what they've done," Jones said.
Of course, Bangor loses those seniors to graduation, but this season proved Jones can make the necessary adjustments to keep up with the Cardinals' expectations for success.
"I'm hoping the runs aren't over," Jones said. "I hope the kids are hoping that they're not over with. It keeps them hungry, just as hungry as it keeps myself."