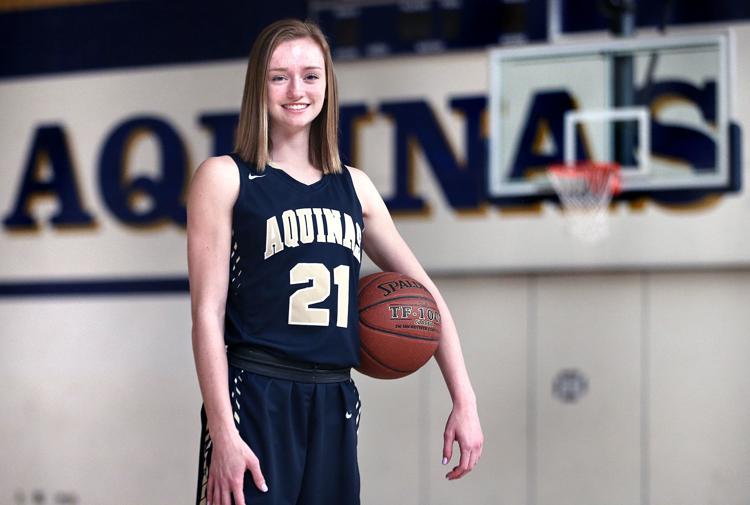 Had she wanted it to happen, Lexi Donarski's phone could be blowing up on a daily basis.
Calls, texts, social media messages and more could be pouring in from women's college basketball coaches around the country vying for her commitment to play at the next level. If she wanted to, she could be spending a good deal of free time listening to coaches' pitches for their schools and experiencing that end of being a highly touted prospect.
But Donarski didn't want that — she knew what she wanted for her college experience, and made that choice before she played a game for the Aquinas High School Blugolds.
We'll get back to how much Donarski's choice to commit to Iowa State University the summer after eighth grade has helped her career. Part of it is that she's been able to play without worrying about impressing anyone — but she's doing that anyway.
Donarski, a junior, was the catalyst for a second straight Division 4 state championship for Aquinas, evolved into a new role as primary scorer and playmaker, and did so with a level of confidence she hadn't yet shown. For those reasons, she edged G-E-T senior Lexi Wagner to become the Tribune's girls basketball player of the year.
Donarski averaged 23.2 points, 5.8 assists, 3.4 steals, and 2.8 rebounds per game for the Blugolds (27-1), while shooting 53.7 percent from the floor and 40.3 percent from 3-point range. Aquinas coach and Lexi's father Dave Donarski said Lexi has always been open to taking on new responsibilities for the team, and this season was a prime example.
"She welcomed whatever role we needed her to play in the past few seasons. This season, it was some more scoring, but she's capable of a lot of things. I think the No. 1 thing she does is making others better," Dave said.
"I think she's recognizing her responsibility to do what she can with her skills. And she's truly only cares about winning, and so do a lot of our girls. So it makes it easy as a coach, because they know how to handle it when you do challenge them."
Dave challenged his team numerous times throughout the season, facing off with strong nonconference competition — Iowa's Dowling Catholic, and DeLaSalle and Hopkins out of Minnesota — on top of the MVC schedule.
Lexi said the team was able to bring a competitive fire to each game.
"That's been a main focus for us that our coaches emphasize, because we do have a really tough schedule. We have an advantage that we found good teams to play that got us prepared for the postseason. So we focus on bring that intensity to every game," she said.
Focus is important for Lexi, a three-sport athlete at Aquinas.
You have free articles remaining.
Focus is another reason why she made her college decision when she did. She has been attending Iowa State games for much of her life, and knew she wanted to be in that atmosphere. Since she verbally committed to the Cyclones, she hasn't looked back.
"I've never regretted that decision in my life. I just get to really enjoy the high school season and the AAU season without having any pressure on me from myself or my coaches, or anything that I have to worry about. I made my choice, and I'm still happy with that, and sticking with it," Lexi said.
"I knew what I wanted to do, so I didn't see the point in waiting and then still deciding to go to Iowa State anyway when I knew I wanted to go there from the start."
Dave Donarski, who has seen the recruiting process take its toll on players before, agreed that having this decision out of the way has helped Lexi's career. He said other college coaches have been respectful of her decision and haven't tried to change her mind.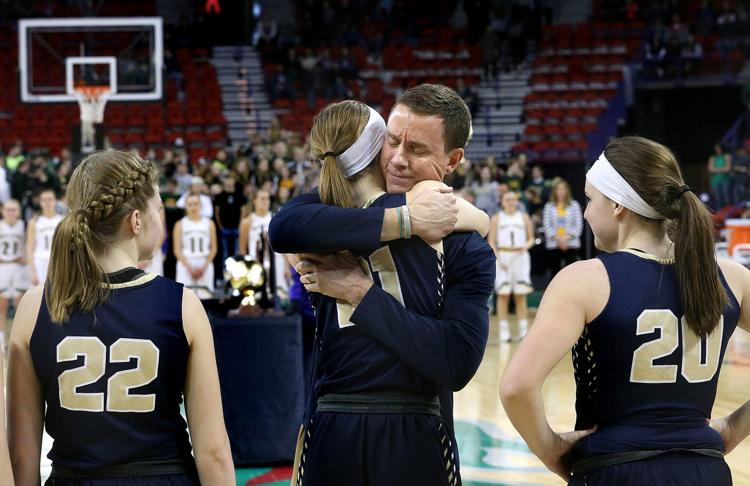 Iowa State coach Bill Fennelly signed a contract extension with the school through 2025, so, if things go well, he'll be Lexi's coach through her Cyclone career. That was a relief for Dave.
"That stability makes a difference. They have a program we would like to emulate. How they were with their kids when we were there, how they focus on doing things the right way," he said. "I've had talks with them, because you never know in the coaching business, but it looks like things will fall into place how we thought."
Lexi has been getting close with other players in her recruiting class, staying in touch through social media and staying together at an ISU camp.
She's known for a while where she'll be playing her college career, but she has her eyes on finishing her high school career with the success she's experienced the past two seasons.
"I'm super excited for it. We return a really good core group of girls," she said. "Hopefully we're able to come together like we did this year."