HOLMEN — The Holmen American Legion baseball team ran away with its home game against the La Crosse North Stars on the back of a strong pitching performance from Nevin Wall and offensive contributions up and down the lineup.
Nevin Wall tossed a two-hitter and Holmen won 13-0 in five innings.
Wall struck out nine and allowed just one walk to power Holmen (10-3). Wall tallied a pair of hits as well.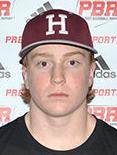 Cam Weber had a hit and three RBI, while Brandon Flury and Kevin Koelbl had a double and two RBI apiece.
One of the biggest hits of the night came from Ryland Wall, as he hit a grand slam to end the game in the fifth inning.
Prairie du Chien 5, Stoddard 1
PRAIRIE DU CHIEN — Jacob Joy allowed two hits over five innings and effectively kept Stoddard off balance.
Cory Check had two hits including a double, while Gavin Gillitzer had a triple and Clayton DuCharme had three hits. DuCharme also tossed a perfect seventh inning.