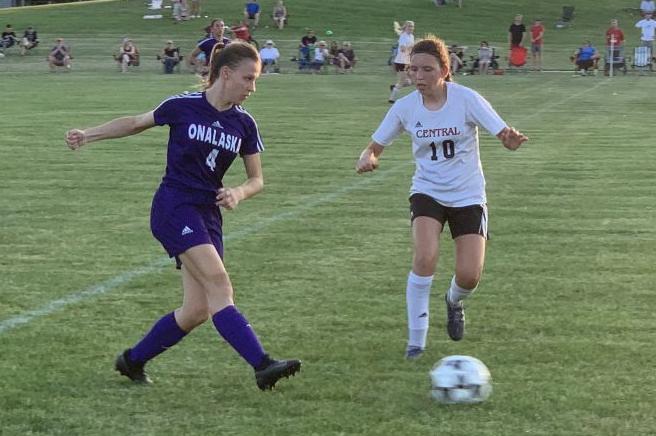 ONALASKA — The Onalaska High School girls soccer team looked to score early and tried to do so from every direction.
Senior Ellie Smith made runs through the middle of the Central defense, sophomore Alex Wayss sent a cross into the box from the right side, and junior Emma Breidenbach probed the left side and was on the receiving end of back side passes.
But time and time again, the Hilltoppers came up empty as RiverHawks defenders stepped in to block shots and goalkeeper Ella Lysne made saves.
Still, Onalaska continued to relentlessly attack, knowing it could eventually put away a scoring chance.
And in the 28th minute, the Hilltoppers did.
Jennifer Jara tried to head in a cross, but it lofted harmlessly into the air and landed at her feet. The senior, though, had just enough room to get off a shot, which was blocked.
But senior Olivia Kloehn was there to finish the rebound, sending the ball swiftly into the bottom right corner.
Second-seeded Onalaska applied pressure from start to finish of Tuesday night's WIAA Division 2 regional semifinal, and that led to a 6-1 victory over seventh-seeded Central in a game that was called about five minutes early because of lightning in the area.
The win is the sixth in a row for the Hilltoppers (11-1-2), who will host third-seeded New Richmond on Saturday.
"We knew that there was going to be those types of goals," Onalaska coach Tyler Ludeking said. "... We just told our girls, 'You need to be there so when it does kick off, you're there for an opportunity.'"
It was also a point of emphasis after the Hilltoppers failed to finish similar chances in a 2-0 win over the RiverHawks on May 13, and the team came through with three goals off rebounds on Tuesday.
"Their goals they scored, those first two, were just on our inability to clear, get rid of the ball," said Central coach Joe Czerniak, whose team finishes the season at 4-6-1. "We were forcing them to shoot outside the 18(-yard box). We were fairly organized, even when they made some adjustments."
But Onalaska, with a plethora of players contributing off the bench, was able to wear down Central on a warm night and kept the ball in the attacking third while the RiverHawks packed in their defense.
Freshman Amaya Thesing had a shot on goal less than a minute after Kloehn scored, and the Hilltoppers had four corner kicks in the next nine minutes.
Then, in the 39th minute, junior Kiya Bronston sent a through ball to Thesing, who snuck the ball under the arms of a diving Lysne to put Onalaska up 2-0, which was the score at half.
"In a playoff game, when you can get up early and you can stay up early, it makes it a lot easier," Ludeking said. "You can start getting more subs in, you can start getting some fresh legs, so you're not playing a full 90 minutes of just digging it in."
And it certainly helped that the defense was solid throughout. The Hilltoppers did well to mark Central freshman Kate Heiderscheit and senior Abby Heiderscheit and limit the RiverHawks' shots; senior Emma Kujawa stopped four of their five on goal.
Meanwhile, Onalaska continued to press offensively.
Bronston put away a rebound in the 66th minute and added another in the 70th after beating multiple defenders while racing down the right side and connecting on a chip shot that hit the left post and bounced in.
Central sophomore Ellie Kirchner answered with her team's lone goal, but the Hilltoppers responded with two goals — first from freshman Kendyl Johansen on an assist from freshman Summer Nicolai, then from Nicolai — to secure the win.
Onalaska now turns its attention to New Richmond, which beat sixth-seeded Menomonie 5-0 on Tuesday. The Hilltoppers and Tigers met once in the regular season — a 2-2 draw on May 15 — and Onalaska will be searching for its second straight regional title.
"I wouldn't say that we were necessarily playing our best soccer at that time (of the May 15 match)," Ludeking said. "So to be able to have another attempt at New Richmond, to be able to play at the level that we're playing at, we're looking forward to it."