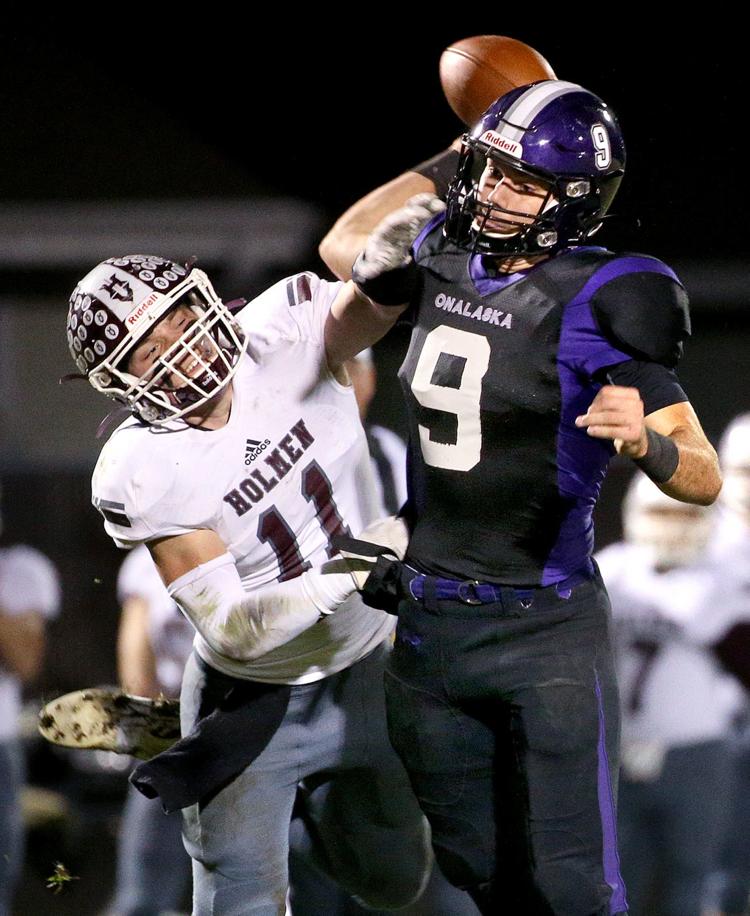 HOLMEN — Adam Quam is more than a sure tackler for the Holmen High School defense.
He's a hitter. He's a collision seeker. He's more about stopping opponents in their tracks than simply dragging them to the ground.
"He has more energy than you could ever imagine," Holmen coach Travis Kowalski said of his senior linebacker. "A lot of guys tackle, but he hits.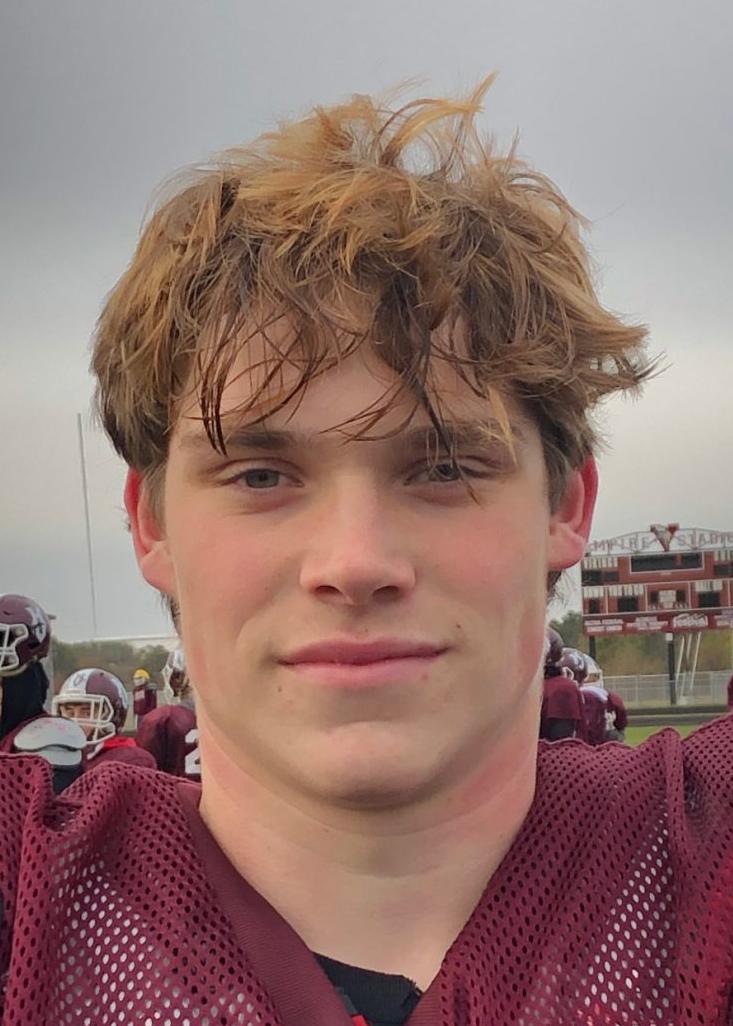 "We had him in at running back last week (against Watertown), and he went for a block against their middle linebacker. He just decleated him. It was an amazing hit."
Quam has been willing to play wherever the team needs him, and that has involved a couple of position changes. He's been a running back, linebacker, tight end and played on both the offensive and defensive lines during his career and helped the team at every spot.
Quam's contribution is vital as the Vikings prepare for another 'biggest game of the season' against Hartford on Friday.
The fifth-seeded Vikings (7-3) earned this WIAA Division 2 second-round playoff game against the top-seeded Orioles (10-0) by beating Watertown 36-10 in last week's first round. Hartford, which hosts the 7 p.m. kickoff, beat eighth-seeded Oregon 31-0.
"We feel like we've been playing in the playoffs the last three weeks with the way our schedule was," Kowalski said. "That mentality is there for us after playing Sparta, Ona(laska) and Watertown."
To keep advancing, Quam and the Holmen defense will have to find a way to counter an offense that averaged 32.6 points and 336 yards per game while winning the North Shore Conference and ending a two-year reign by state power Mequon Homestead.
Senior quarterback Jacob Frantl averages 25 passes per game and has thrown for 2,274 yards and 26 touchdowns while being intercepted 10 times.
He will challenge Holmen's secondary as much as he can and make pass rushers work with his ability to escape. Frantl also leads Hartford rushers, albeit with 324 yards and six touchdowns.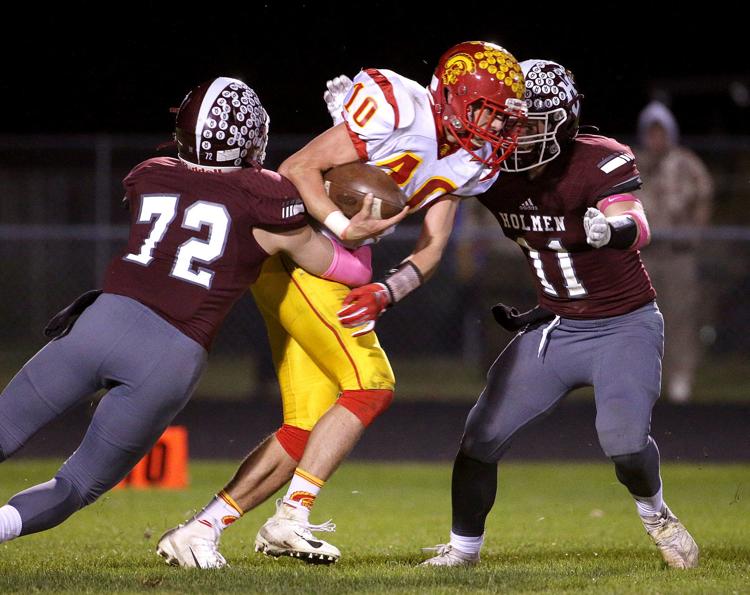 You have free articles remaining.
Register for more free articles.
Stay logged in to skip the surveys.
"They are Watertown but better," Kowalski said of the Orioles, who are 7-0 against playoff teams this season. "They have a quarterback who throws more accurately, they have a more athletic receiver, and they don't run the ball but they have a big offensive line."
Quam will have to be as ready to break up passes and stop receivers for no additional gain when they do find seams and make catches.
The Vikings will also have to rely on the experiences gained during a number of big games this season. Those games didn't always go Holmen's way, but this is where the chance to compete in games of that caliber should yield rewards.
"Playing all of those games, especially at Menomonie, helps us," Quam said. "We've played some very physical teams and played in front of games with a lot of fans, and that should prepare us for a game like this."
Menomonie beat the Vikings 32-16 in Week 2. Sparta beat them 25-20 in Week 8, and Onalaska beat them 17-10 in Week 9. Turnovers were a problem in all three games, and that can't be the case if Holmen wants to beat Hartford.
Quarterback Cam Weber, fullback Brett Holden and running back Jaedon Abraham have to hold on to the ball and work together behind the offensive line to not only put together long drives but to finish them.
That's where the Vikings can give the Orioles trouble. Hartford doesn't defend against option offenses often, and Holmen averages 267 rushing yards with its triple option.
Holden (1,174 yards, 17 TDs) will challenge the Orioles up the middle, while Abraham (539 yards, seven TDs) and Nathan Nevala (344 yards — 6.1 per carry — and four TDs) will try to take advantage when they can reach the edges.
Holden was the workhorse last week with career-high 262 yards and three touchdowns against Watertown.
The Orioles are big up front, Kowalski said, but the mentality of defending against an option can outweigh the physical demands.
"It's going to be tough moving the ball," Kowalski admitted. "I compare them defensively to a team like Menomonie.
"They will be big, physical, play downhill, play fast, let linebackers run and eat up gaps with their big guys up from and have the defensive ends screaming at the fullback."