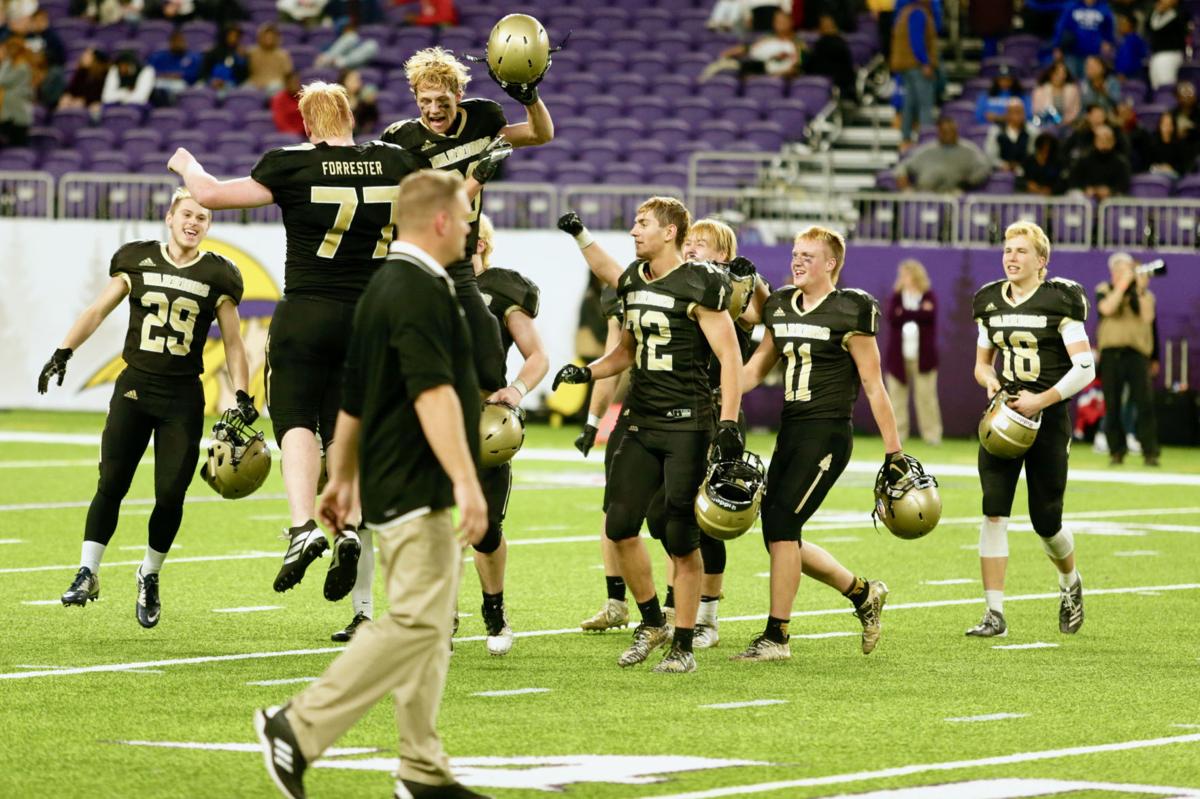 CALEDONIA, Minn. — Carl Fruechte has experienced a lot as the Caledonia High School football coach.
He's won conference championships, district championships, section championships and MSHSL Class AA state championships with regularity in establishing the Warriors as a program the entire country notices.
But those challenges are different than the ones he's faced the past seven months with a group of coaches and players ready to do what they do in Caledonia.
The Warriors practiced, then they stopped when the state association announced it was pushing football back to an alternative schedule in the spring because of the COVID-19 pandemic.
That wasn't what a bunch of players who haven't had a season finish without a state title wanted to hear. They wanted to play, of course.
"These kids have been through a lot," Fruechte said after his team practiced under the lights in Eitzen, Minn., near the end of September. "One of our tough, tough kids — I won't say his name — sort of broke down and started tearing up about it.
"He was tired of everything that's been going on and just wanted to have our season."
The day after that September practice, the fall season was reinstated, and the Warriors have been focused on Plainview-Elgin-Millville ever since.
Caledonia meets its old rival at 7 p.m. Saturday to begin the delayed season amid all of the usual expectations that come with a team that owns the country's longest active winning streak at 68 games.
"The kids are focused and doing the best they can with the situation," Fruechte said. "It's just very nice to be able to be putting in offense, defense and special teams game plans to be honest."
Fruechte once again has the luxury of a roster loaded with talent with which to do those things.
Junior quarterback Eli King, who played wide receiver the past two seasons, tops the list in terms of explosiveness. King has eight Division I scholarship offers — Notre Dame, Iowa, Minnesota and Penn State among them — as a receiver and could catch some passes while starting to throw them for the first time.
King caught 50 passes for 958 yards and 21 touchdowns as a sophomore. He also returned three kickoffs for touchdowns and three punts for touchdowns.
King had three catches for 54 yards and two touchdowns, a punt return for a touchdown and two interceptions as the Warriors beat Minneapolis North 26-0 for the state title in 2019.
Senior defensive end Casey Schultz, who stands 6-foot-4 and weighs 230 pounds, has already committed to play for the University of North Dakota, and he forced a fumble while taking part in five tackles during that championship matchup.
Junior defensive end Logan Banse, a 6-4, 215-pounder, doesn't have offers from any Division I programs yet, but Big Ten teams are reportedly paying attention to his progress.
That gives the Warriors a very nice place to start and three big pieces — King plays in the secondary — toward another potentially dominant defense.
While turnover happens every season, the Warriors have been consistently good on defense. They allowed 86 points over 13 games — they were 14-0 with a forfeit win over Winona Cotter — for an average of 6.6 per game last season. They allowed 60 points in 13 games (4.6 per game) in 2018.
But 2020 is a new season in more ways than one for every team.
"I like the commitment and focus I've seen despite everything being so different," Fruechte said. "We have our routines and traditions, and some of those are being broken with new rules of things we can't do.
"But I think they are adapting very well."
The first test for the Warriors comes against a team that used to be a good rival before Minnesota opted for districts instead of conferences.
P-E-M was on Caledonia's 2018 schedule, but that marked the first time the teams played each other in six years. Fruechte likes the rivalry the two built before being separated.
"This is our traditional 'Hammer' game," Fruechte said. "We'll bring the hammer down to the field and see what happens."
Be the first to know
Get local news delivered to your inbox!